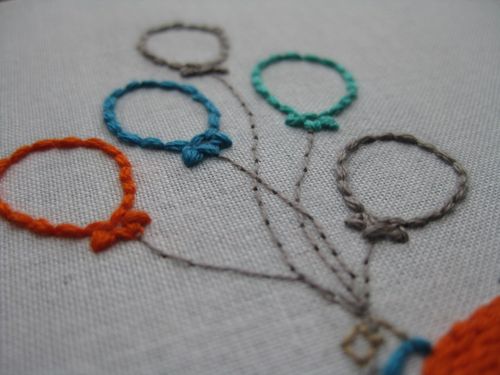 Introducing my newest baby, no night feeds or nappy changing for this creation:)  Belle was thought up whilst listerning to 'get off my cloud' by the rolling stones of all things when antiquebrowsingshelfhunting 2 sundays ago.  First she got turned into a new-coming-soon-I'm-so-excited-fabric-design, then I got bored waiting for that to arrive (oh spoonflower - why do you take so long!!!) and she got re-born in embroidery.  Asha keeps checking that she is going to live with us as little red riding hood is off course being sent away to live in her new home soon.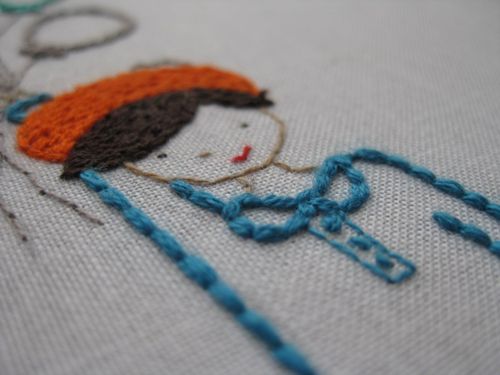 She has now been reborn again (nine lives style) in pdf format, in case any of you are as stitch crazy as me and long to re-create her in real live stitch.  Perfect for any little girl to dream along to!!!  Belle is exactly where I want to be, floating in the clouds with the helpful aides of colourful balloons wearing stripy leggings and a bobble hat!!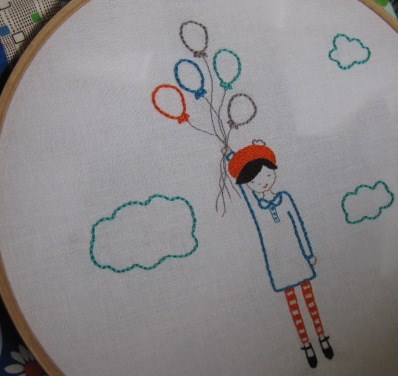 On the subject of new spoonflower designs, I have created a few new ones that should be arriving in a couple of weeks.  I was wondering..................would you like to see and pre-order designs sooner or would you rather wait until the actual fabric arrives and see them then??????   I am quite excited about them, there are a couple of boy ones too as requested by angela and jo.  Jo wanted me to do something along the lines of 'slugs and snails and puppy dogs tails' which I did without making it at all as gory as I first thought it would.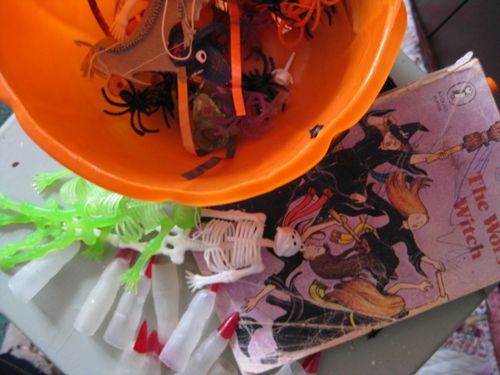 As it's nearly halloween, we've got our decs and witchy tales ready today.  'The Worst Witch' is one of my all time fave books and this is my original aroundabouts 30 year old copy, scribbled on by my little sis as a baby (she's 30 now!)
We will be enjoying the spookiness with a little candy corn love from the delightfullykindandnotspooky jenny (Thank you!!).
!!!!!!!!!!!Happy Halloween!!!!!!!!!!!!!