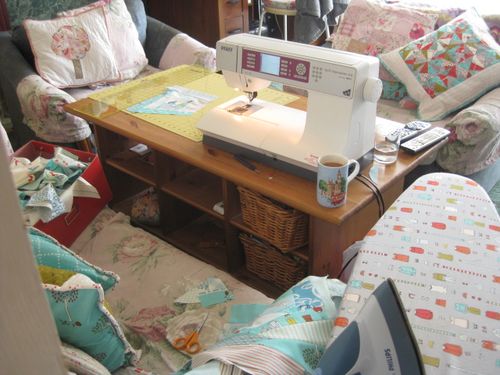 That was a tough week for me.  I am not a person who likes to bare such personal feelings on a public level and I will admit it took a lot out of me to write the last post and to read through the comments.  A lot of the comments brought me close to tears (in a good way), it was nice to hear the good stuff and it helped drown out the noises of the bad stuff still swishing around my head.  I would like to thank every one of you sincerly for taking the time to write down your thoughts for me.  The impact of these collectively has personally been huge, I can now carry your thoughts around in my head instead and it feels nice up there now.
I also would like to thank those who were brave enough to come forward to say that they had later regretted comments they had left on the post I linked to. Absolutely HUGE kudos to you because that takes some guts to come forward publicly and admit to that.
So, onward and upwards.
Today's post was one I had planned in my head for last week as part of Pink Chalk Studios 'Where I Sew' series.  My sewing space was featured there last week and I thought it might be an idea to show a few more pics here on the blog 'cause I don't know about you but I find a little nosing around other peoples sewing spaces pretty darn fascinating.  
The picture at the top of this post is from the same spot as the one on Kathy's blog but this one was taken last week mid sewing explosion.  You can see that there are scraps to the left of me and part pieced blocks to the right or a sewing mess as I like to call it.  Sewing like this on the sofa is not good for the old back but I think I have gotten used to it after several years of stitching this way.
There's not much room in there but everything is close to hand.  I hate it when the phone rings or someone comes to the door as I'm pretty locked in with my stuff.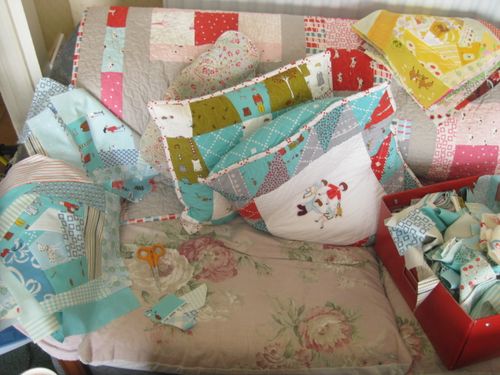 The best thing is it's as comfy as you can get and I really am 'comfort stitching'!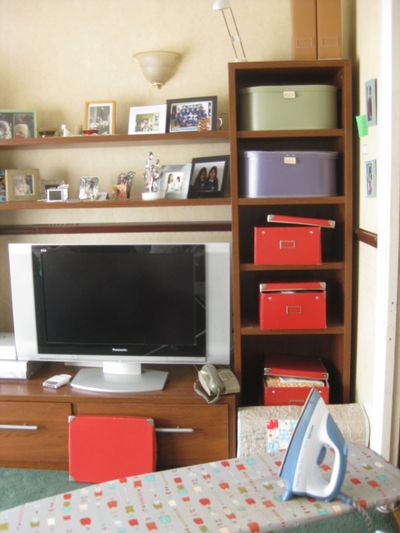 To the right of my ironing board are the ikea boxes that house my fabric collection.  All those boxes are full of the stuff.
It's kind of organized a little by colour but after a project I tend to just stick all the fabrics back into the top of any box that will fit, so a good sort out is due.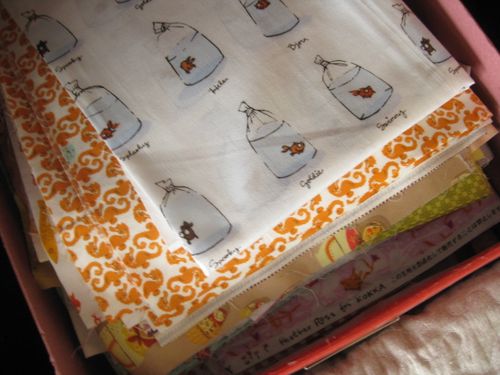 My daughter has been emphasizing that largeness of my fabric collection(s) and questioning if I will ever use all of it.  In response to her I put together this box of fabrics I am planning to destash somehow in the near future.  This is all stuff I love but when your child takes the trouble to notice you have too much of something, perhaps you have.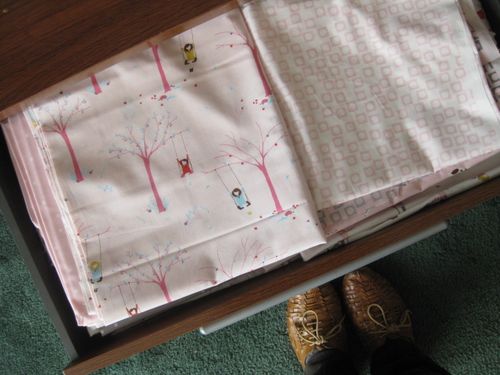 This drawer (under the telly) is full of Little Apples topped off with an icing made of Sherbet Pips.  I have no room for bolts in my living room come fabric studio so everything has to have a home.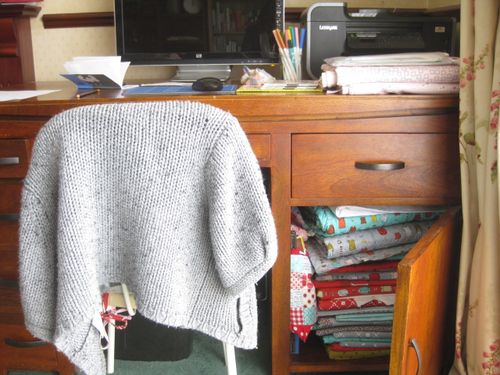 This is where the rest of my apples live.  This desk is where I do all my online stuff, my designing, pattern writing and shop duties.  I have used this space to sew before but I find it hard to combine all these activities in the one space (and the mouse got full of fluff and stopped working, not a great idea).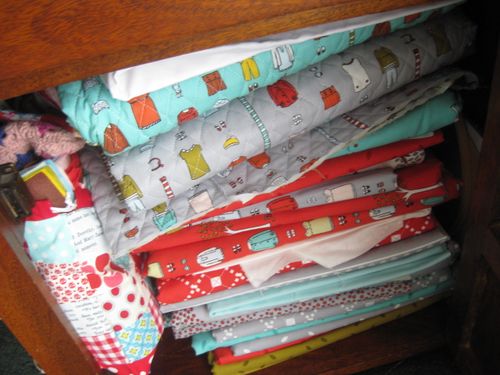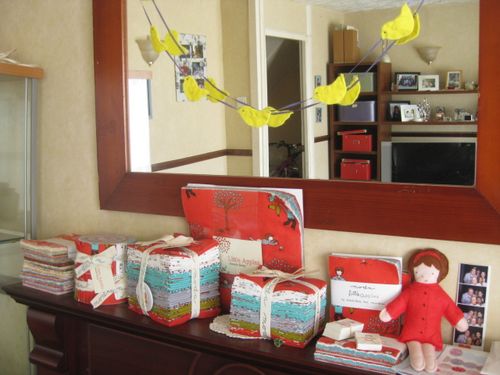 And this is the precuts shelf (the pips precuts live in a drawer in my daughters toy room so you can see how she has come to her 'mum has too much fabric' conclusion).   The chick garland has been there since Easter when my daughter hung it up, I sort of had forgotten it was there until I saw it in the photo!
The hardest thing about my sewing space is having to tidy everything away at the end of the day.
But I LIKE my space and I am grateful that I have it.