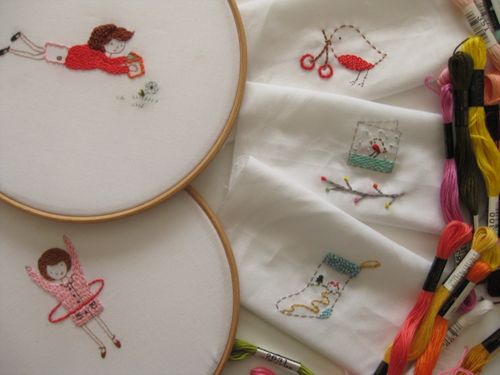 I am very pleased to let you know that I will be teaching an embroidery class at the Fat Quartely retreat in London on Saturday the 2nd of June.  I will be going through embroidery basics, transfer methods and a variety of fun stitches.  The aim will be for all my students to go home with a finished embroidery that they can stitch up into something lovely at home. I would love to know if any of you are coming? or have signed up for my class? or maybe I can persuade a few more of you to come along and join in with a little stitchy fun and know how?? What do you say??
Before I go, here are the winners of my pattern giveaway :
Prize one - Jan Richards, who said
I have a bundle of Bliss that would be fun in your Bloom pattern with a moda solid in cream. Congratulationsn on your success in your shop. Thanks for a chance to win.
Runner up - Claire, who said
I would love to make bloom in strawberry fields! But Delightful might be in polka dots...Thanks for the giveaway. I love your blog!
Runner up - Meg, who said
So happy for you! I have the entire collection of hope valley waiting patiently for the perfect project. This may be it!
Congrats ladies, I have sent each of you an email to ask for your pattern selections.
Thank you to everyone who took part :)))