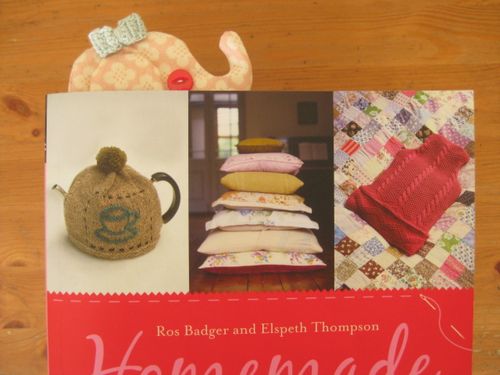 Ive been pondering lately, thinking about why I still buy craft books when there is so much available on line for free.  I love me a good crafty book - a couple of hundred pages of 'I could make that' inspiration bound in a tempting 'buy me now' cover and speckled with ' you could make me this aftenoon' photos.
Who can say no?  
Ive been craft book addicted ever since I've had my own cash to spend.  I started out my habit when both my daughters were very young and a lot of time was spent changing nappies and feeding and toilet training and going to the doctors. Lots of time was spent going to the doctors, far too much.  The doctors surgery I frequented however was situated very neatly across the street from the library.  And it became a ritual for me to 'reward' myself a treat for all those hours spent attending to the needs of my daughters - a visit to the world of books where I could flip through the pages and dream about other peoples lives, people who had time to cook, to garden and to sit around making things out of pretty fabric.  It became customary for me to visit the library every time I passed it.  I would never knowingly leave without at least 8 books nestled neatly in the handy storage area at the bottom of my daughters pram/buggy/stroller.  My daughters benefited too as they always came home with a selection of childrens books, which they delighted in reading and playing with whilst I put the kettle on and my feet up (in that order) and read my books and looked at the pictures and dreamed of all these other lives I could have led. All the dreamy gardens that would one day be mine, all the delicious dishes I would one day cook and all the fabric-y things I would one day make.
Time has moved on and with my daughters tucked out of sight in school for a large chunk of the day combined with a lack of visits to the doctors.  I now have to satisfy my book cravings by purchasing them instead.  Which is no hardship with the world of Amazon at the beck of my fingertips.  I am careful with my purchases though, alot of time is spent on research, mostly in the 'look inside' chamber.  It is a rare purchase these days for me that doesn't begin with a scroll down in the 'look inside' chamber.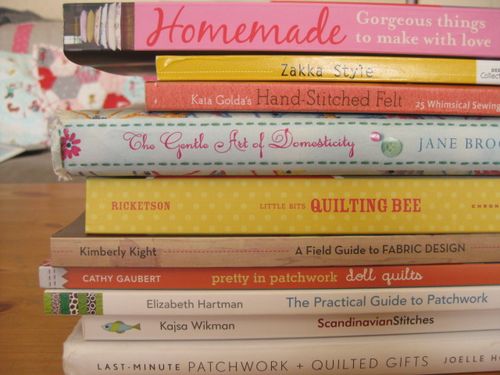 It is an odd thing that I rarely make stuff from the books I purchase but I think books can also act as a spring board for putting yourself into a creative mindset where your own idea's take hold to suit your own needs.  That is how it seems to work for me.  The books in these pictures are just some of my favourites that I return to again and again to flick through with a cup of tea in one hand and my sewing machine just out of reach of the other.  I like the feeling of looking at something and thinking 'I could make this right now if I wanted to'.  I might not go ahead and make it but the choice is mine.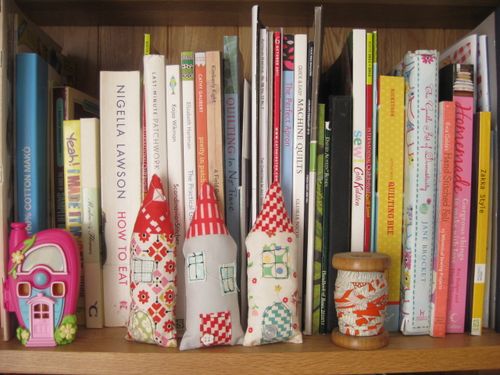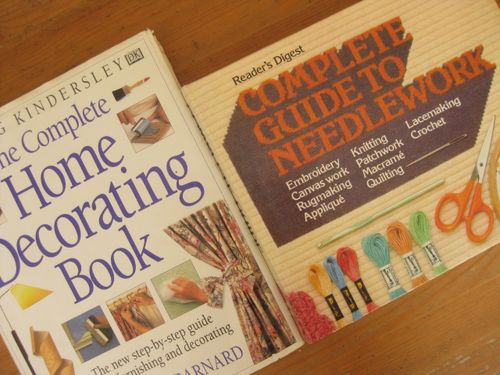 It's not just new books that tempt me either.  Both of the above are highly recommended by me and are titles I return to again and again.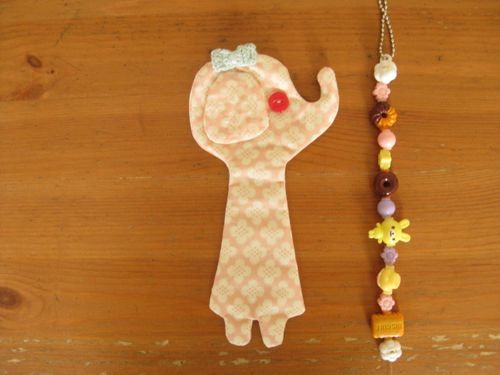 And all good book habits deserve a pretty quirky bookmark.  This one was made from the project in  Zakka Style.
What are your favourite craft, quilting, patchwork or embroidery books? any you are looking forward to coming out??  I'd love to know.  Need to keep this habit of mine ticking over.