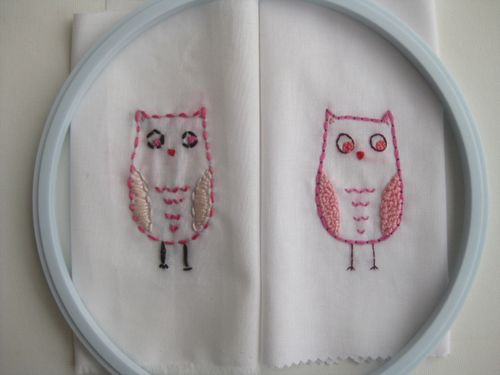 During the summer, when my book Little Stitches was first released, I gave each of my daughter's their very own copy.  To my delight, they have now stitched several pieces each and I thought it might be an idea to show you a couple of these today - In case you are thinking up activities to do with your kids during those almost-here holidays.
The above picture shows two versions of the Hoot The Owl pattern - On the right is my original which is featured in the book and on the left is the one my 9 year old daughter stitched.  If you look closely, you can see that she stitched the pattern her own way, sticking to running stitch and satin stitch.  Despite the simplicity, her embroidery has so much more personality than mine.  In effect, younger children very much treat embroidery just like colouring in - only using floss instead of pencils.  I find it best to supply them with all the tools they need and then just leave them to it unless they ask for help.  I better stress here that I always sit with my daughter's when they stitch.  Usually, I'm stitching too or doing paper work or writing patterns but you can never be too careful where needles are concerned.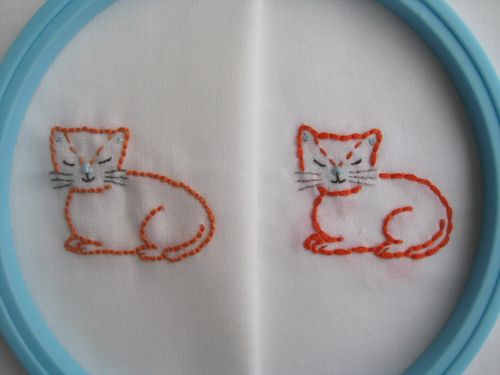 Here is an example of my 12 year old daughter's handiwork (again on the left).  Whilst on the right is my Sleepy Kitty from the book.  My elder daughter is far more confident in trying out lots of stitches and her embroidery has been done in all the same stitches as mine - using the pattern instructions in the book.
What I love the most about my girls embroidering is how absorbed they get in this activity.  Not only are they quiet for 15 minutes to a half hour but they seem to be very relaxed and calm for once.
And they end up with something they've practically made all by themselves.  If you really want to give them a boost, display their embroideries on a wall or propped up on a bookshelf - children love nothing better than to know you admire what they made ;)