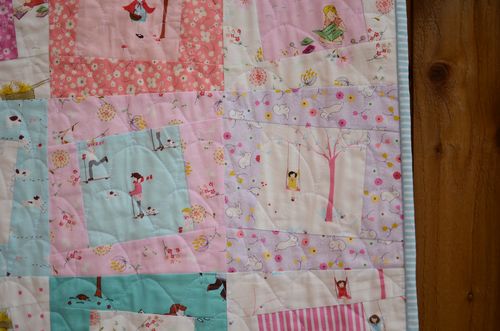 I finished up the quilting and binding of my Skip quilt over the weekend and took the opportunity to get some outside pics this morning.  I know I designed these fabrics but I was quite surprised how pretty they all look together, I never thought pretty was my style.
Shows how much I know about myself.
I used fabrics from my lines Posy, Sew Stitchy, A Walk In The Woods, Little Apples and Sherbet Pips.  I keep on getting emails asking where these fabrics can be found and as far as I am aware there are plenty still out there, here are just a few links -
The only ones that seem to be scarce are the little red riding hood print and the girl on the tree swing one.  If you happen to chance upon anywhere that still has these in stock, I would love it if you could leave a comment here to help those who discovered these fabrics more recently and would love to stock up.  Any help would be greatly appreciated!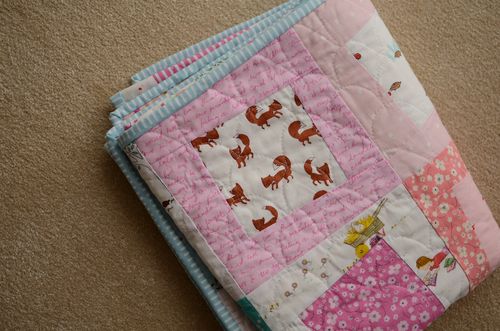 I free motion quilted this one in a clamshell pattern inspired by a design from the book Free motion quilting with angela walters.  The book has some great tips and idea's for anyone interested in trying out some different idea's for quilting.