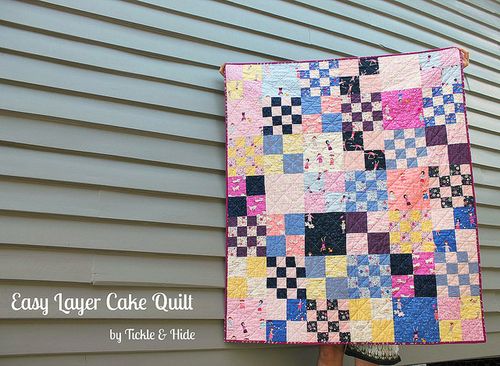 Today I thought I'd bring you a little showcase of pretty things I've seen made up in Hello Petal by some of you!  These are always a pleasure for me to come across and of course give me lots of idea's for future projects.  First up is this delightful quilt (above) by Jodi of Tickle and Hide - If you click over to her website you'll also find a free tutorial for making the quilt.  I'm pinning it for future reference, gotta love the words quilt, tutorial and easy all in the same sentence :)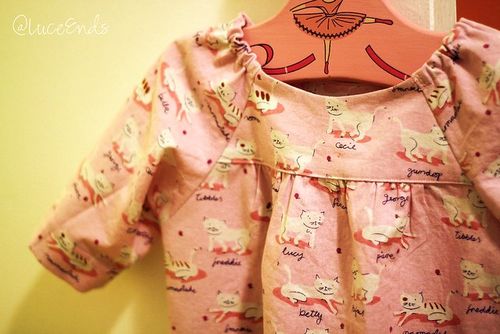 This night gown by At Luce Ends really made me smile too.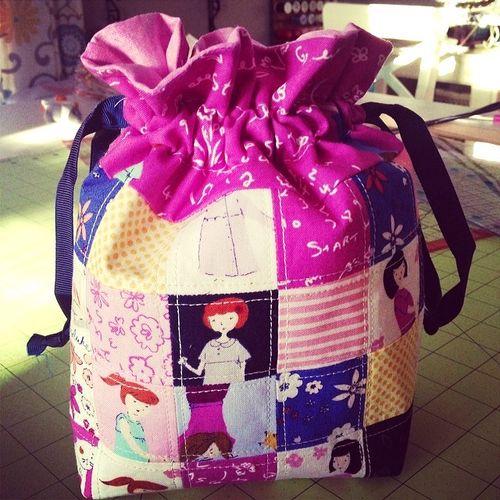 Love this drawstring bag by Amanda, definitely need to make one just like it.
And finally, more cats, this time made into a pouch by Jessica :)
P.S. If you make anything from Hello Petal, please make sure I don't miss it by posting it to my Flickr group.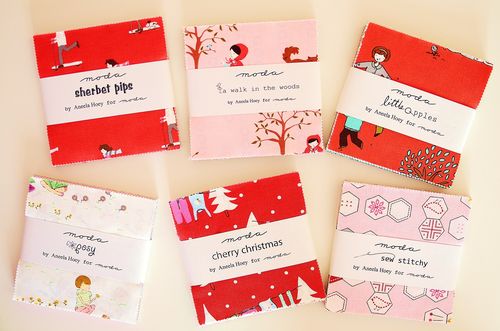 If you are a new follower who has missed out on some of my older lines - Did you know I have a little contest going on until the end of March?  The prize is a set of 6 charm packs, one each of Sherbet Pips, Little Apples, A walk in the woods, Cherry Christmas, Sew Stitchy and Posy.
To enter, all you need to do is make something using my Hello Petal fabric line and then do one (or more) of the following, 
- Post pictures on Instagram and tag them with the hashtag #aneelahoey
- Post pictures on Flickr with the tag aneelahoey AND add them to my flickr group
- Post pictures on Facebook and use the tag aneelahoey
Your project can be a quilt, a bag, a childs dress..... it's up to you and your creativity.  All fabrics used must be from Hello Petal but you are welcome to include a little solid fabric too.  You can post just a picture of the finished item/s or in progress pictures too.  All pictures using the above tags posted since the start of this contest and made using Hello Petal will be eligible for the contest.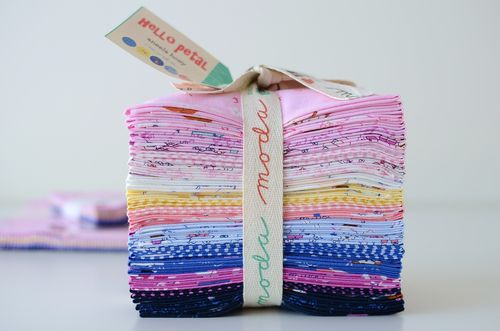 OK - finally it's time to announce the winners for the 'spell it with moda' blog hop.
The winner of the Hello Petal Fat Eighth bundle is..........Courtney, who said - 'I really like crackle, I always love when a secondary pettern emerges. And 7 lines? Does this mean even more goodness is on its way?'
And the winner of the set of a Hello Petal layer cake and charm pack is ..........Catrin, who said 'I think that my favourite would have to be skip. You get to see more of your beautiful prints! I really hope that I win this - can't believe that there isn't a UK stockist that has the whole line'
Congratulations to both of my winners, look out for an email from me :)  Thank you to everyone who joined in with the Moda blog hop and entered.
P.S. - In reply to Catrin's comment, if you are in the UK - the whole Hello Petal line is available from Fabritastic :)