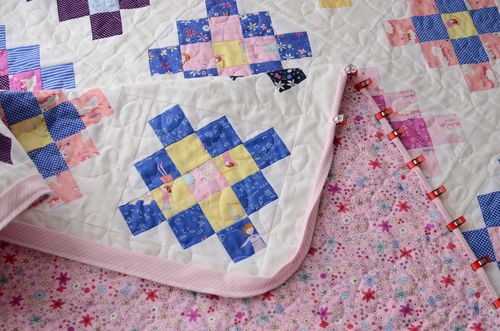 I've been slowly working away on finishing up three quilts I've had in progress for almost a year.  This one is my granny square quilt, the top has been complete for several months and I finally got around to quilting it with free motion loops (which incidentally is my go to mindless quilting fallback).  I decided to try curved corners for the first time and I'm so glad I did.  It was worth the extra time for making up the bias binding, although the actual sewing on of the binding is faster since there are no corners to mitre.  I just need to finish hand sewing the binding all this one will be done.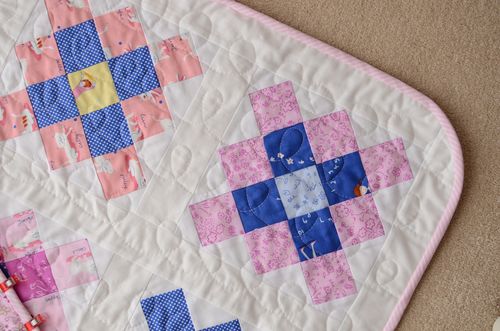 I used this tutorial for making the quilt top.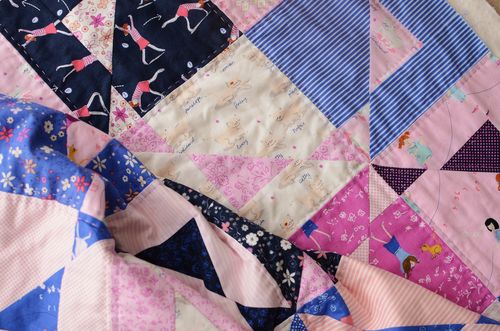 This is the second quilt I'm working on simultaneously, I'm using this pattern.  Rather than go for a fast finish I decided to let the top hang up on my sewing room wall for a while so I could decide how to quilt it.  A year later and it was still up there.  I finally decided to go for hand quilting this one and I love it so much I'm hoping to hand quilt far more often in future.  I'm using the Aurifil 12 wt in Mako (cotton).  It's lovely to quilt with!  I found the perfect colour online (2515) and bought the last two small spools in stock.  So far I've quilting around all the blocks and made a start on the triangles and I'm still using the first spool.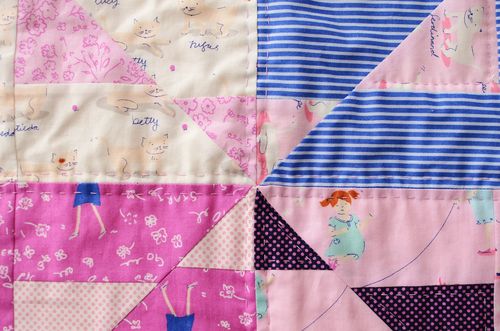 Hoping to get these done over the holidays.  They've taken so long to finish already, there's no point rushing now!
All fabrics are from my Hello Petal collection for Moda fabrics.