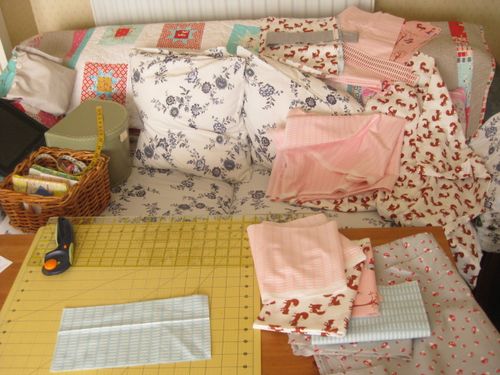 My sewing space today - Yes, I know that is a messy pic but this is what my living room really looks like when I sew (actually this is quite tidy).
Today is only the second day I've had a chance to get my sewing machine out since the start of this year and after my initial panic stage where I want to sew everything I have dreamed about sewing over the last few weeks at once, I have finally mapped out a manageable list in my head.  I find it strangely humorous to think how despite my love of sewing/quilting/patchwork having lead me to some fantastic opportunities - I am finding it increasingly difficult to find the time to actually, you know - 'sew'.  It's a conundrum of catch 22 proportions.
Even though I have a huge inbox of emails to answer, I am taking some time out for the rest of this week to - just revel in the joy of sewing because I want (erm need) to.  
I'm hoping you are getting the chance to revel along too?