I really didn't expect to have taken so long to get back in the blogging seat.  BUT.  For the past couple of months there have been a few big changes going on in the home/family sense.  There was the slight interruption of the trip to quilt market, which was highly welcomed by me and involved a few schoolhouses, multiple book signings, an embroidery demo and a lot of hanging out (and somehow no photo's got taken of the hanging out bit so I have nothing to show but it was very much enjoyed by me).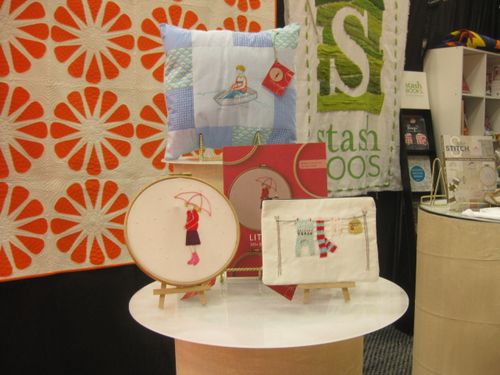 Stash Books had a cute little display of some of the handiwork from my book.
And I got to spend some time standing on this bit of artificial grass next to a plethora of Posy precut's in the Moda Fabrics booth talking to anyone who dropped by and handing out mini charm packs.
It all went too fast and I was back home before I knew I had got there.
Sadly I crash landed back into reality with a lovely mix of jet lag, antibiotic medication for an insect bite I managed to receive in Houston airport and the biggest pile of paperwork you have ever seen.  
More on the reasons behind the paperwork next week, when hopefully it is good news.  Please keep your fingers crossed for me that it is because all is looking very wobbly at the moment.