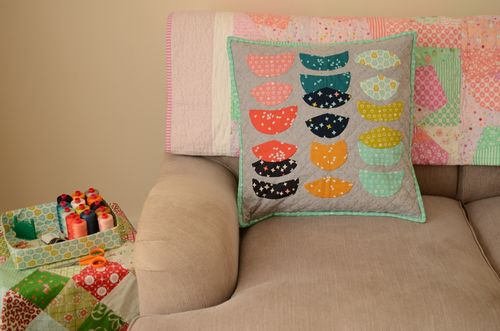 Recently I've begun to favour projects that involve more of the slower aspects of sewing that I enjoy the most.  These include techniques such as needleturn applique and hand quilting - I have long loved both the process and the finished look of these skills. As I venture into these more time consuming practices I have decided to keep my projects small and manageable whilst I explore and develop my skills.  Over the holidays I decided to try out the Ebb pattern by Carolyn Friedlander which has options for making quilt, pillow and tote versions of the design.  I chose to try the pillowsham, which was the perfect size for the time I was seeking to fill, I am really really happy with the finished result.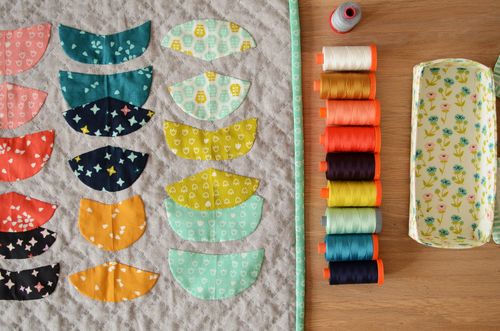 Of course I chose to use my Vignette fabrics and teamed them with a Robert Kaufman yarn dyed Essex linen in silver for the background.  I used a selection of matching colours of Aurifil 50wt thread for the applique and a 12wt cotton for the hand quilting.  The colours from the top are 2610 (used for hand quilting), 2021, 2975, 2220, 2277, 2570, 5015, 2830 (this is the only one I used 28wt since that's what I had on hand and it worked perfectly), 4182 and 2785.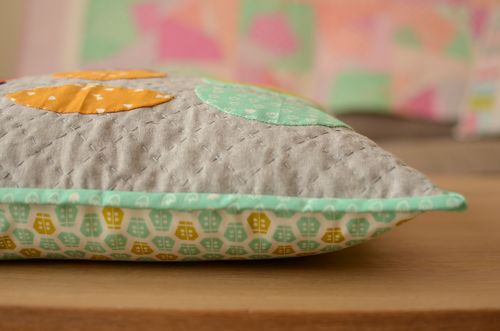 Here's a close up of the quilting.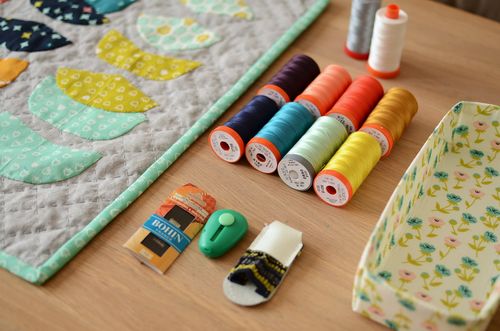 A few notes on equipment - I used Bohin needles, both applique and quilting versions respectively.  These were lovely to use but the ones I had have super small eyes which were a struggle to thread until I remembered the needle threader I had picked up whilst in the states recently.  This one is made by Dritz and was a breeze to use, it even comes with an LED light so you can really see what you are doing!  My daughters both thought this was very hi tech for me :)  I also finally got around to getting a leather thimble - no more sore fingertips.  I'm looking forward to using more of these techniques and have several new projects in the works.
If you're looking for places to find Vignette fabric - I've put together a handy list of stockists,
USA
Gather Here - quilting cotton  / double gauze
Once Around - 352 Miller Avenue, Mill Valley. CA 94941   Phone: 415.389.1667
UK
I'll update the list as often as I can, in the meantime please let me know if you are a shop stocking the line and wish to be added.