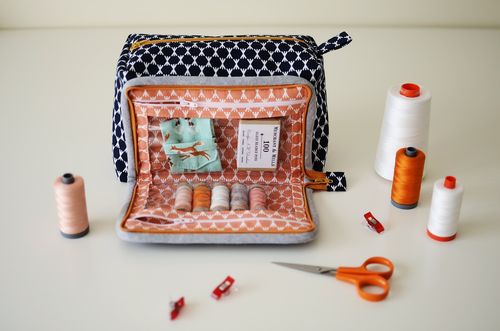 This week sees the start of the Foxglove showcase.  This online event will take place over two weeks and each day I'll be showcasing something new I've made from my Foxglove fabric line or showing you the inspiration behind some of the prints.  I'll also be introducing you to a talented team of makers for the duration of the event.  Each day, I'll be linking up to a different maker and they'll be showing what they have been busy sewing up with Foxglove.  I've seen a few sneak peeks and I think we are all in for an inspirational treat.  Hopefully you'll discover a few new people along the way too.
For today's make I sewed up a new All In One Box Pouch.  This pouch is just so handy, it's impossible to have too many!    I used three colours of my Stem Dot print for the pouch - navy for the main pouch, pink for the vinyl pocket and aqua for the lining.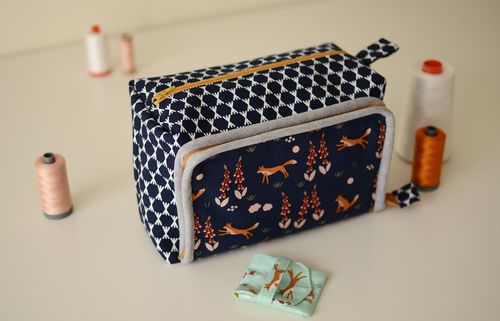 The pocket front uses the Fox In The Foxgloves print in navy and I used some Robert Kaufman Essex Linen in silver to bind the pocket, it contrasts with the prints perfectly.
I also used a little of the Foxes in the aqua colourway to make up a new mini foldover pouch.  Again these are too handy not to have around.  For the zippers I used my go to zipper colour - mustard.  If you haven't discovered the magic of the mustard zipper yet, you need to give it a try, trust me it goes with all my favourite colours and prints.
You can find stockists for the Foxglove fabric line here.
You can see more photos of the pouch pattern in my previous post here.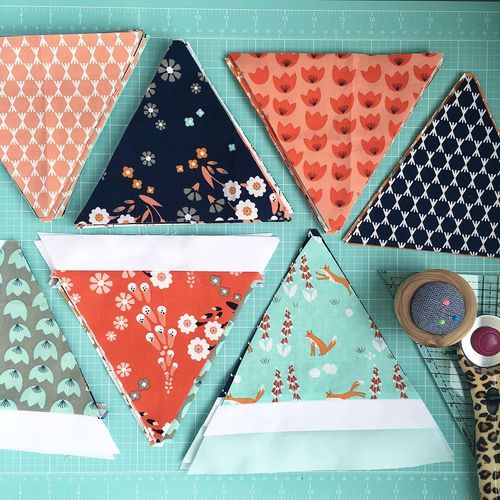 Today's maker for the Foxglove showcase is Emily from Quilty Love.  The quilt Emily has been making involves the triangles above and is looking so pretty!  I'm really excited today to see it in it's entirety for the first time.  
Click over to see the finished quilt.