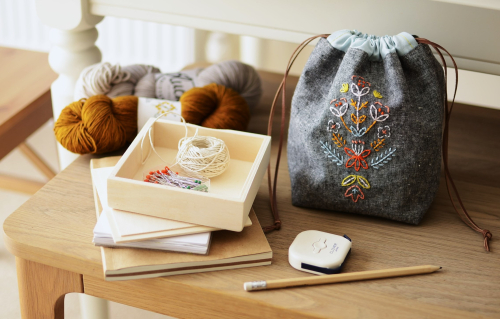 I'd like to share a closer look at some of the projects and thinking behind my new book Stitch And Sew.  My original idea was that the book should include fresh, modern looking designs that had a grown up appeal.  I wanted the designs to be pretty but not overtly sweet and saccharine.  Most of the patterns originated from drawings in my sketchbook, which I developed in various pattern formations.  At the time I'd been playing around with the idea of mirrored repeats for fabric design but quickly realized that these also had great potential to be used for embroidery patterns.
I had also been thinking a lot about planning my projects better so that once I'd finished stitching up a pattern it didn't get stashed away and forgotten.  I concluded that if I could come up with some quick, simple sewing patterns that could really showcase the stitched pieces I'd solve that problem easily.  All I had to do was to develop a sequence of steps that kept the sewing project in mind when starting the embroidery.  Once the piece was completed I could cut out the remaining pieces and sew up the project.  Since all of the projects are designed to be used, it was also important that they should be durable and this needed to be addressed through the choice of fabric.  I picked out some Essex Yarn Dyed linen in Black by Robert Kaufman and used this to stitch up my first pattern idea and the result of that is the Buttercup drawstring pouch in the photo above.  As soon as I had finished making this project, I instantly knew I was working along the right lines and that this should serve as a blueprint for developing the other patterns in the new book.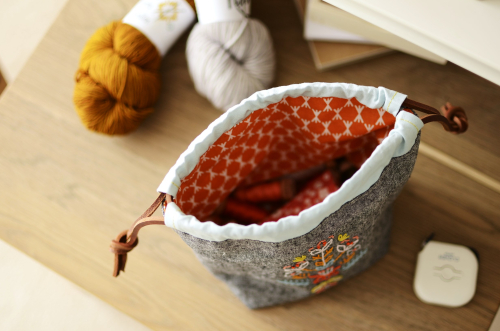 I learnt so much along the way, even as someone who stitches a lot.  There is always something new to learn!  I kept a notebook of everything I found useful to know as I sewed my way through the projects and included all this information in the basics section of the book.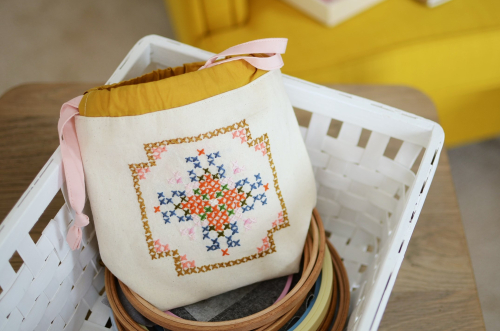 Here are some of the other pattern variations for the Drawstring Pouch project.  The above design is called Vintage and is stitched in cross stitch on unbleached calico fabric.  I've added detail with some lawn and cotton for the channel and ties respectively. Below is the Colorwork design which uses a variety of stitches and techniques for fun, playful effects.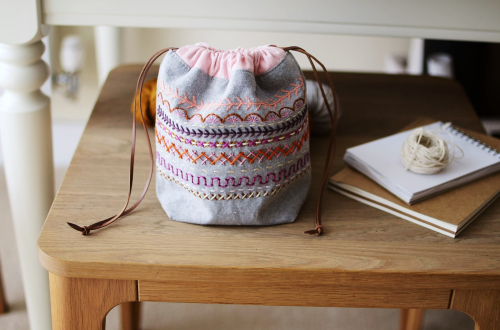 I contrasted the yarn dyed linen with some corduroy and leather for this one, along with some super soft flannel on the inside (leftover from backing a quilt).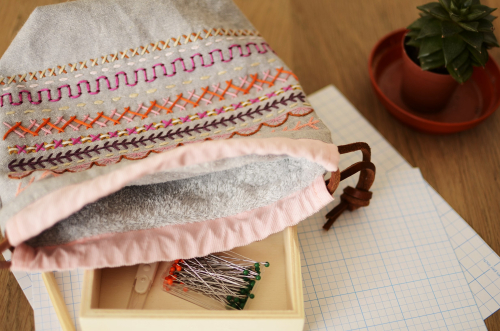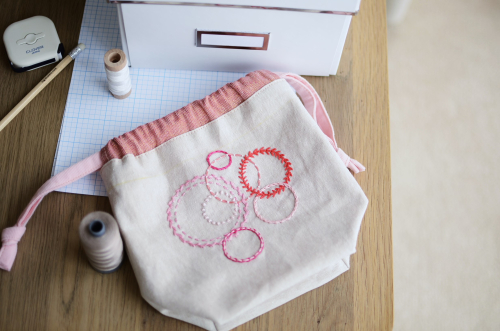 Finally, for today's post is the Circles pattern.  Another sampler style project, using a variety of stitches but only shades of pink this time.
I hope you've found something in today's post to inspire you to create!   
Stitch And Sew is now starting to arrive in shops.
---