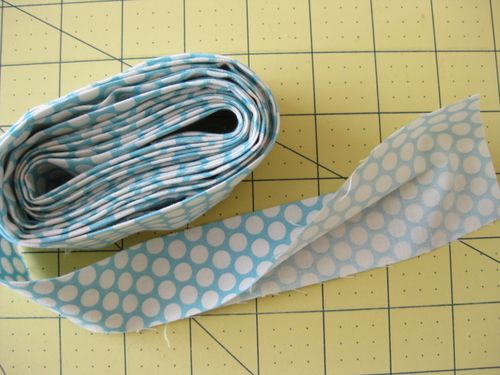 This tutorial shows you how to make your own double fold binding and attach it to your quilt.
To make the binding
To work out how much you need to make**, simply add together -
Quilt length (x2) + Quilt width (x2) + 10" = Total length needed
** My quilt patterns will give you the binding fabric yardage and cutting instructions
Cut 2 1/2" wide strips along the width of your binding fabric.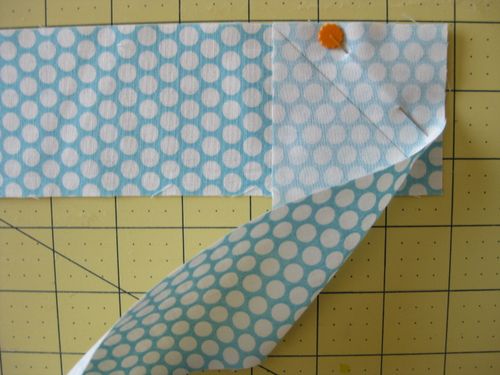 Trim to remove selvedges and square up the short ends of the strips.
Lay your first strip out horizontally and right side up.
Place second strip on top vertically (wrong side up) so that both strips are perfectly aligned at the top right hand corner.
Pin in place then using a ruler draw a pencil line onto wrong side of second strip from its top left hand corner to the point where the bottom right hand corner of the first strip lies beneath (see pics above and below).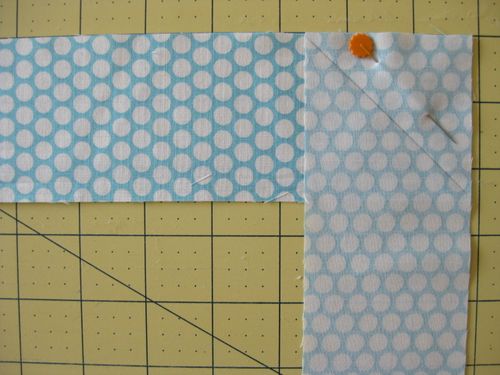 Machine stitch on the drawn line to join the strips. Trim seam allowance down to 1/4".
Join the opposite end of strip two to strip three the same way, making sure strip number two is now placed horizontally right side up (as strip number one is above).
Continue until all strips are joined.
Press all joining seams open.
Bring the long sides of the strip together to fold in half width ways and press all along the fold.
Your binding should now resemble that in the photo at the top of this post.
Attaching Binding To Front Of Quilt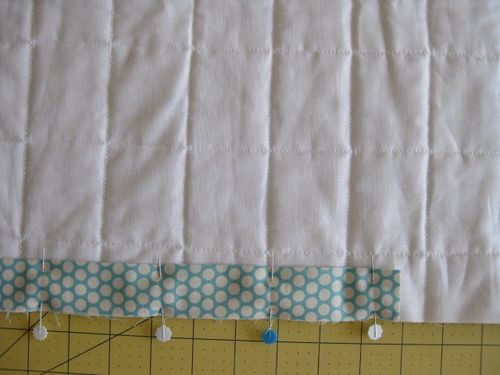 Fold over the short edge of the beginning of your binding strip by about 1/2" and press.
Beginning at the midway point of one of your quilt sides, place binding along quilt edge (so raw edge of binding is placed along raw edge of quilt and folded edge of binding is placed facing quilt centre. Pin in place as you go and stop when you reach the first corner of your quilt.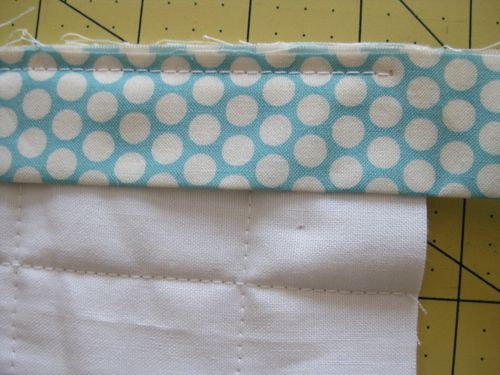 Starting with a back stitch to secure stitching, machine stitch the binding to the first side of the quilt using a 1/4" seam allowance and stopping 1/4" before the first corner (remove pins as you go). Make a back stitch to secure and remove quilt from machine.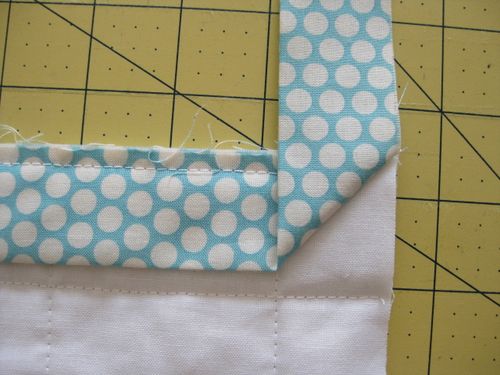 Fold binding strip diagonally at corner and lift vertically upwards as shown above.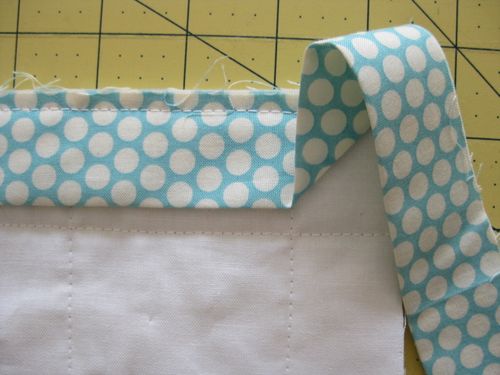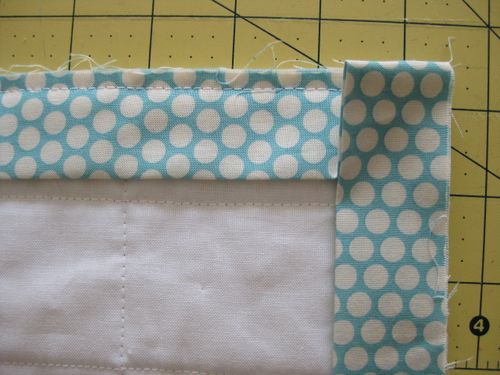 Fold binding strip down vertically making a horizontal crease at the top (in line with top of quilt) and place it along the second quilt edge. Pin in place as before up to the next corner.
Continue attaching binding as above until you get back to the start, stopping about 3" before it.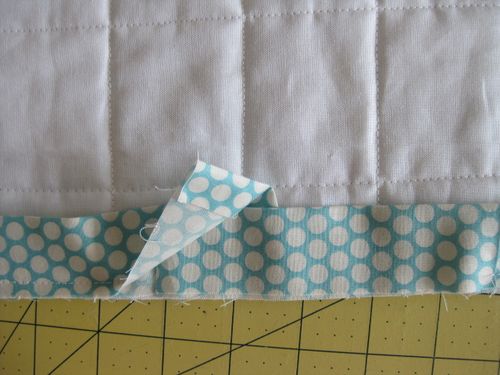 Allowing for an overlap of about 1 1/2" cut off excess binding.
Tuck end of binding into the start of it neatly (as above).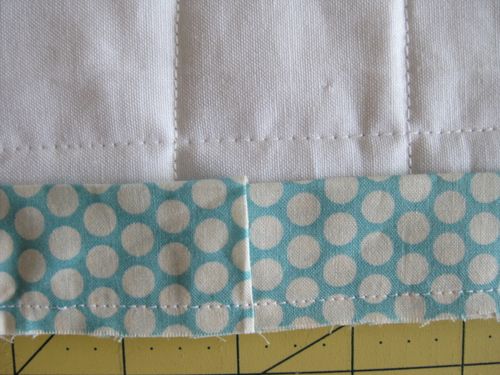 Continue stitching right over the join and tie off stitching securely.
Attaching Binding To Back Of Quilt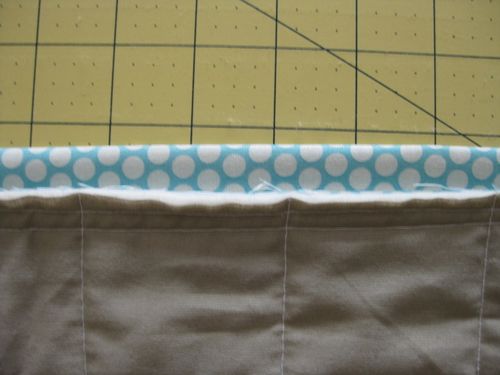 Grab your quilt, scissors, needle, thread and pincushion and find a good movie to bind along to.
Once binding is attached to front, turn quilt so back is facing upwards.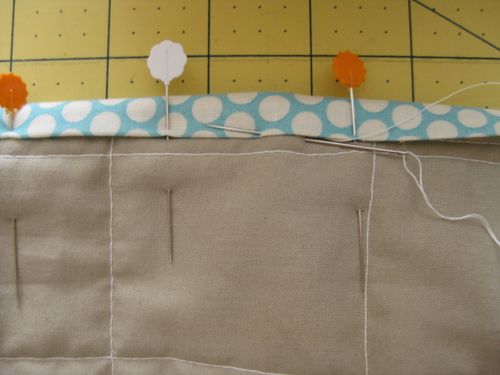 Turn binding over the quilt edge to back of quilt and pin in place up to first corner.
Make a few small stitches one on top of the other, hidden just under the binding to secure thread end.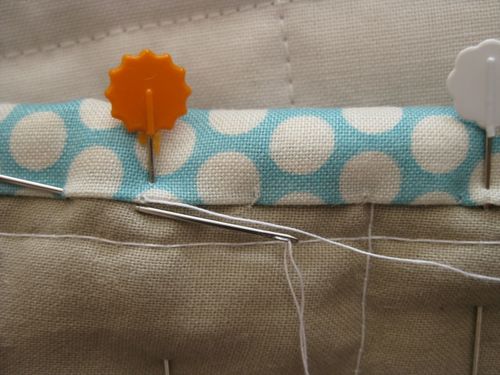 Bring needle out, just above the fold along bottom edge of binding.
Re-insert needle (going through quilt backing and batting only) and bring it back out about a half inch or so along, again just above bottom edge of binding.
Continue all around the back of the quilt.