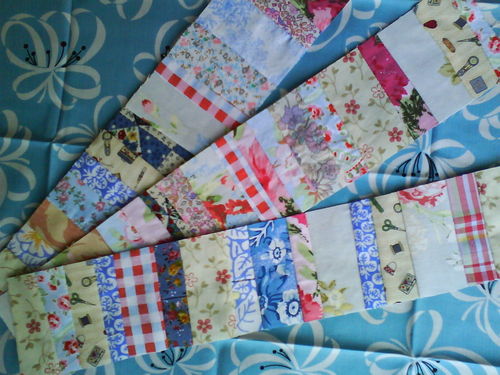 Yesterday I began making a second doll quilt for my older daughter.  I decided on a stacked coin quilt as I've been wanting to try one since I got 'Last minute patchwork and quilted gifts' by Joelle Hoverson.  Firstly, it looks easy and secondly it involves that old chesnut favorite hobby of mine AKA stashbusting.  Then as if by some magical fairy zeitgeist, last night I discovered whilst flickking through Flickr there's a new group there organized by Orange flower sketchbook and Chickpea sewing studio called Piece-a-long Coin Quilt 2009.  Where all interested parties are invited to join them in making a coin quilt. 
So the plan is, One, finish doll quilt which is being hand quilted,  Two, start large quilt where stacked coins will be seperated by white columns and Three,think about a third quilt large size which will have a twist.  I have idea's about number three but these are liable to go through several modifications and interruptions before I get to that stage in the scheme of things. 
I feel like the group is like an analogy of the coin quilt.  Where all the participating quilters sew alongside each other (virtually speaking) to make one gigantic quilt of a group.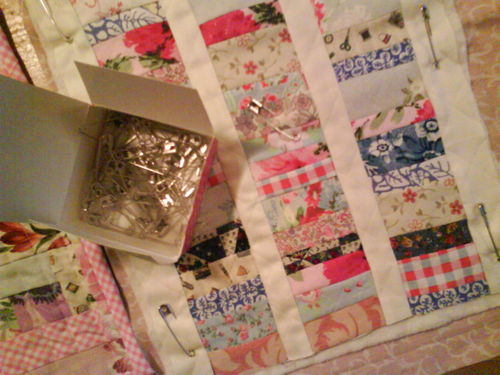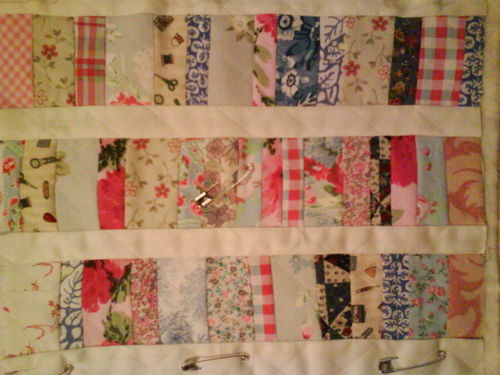 Doll size coin quilt so far.
My plan for the first large quilt is to use all these lovely scraps from recent completions of my quilting life.