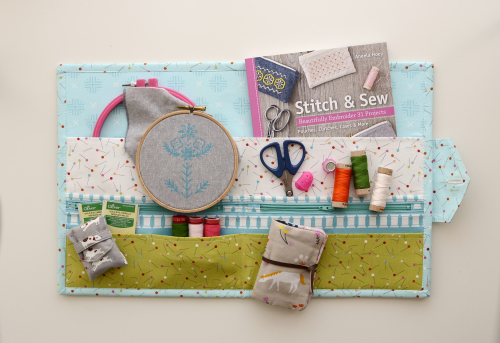 Something I've noticed myself and others doing more of these last couple of years is handwork.  This can take many forms including embroidery, applique, english paper piecing and more.  One of the biggest benefits of handwork is the ease of portability.  With summer fast approaching, days seem to fill up with activity.  There is so much coming and going, I sometimes go into a mild panic thinking 'where am I going to fit in some sewing?'.  A little stitching as we all know is hugely therapeutic and calming when life gets busy and stressful.  Often when I'm rushing around, it's too late to start making plans.  Therefore advance preparation can be a huge advantage.  This summer I have big embroidery plans - armed with a copy of my new book, my aim is to happily stitch away in the sunshine (or under a shady tree), on a park bench, waiting at a train station,  (more) waiting for little gymnasts to finish and so on.  Finally I'll be able to stitch without book deadlines and I cannot tell you how much I am looking forward to that.  I've already started to pack up my sewing organizers with projects ready to stitch.  This involves getting some designs transferred to fabric and hooped up.  Then piling them into an organizer along with a small kit of tools and flosses.  Everything is ready and waiting for whenever I need an emergency sewing fix to throw into a bag and literally run out of the door.  Please note that I am only ever this organized about things I like to do :)
One thing that I'm hopeful of is to convince more of you to try out embroidery.  If you already like to sew and have never tried it (or tried a long time ago) then I'm talking directly to you.  Embroidery is nothing more than stitching with colourful thread.  You can start by learning just one stitch and completing entire embroideries using just that one stitch.  You can learn more if you want to, mix things up and get as experimental as you'd like.  My book has all the info you'll need to get started even if you've never stitched before.  Just think, with a little organization, you can pack up a little stitching kit to keep yourself busy and by the end of summer you could have a nice little pile of stitched pieces ready to sew into projects (and my book has all the instruction for that part too).
To get things rolling, some idea's for organizing.  My Book And Tool Folio (pattern from my previous book Stitched Sewing Organizers) is perfect for stitching on the go.  You can easily fit a copy of my book, some hooped up fabric, threads and needles and you're ready to go.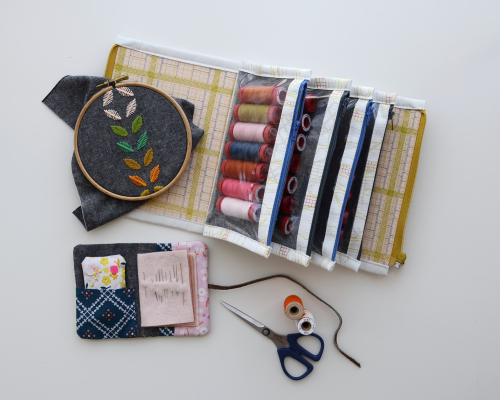 If you want to take a larger selection of floss with you, my Booklet Pouch easily holds at least 25 spools of aurifloss (and that's the small size pouch).
I hope you're ready to stitch your way through summer!