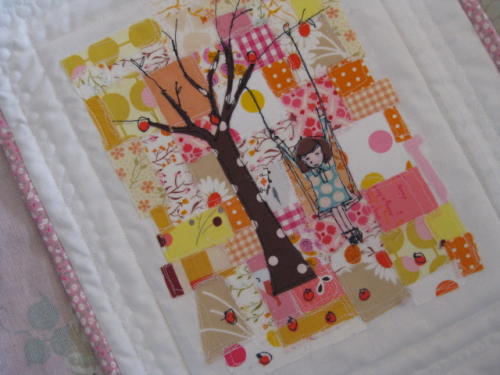 As mentioned yesterday, today there is another giveaway!!!!!!!   Now you may not be interested but in case you are the prize is the above mini quilt.  Also as mentioned yesterday this giveaway is open to ALL!!!!!  
Whether you are new to this blog of mine or a good old always popping by regular you are welcome to join the roulette of stitchy chance.  So without further ado let's have ourselves a little introductory inventory of the prize.............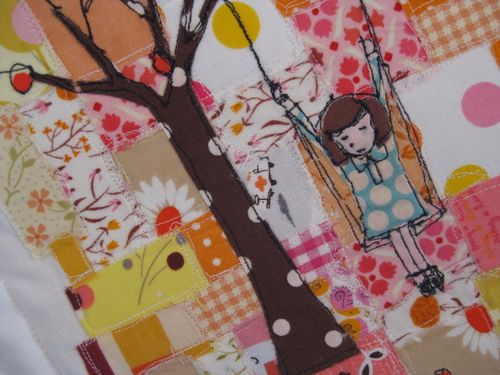 There is a little girl, swinging dreamily from a makeshift tree, not just any old kind of tree but a polka dotted one!!!!!!!  Of course there isn't just any old background.......it is all decked out in a little colourburst patchwork of raw edge applique....................... and she doesn't have any old coloured dress on.................it is the very best in kei spotted blue-ness so the wee madam doesn't melt undecipherably into the pinkyorangeness of the background. 
OOOOhh a LOT of thought went into this!!!!!!!((!!!!!!)))
 
added extra's include fallen apples...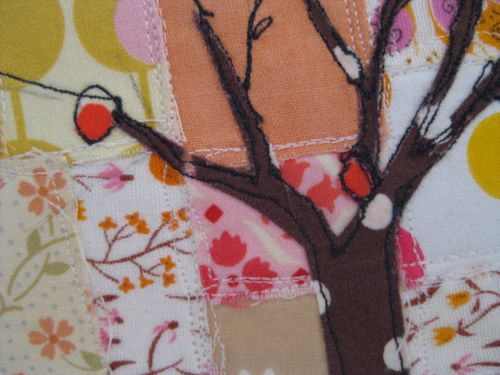 and hanging on for dear life apples!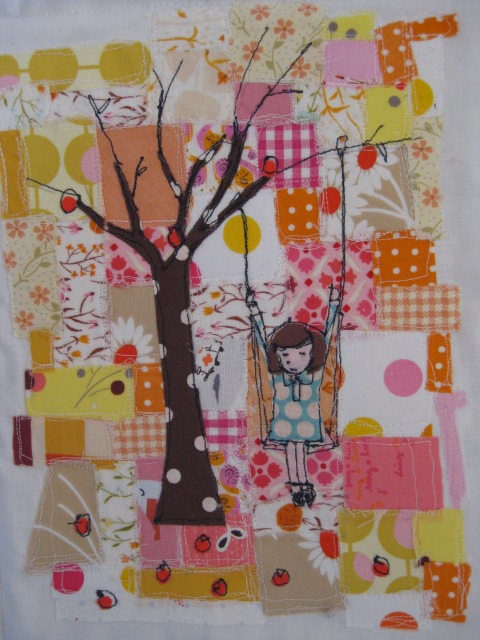 All outlined usefully in black machine-y stitched outline in a free motion style with a side order of sketch-iness.
Of course it would only be right to point out here and now that this mini burst of quiltdom was completely and utterly inspired by this masterpiece of Tacha's
So maybe you are thinking ''''''yawn''''''''!!!!!  or maybe...... just maybe you might be wanting a slice of the cake of chance to have a go at winning a little scrap of a quilt, strategically invented  to brighten up the walls of little girls everywhere........
---