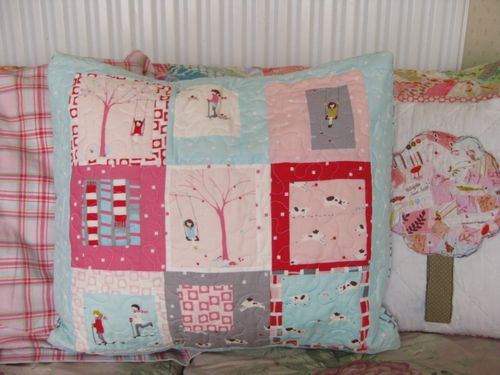 Welcome to the Moda Pillow Talk Blog Hop!!!
For those of you that are new to my blog, let's start at the beginning.  My name is Aneela Hoey and I am a new designer with Moda.  My first fabric collection 'Sherbet Pips' will be available from April (though there are some pre-cuts already out there).
For the Pillow Hop I was asked to make one that described myself but I think that this is something that we all do inadvertently anyhow.  When we make something, it always describes how we are feeling, what kind of mood we are in, whether everything is organized neatly or chaotic and all over the place.  I think that my pillow shows that I live in organized chaos!  It also shows what my life is like day to day - The characters in my prints were inspired by my daughters playing, there is lots of movement (jumping, swinging and riding) going on - in the character prints, co-ordinates and also in the composition of my blocks themselves.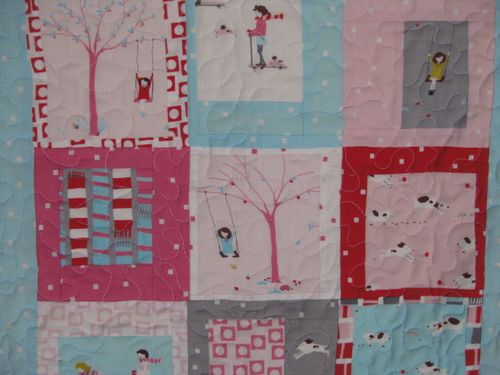 For the next part of the hop I was asked to answer a few 'Pillow Talk' themed questions -
What is a little known fact about yourself?  -   I am completely rubbish at driving.  It took me five attempts before I passed my test and in the two years I actually continued to drive, I had a number of scrapes like crashing whilst manoeuvring myself out of a multi storey car park at rush hour (not into another car I hasten to add) or crashing into a pump at a petrol station.  No people were injured in any way whatsoever during said scrapes and I stopped driving before that had a chance to happen. I haven't driven for over 15 years now, I walk everywhere.

How do you relax?   -  I bind quilts, browse the internet or sketch.

What do you sleep in -  PJ's or NightGown?  -  I sleep in a set of matching t-shirt and lounging style pants.  My husband hates it and always says I look as if I should be going out for a run.  I dread to think what he would actually like me to wear.....

What kind of pillow do you like, Hard or soft, foam or feather? And why?  -  Medium soft feather pillows, I like to be able to sink into my pillow.

When you were young did you sleep with  a  stuffed animal? If so what?  -  I think me and my sister shared a one eyed teddy that we took in turns to sleep with (it was those hard up olden days my daughters get fed up of hearing about).

Do you sew in bed? Read? Watch TV? eat? -  I wish I could sew in bed but I am dreadful at losing needles and the bed is probably not the best place to lose them.  Mostly I browse the internet on the Ipad.

How many nights have you or your spouse spent on the couch?  - None, as far as I can remember.  

Night-time toddy?  -  Camomile tea ( is that a toddy?)

Early to bed or all-nighter?  -  Always early.

Who would you most like to have a pillow fight with?  -  Both my daughters, children are the best for pillow fighting with.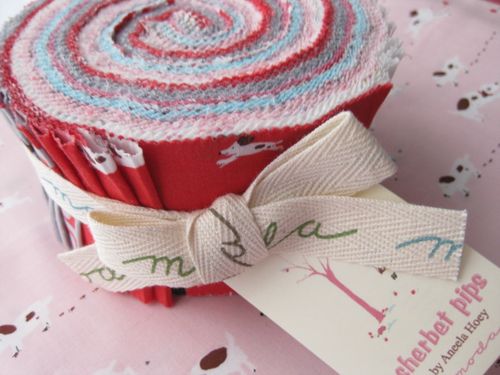 ---