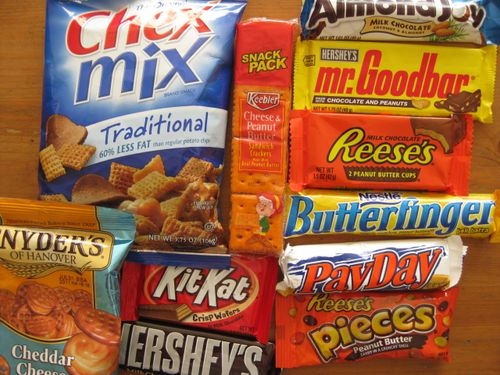 Today's post is about chocolate (firstly) for no other reason than I came across the above picture whilst searching through my recent snaps and thought I'd write a post around it.
The facts
1. The above is the haul I bought at Chicago airport with my left over dollars in the guise of a take home presant for my daughters.
2. The above haul took us 1 1/2 days to nibble through until gone.  Hubby didn't even get a look in.
My eldest was particularly bemused by the cheese and peanut butter combo of the snack biscuits in the centre and wanted to know (if any of you have the answer) if this is a popular combo stateside?
My favourite from the above which I scoffed all by myself even though it wasn't technically mine was the butterfinger, if you live in the UK this one is best described as a buttery crunchie bar.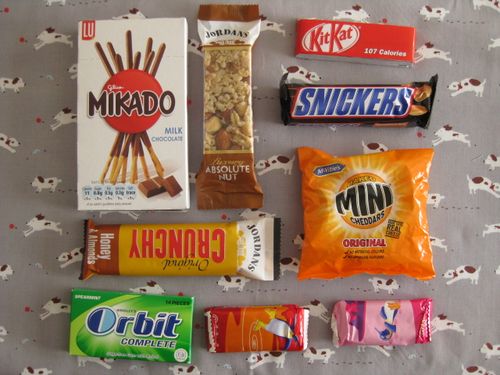 I decided to contrast the top pic with the one above which are the current supplies we purchase on a weekly basis to 'keep us going'.  We buy packs of all of the above because they are deemed essential by the rest of the family.
Going back to the peanut butter and cheese combo (can you tell that this combo has gripped our imagination?).  It reminded me of something my mother fed us most Sundays for breakfast when we were growing up, which was..
warm boiled egg and pineapple jam sandwiches.
I can't see it having been a common ritual in the households of Britain and how my mother came to put it together? I can only presume it was a hangover favourite from one of her pregnancies..
I would love to hear from you if
a) your mother fed you the same (Sunday breakfast or otherwise)
b) You can think of a family favourite of your own that is out of the norm of the more usual flavour combo's
Maybe if you do that, I'll let you know our favourite way to drink lemonade when we grew up???????  
---