Now that 'Little Apples' is readily available for a short slice of time, I thought it might be fun to look some of the colourways that didn't make the final cut.  The 'could have beens'
When I submit a new fabric collection, I also send in a sheet of colour swatches.  This is used by the mill in the initial printing phase, otherwise known as the 'strike off's' phase.
This is a very exciting time in the fabric designer's calender, as it is the first glimpse at your new designs on actual fabric in a multitude of dazzlingly different colour combinations.  After lots of oohing and aahhhing (often for several hours) some very tough decisions need to be made.
The pictures in this post are just some of the rejected colour ways for apples, the top photo shows a pretty pastel colour scheme which would be idea for spring but all wrong for fall.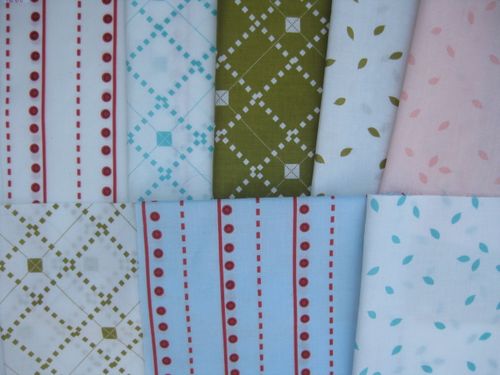 This picture shows some of the rejected co-ordinates, again these are just too light and summery to fit in for fall so these too have to go and live on the 'no' pile.  Can you start to see how hard this is?

Now this colourway would be perfect for fall/autumn (sorry the colours are a little bleached out in this pic due to my camera's inadequacies).  I love how it looks so grown up compared to the other variations but even when colours fit in perfectly, they still may not make the final selection.  A colourway may just not 'play' well with the other definites or it might just make the collection too big.  In an ideal world, we would love to print all the colourways we liked but that line just has to be drawn somewhere.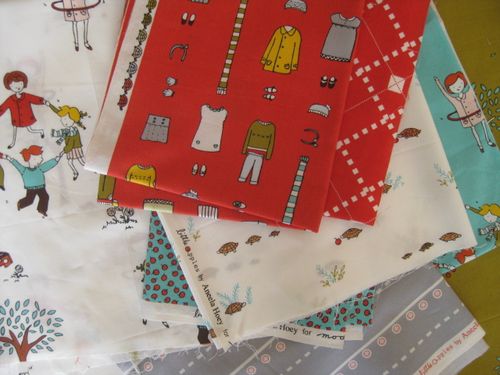 And finally we come to the fabrics that 'made it' became stars and went to live happily ever after in a selection of precuts (before all of you start slicing into them with your rotary's that is).
I hope you have enjoyed today's lesson in how these quilting collection's come to life.  Of course I find anything to do with fabric design, development and production infinitely fascinating so I hope you like the insight too!
---