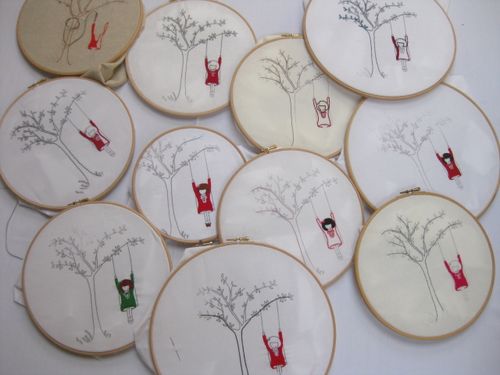 Last Saturday I held my first embroidery class in Henley on Thames.  I was quite surprised just how quickly this class sold out when I announced it last month and at last the big day came.  I went through some embroidery basics and a few tips and techniques before we began our project - my Girl On A Tree Swing embroidery from my new book Little Stitches.
I picked this one because it has been such a popular pattern since I started first started selling it in my shop.  Above is a picture of my student's work at the end of the day, they really got stuck into the stitching as you can see in the pictures below.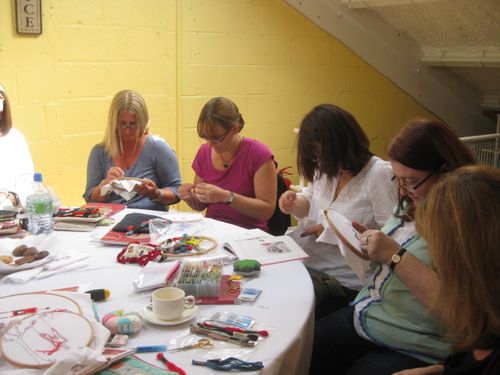 Honestly, these girls hardly talked, they were so engrossed in their work.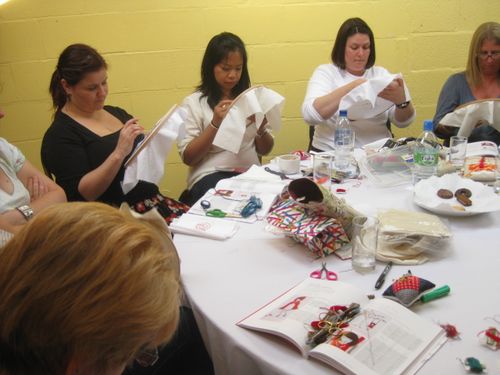 Look at how quiet and serene they all were (you know I'm winking at you don't you?)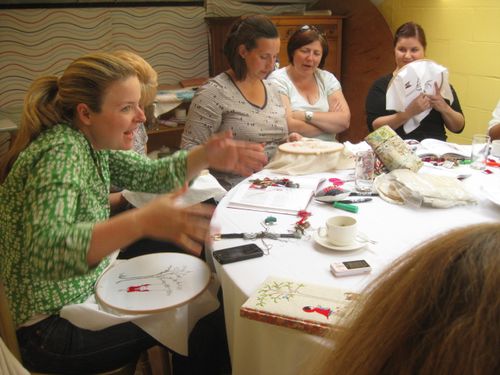 This was more like it, just a bunch of girls talking about how big the biggest stitch they ever stitched was or something like that (at least that's what I think they were talking about).
Many thanks to Kelly, Annie, Amy, Hadley, Shevvy, Elena, Tammy, Fiona, Dorothy, Ruth and Linda for coming along and stitching with me.
And an extra special thanks to my friend Pennie, without whom this class just wouldn't have happened (and who kept the girls fed with the best food an embroidering girl could need).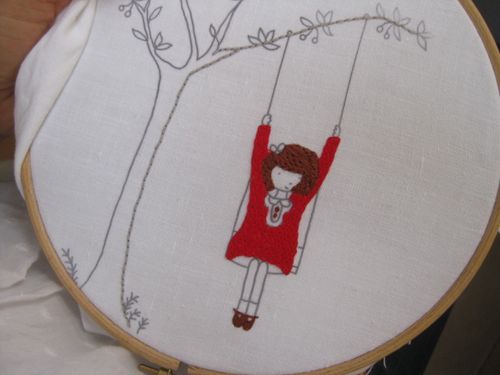 Ruth's amazing tree swing girl.
If you missed out on this class, my next one will be at Raystitch in London - We will be doing an Christmas themed embroidery and please note the cost includes a copy of my book and Cherry Christmas FQ's.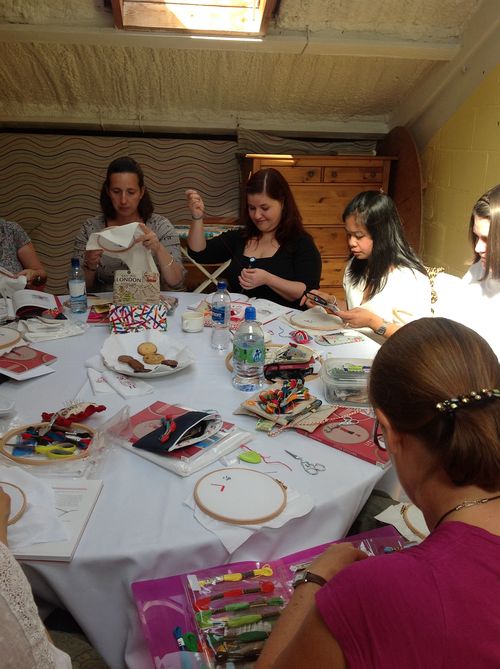 Just for fun, before we go - One of the above ladies just might have tried to bribe my eldest daughter with five whole pounds to do her embroidery for her.........can you guess who that might be? (tip: look for a guilty looking face)
Left to right - Tammy, Kelly, Elena, and Fiona.
Go on take a guess?????
---