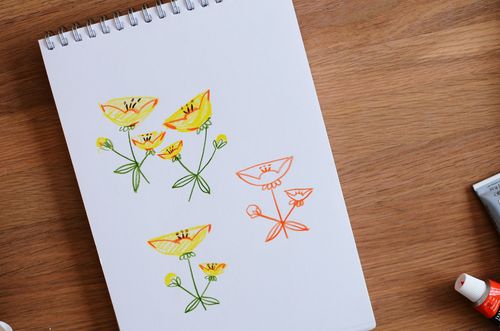 Today I'm going to show you a little of my thought process in creating the designs for the Vignette fabric collection.  When I created the original artwork I showed you in this post, I wasn't thinking about designing a print for fabric.  Instead I wanted to spend a little recreational time painting - something I greatly enjoy but never get around to doing enough of.  Some time later I returned to my original artwork and decided that they would make a great starting point for a fabric collection.
Floral prints are something I've done little of to date.  Throughout my design career I've focused more on conversational prints and always thought of flowers as something other people do.  In my design past, I've been lucky enough to work alongside other designers who would do the most amazing florals.  And when I say 'do'  I mean they would literally knock out 5-6 jaw dropping designs a day.  I always thought that I couldn't draw florals 'properly' but that didn't stop me from keeping personal sketchbooks full of drawings of them.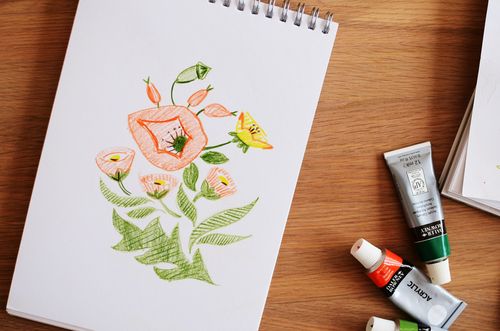 When I was at Winchester School Of Art in the early 1990's studying printed textile design - I was consistently taught that original artwork was central to the creation of design.  This emphasis has stayed with me over the years even though at the time I most likely just shrugged my shoulders and carried on collaging bits of paper together.  One of the first things I did to kick start the design process for this group was to do a few quick sketches, simplifying the shapes from the original drawings.  This got me thinking how I wanted the designs to progress and turn from drawings into design motifs.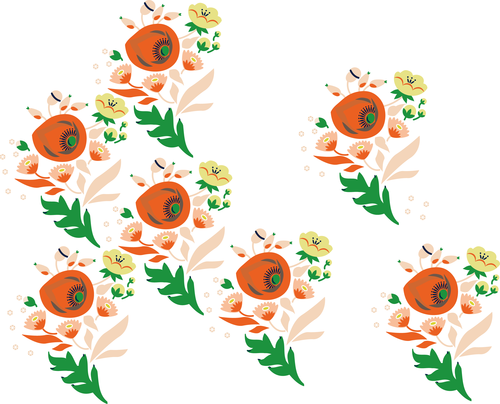 Once it came to beginning the digital artwork - I was able to use the information I had created when drawing such as the way that I'd constructed the bouquet with the poppies on the sketchbook page or the way that the buttercups were painted scattered in slightly varied formations.  I created new versions of these motifs from scratch in illustrator using my sketchbooks for reference.  My aim for this collection was to create a very bold but pretty, graphic look.
The picture above shows the construction of the poppy print in progress.  I liked how things were looking here but the layout looked a little too rigid and un-flower like.  So I started to play around and try different formations to try and get something with a little more flow. 
In the end I tilted the bouquet a little and spread the repeats out a bit, then added in some tiny dotted florals.  Suddenly it started looking more like I wanted - a repeating motif with plenty of movement, a little texture and some negative space.  Once the design and repeat where done, I started on colour and above you can see three variations.  There were probably at least 50 variations of this design alone because I can play around with colour endlessly.  Something to note here is that the creation of these designs took place over several months.  From time to time, I'd leave things alone and go work on something else for a few weeks, then return to look at everything from a fresh perspective.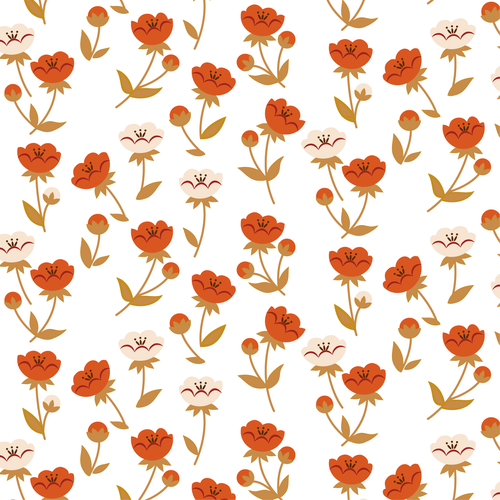 Here's an earlier colourway of the buttercups print - I'm going to be talking a bit more about the colour selection process in my next post.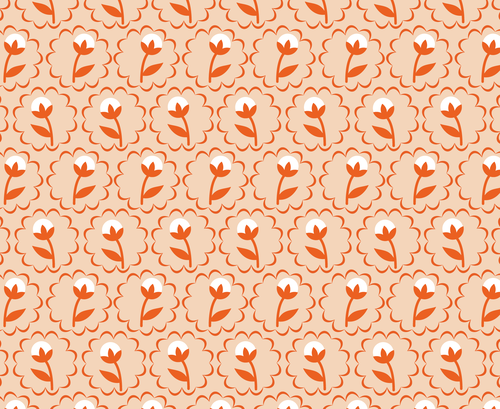 And lastly, designing always inevitably leads to creating far more than you need.  Which means that some designs end up set aside (for now).  This is one of my rejects from this group, again I'll be talking more about this selection process next week.
You can see all of the final Vignette collection here.
---