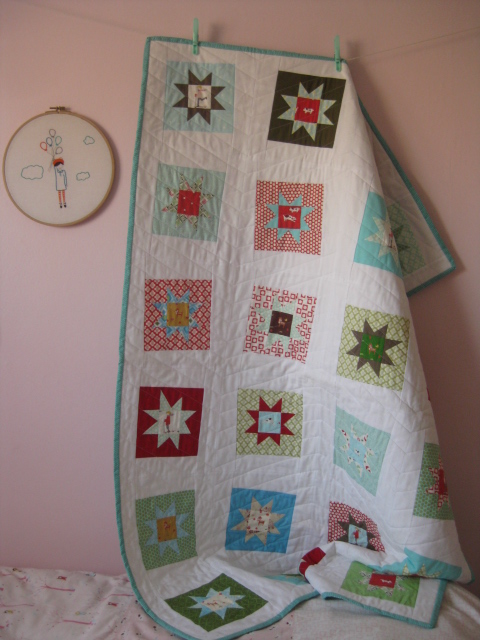 Previous experience is a good thing.  Previous experience when it comes to making quilts in time for Christmas has taught me to start on the early side of early.  After two whole years of quilting, I decided early in the case of me meant that even July was too late, I needed to start in April.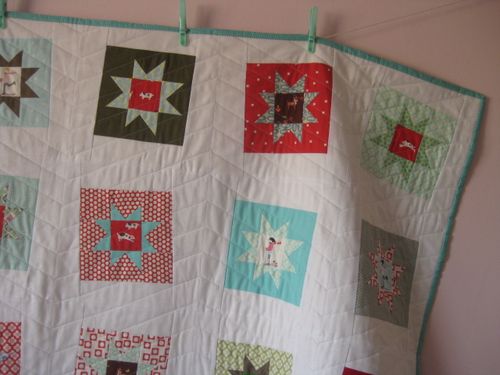 This entire quilt was pieced and sashed, basted then quilted in a herringbone style (of all the quilts I've made, the quilting on this one is my most favourite ever, expect lots more herringbone quilting to come) then I machine bound the quilt on the front and started handstitching the binding to the back, went three quarters of the way around, then promptly put the quilt on a shelf and forgot all about it until last week.  Yep! it took 8 months to get around to stitching up those last 15".
These blocks were made 6" square.  Instead of making the stars wonky and uneven, I made them pretty consistent in size and then wonk-ed the blocks when I sashed them instead.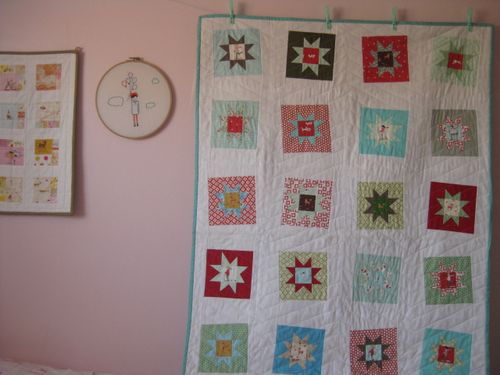 Fabrics used include Sherbet Pips, Flurry by Kate Spain, Bliss by Bonnie and Camille, Kei honeycomb dots, City Weekend by Oliver and S and the deer print is from Caramel Town by Lecien.  Solids used are from Flurry, Fa la la la la by French General and bella solids.  The binding is from City Weekend.
Not bad for a quilt that only took 3 years to get around to make.
---