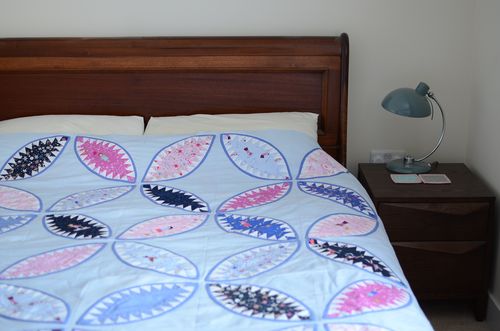 I've finally finished my tobacco leaf quilt top.  I celebrated by flinging it over my bed to see how it fits and it's looking right at home already.  I used the pattern from Denyse Schmidt's wonderful book - Modern quilts, traditional inspirations and highly recommend it.  The instructions were spot on and Denyse's writing style makes me want to make everything in the book.
Making this quilt has been a labour of love in a kind of climbing a mountain style.  At times all the cutting and the teeny tiny piecing seemed like it would last forever.  This is the kind of quilt that is meant to be made over a period of time but because of the kind of quilter I am, I knew if I ever set this aside it would remain a wip forever.  Therefore from the outset I decided to do this in an all or nothing style.  Here are a few facts about how things went.
1.  I started this project on the day I had to do the Christmas present shopping.  The minute I got back I had to delve into making something worthwhile.  I am just not a shopping kind of person unless it involves buying fabric.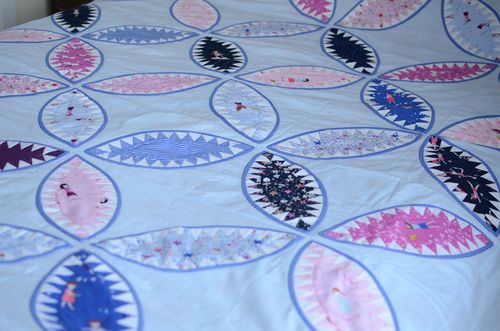 2.  I paper pieced the arcs made up of teeny triangles.  I tried it the regular way just once and it wasn't for me.  I made my paper piecing template by tracing it from the piecing diagram on the pullout template sheet then making duplicates on my copier.
3.  At least three quarters of the white fabric for the triangles came from scraps!  This quilt is a great scrap hoover.
4.  I went through FOUR rotary blades.  I have never gone through so many for a top.
5.  Making all the ovals took two weeks of sewing every spare minute I wasn't house-wifing.
6.  I made all the 50 odd yards of bias binding for the ovals without the aid of one of those gadget things.  It was a breeze and best done using a hot setting but no steam.  The only thing I wish I'd done different was to fling an old towel over my ironing board to prevent it getting all scorched.
7. Appliqueing the ovals on to the blocks took me just over two weeks.  I timed it perfectly as my holiday sewing project.
8.  The finished quilt top is so HEAVY.  I'm not sure why it never occured to me that it wouldn't be with all the binding and applique.  
9. I'm going to have a breather before attempting to quilt it.  I feel like that is like another mountain and I have to chill out in the valley before I attempt to climb that one.
Fabrics were all from my new Hello Petal line.  I used the Ditty Dots print in Lovely to make the binding. The background fabric is Bella Solid in Light Blue (9900 63).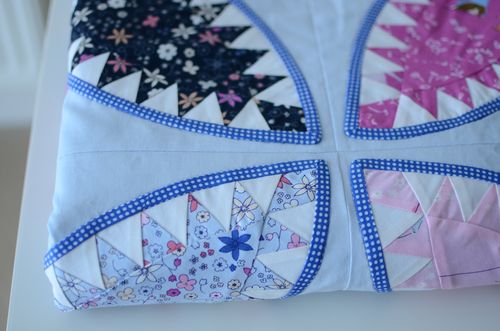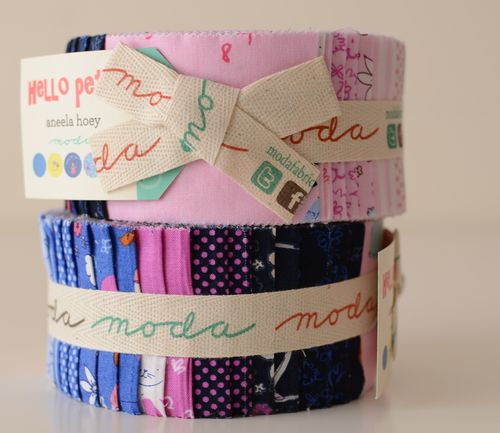 Talking of Hello Petal - my precuts finally arrived yesterday!  I can't stop smiling, I'm still so in love with these colours.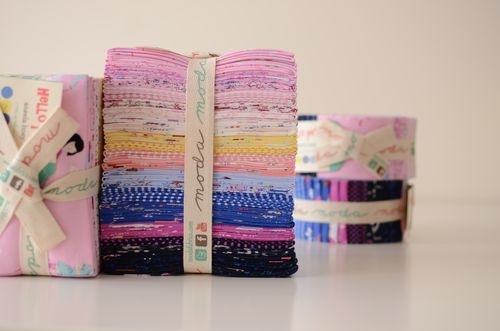 ---