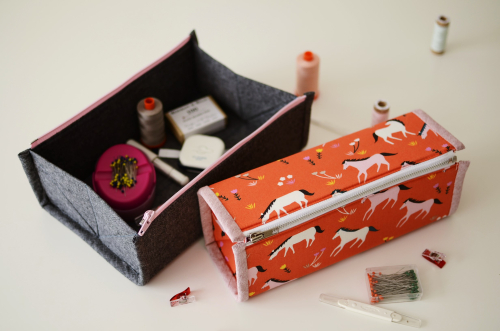 I finally have a new sewing pattern to share with you, say hello to the Zip-Up Tray Pouch.  This sturdy pouch opens up into a tray, to keep contents close at hand and easy to reach.  It can be zipped up when not in use and is great for storage and for when out and about.  It will be perfect for sewing and other crafts, kids toys, travel and more.
I've been working away at this idea for over a year, I wanted something that ended up sturdy without being too complicated in it's construction.  Pattern design can be a long winding and sometimes tricky process.  Once I get an idea into my head for something I want to be able to create, I will just work away until I get the right set of idea's to make it work.
In the samples here, you can see one that is made with a print from my forthcoming line Stay Gold (available to pre-order here).  The second sample is made from yarn dyed Essex linen in Charcoal.  Finished size of the pouch is 11"(W) x 4"(H) x 4"(D) when closed and 11"(W) x 4"(H) x 7"(D) when open.
I hope you enjoy making the pattern!
---