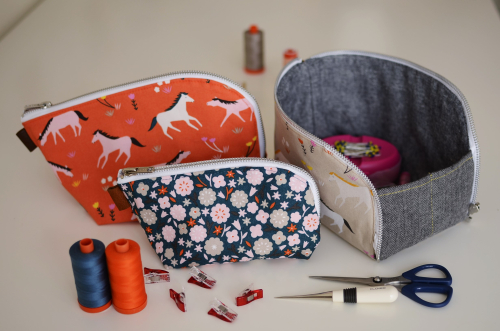 I have a new pattern release to share with you today - the Open-Out Box Pouch.  This one has been on my brain for a while - I wanted to create a fairly standard looking zip pouch that magically expands into a box shape when open.  This means that you can easily see and grab what you need then zip it up to keep contents secure when not in use.  It's a fun project to sew and has so many uses - perfect for projects, tools, travel, kids and more!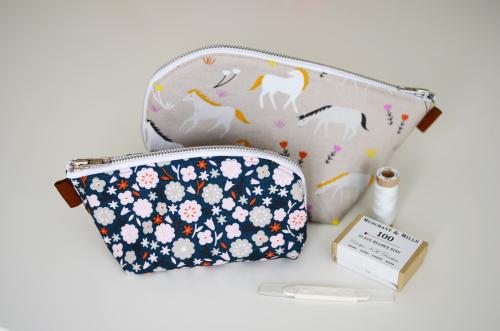 The overall style of the pouch has a very modern, angular look.  I used prints from my new Stay Gold fabric line for Cloud 9 fabrics (out in May) along with some favourite Essex linens, corduroy and Shetland flannel (all Robert Kaufman fabrics).
This is a great pouch for showcasing a fun lining fabric as it will be fully visible when open (see below).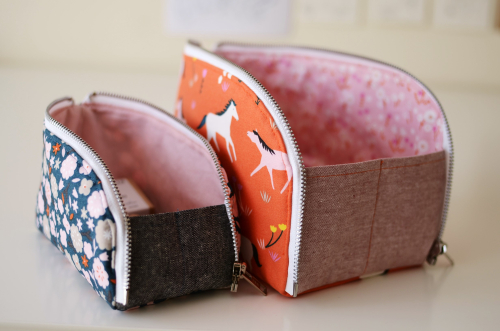 There are instructions for 2 sizes (see pattern listing for dimensions) and other than fabric and the zipper, this one requires only regular woven interfacing plus fusible fleece if you are making the large size.
You can find the pattern listing here.  I hope you have fun making one! 
(Please note - this pattern is not included in my forthcoming book Stitched Sewing Organizers but if you like the general style, the book will be perfect for you!  Preorder here).
---