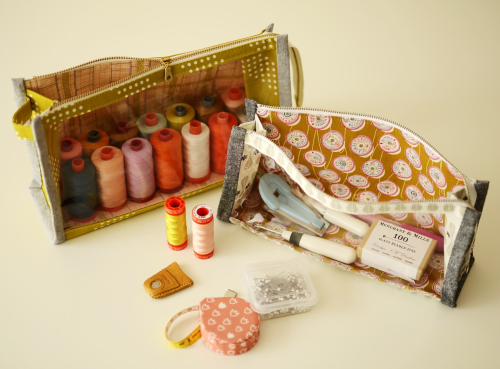 Today I'm introducing my newest pattern, the Boxy Clear Pouch.  
The pattern comes with instructions for two handy sizes.  It features a see through pouch front and a sturdy box shaped base.  This makes it a great storage pouch for keeping threads, notions, hexagons etc. in a way that you can quickly see what's inside.  No more trying to remember which pouch you left a particular shade of thread in or where your bias tape maker is.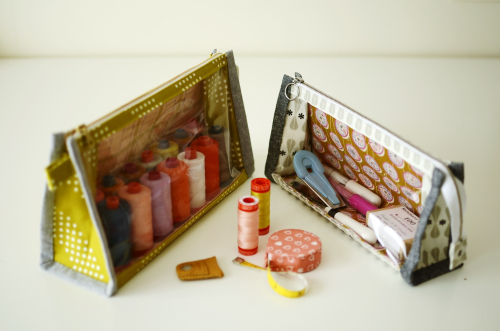 It zips up securely to keep all contents together until you need them, great for sewing on the go, travelling, kids bits and pieces, knitting, stationary and anything else you can think of utilizing it for.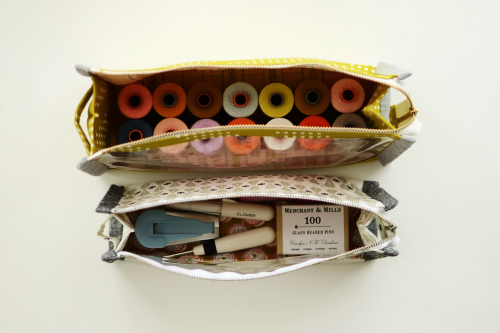 The zipper also allows for the pouch to open fully wide.  The aerial view above gives an idea of the storage depth within each pouch.
Again, I used fabric from my stash in a bid to use it up and sew with the fabric I love.  Here I used some prints from Trinket and Basics by Cotton And Steel, along with a little Friedlander by Carolyn Friedlander and my favourite Essex yarn dyed linens by Robert Kaufman fabrics for the binding.  I used Aurifil 2600 for the small pouch and 5015 for the large, both in 50 WT.
You can find further details about finished sizes and material requirements here.
I hope you enjoy sewing this one up!