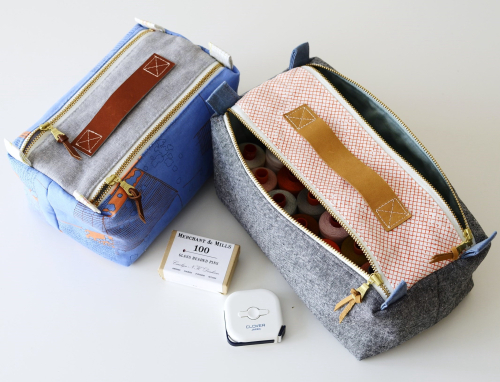 Last year I made a new smaller version of my Double Zip Box Pouch pattern which I've found myself using a lot.  Since I'd worked out all the measurements anyway, I decided to add the new size option to the existing pattern.  Once I finally got around to it, I found myself making a few more adjustments including a leather handle option and new finishing instructions.  What should have taken me a few weeks has ended up taking several months.  I could probably have written a whole new pattern in that time....ah well.
The good news is that even though there weren't any problems with the older version the all new version is definitely much improved.  Things I love about this pattern are that it really does hold a lot and the pockets sit very neatly inside.  I use mine for keeping sewing tools and spools of Aurifil and have also found them handy for keeping pens and drawing tools in.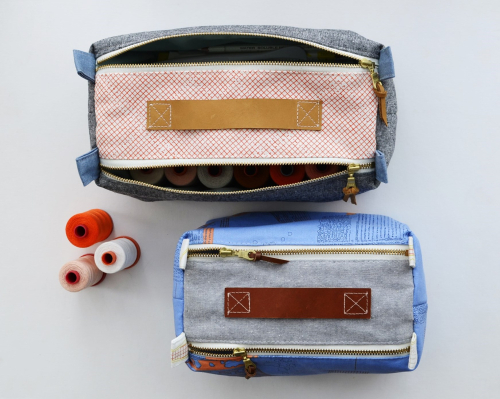 Recently I've been adding bits of leather here and there into my projects, I love the finish when using it for the handles here along with my favourite metals zips with donut shapes pulls.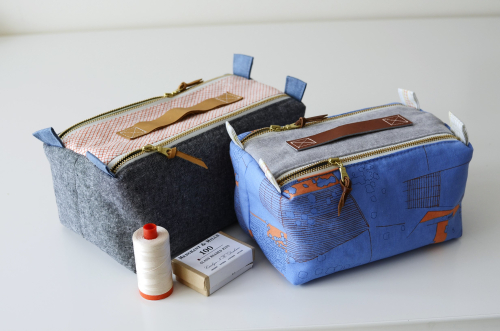 Anyhow if you've never tried this pattern before (or even if you have,) I hope you decide to give it a try.  You can find the pattern here.
Happy sewing!
---