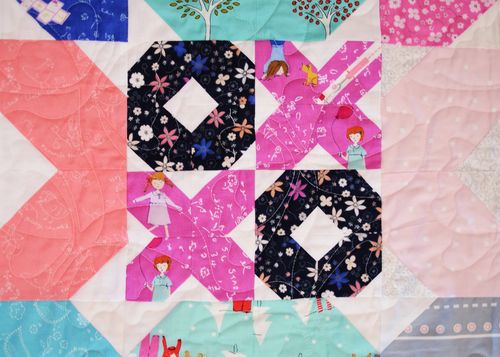 Last week I received a surprise package in the post.  When I got the box opened, this amazing riot of colour poured out onto my bed.  Honestly, I can say truthfully that I was instantaneously stunned, surprised, happy and giddy to see this wonderful xoxo quilt opened up in my hands.  
Last summer when I announced that I had found out I had cancer, Chelsea put a call out on Instagram to see if anyone would be willing to make a block for a quilt she planned on putting together for me.  She was completely inundated with a magnificent response from this amazing community of quilter's online.  As the weeks went by she received blocks from all over the world and the result was this quilt.  And some pillows she put together for my daughter's.  And enough blocks left over to make several more quilts that she is donating to the oncology ward at the local hospital.  It leaves me feeling so humbled and ordinary and I am really really full of gratitude for this outpouring of kindness.  I have tried to do this quilt justice in these photo's but it is kind of HUGE in a big (good) way and therefore a little tricky to photograph.  If you want an idea of the size, the photo below shows it hanging in front of three full size Ikea Billy bookcases and it pretty much covers them.
Thank you so very much to everyone who was involved in putting this lovely piece of quilt love together.  I really appreciate all of your hard work and it makes me feel full of gratitude and very very happy.  I love every itty bit of it!
On the subject of cancer - there has been surgery and treatment and I'm pleased to say that I am doing very well now.
What else is there left to say but xoxoxoxoxo