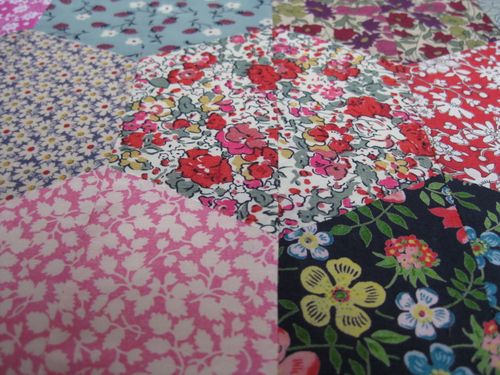 Firstly I know only a few are at this stage now so don't panic if you haven't started stitching/cutting/bought your fabric!!  These quilt a long instructions will remain here so you will have all the info you need when you get to this bit!!  Last week's instalment was quite a bumper editon so I'm keeping it short and sweet here.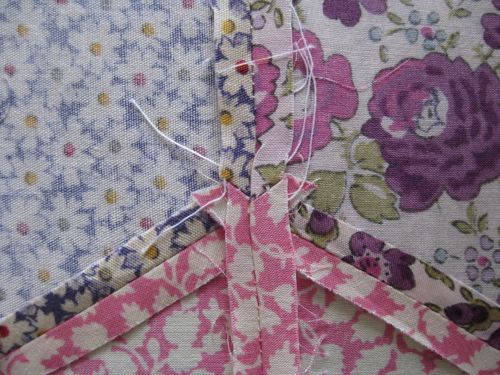 Once you have your quilt top ready, you will need to iron it.  I strongly advise you iron all your seams open.  This might make you actually hate me but it really will make a H-U-G-E difference to the end result as your hexagons will lie flatter and disguise those giveaway centre seams.  Once ironed you will need to think about the reverse of your quilt.  Many people seem to like constructing the back into a simple design.  I however prefer my back to be just one fabric.  So obviously do as YOU please.  I simply buy twice the length of my quilt in yardage, chop in half lengthways, then stitch together along the lengthy side.  Easy!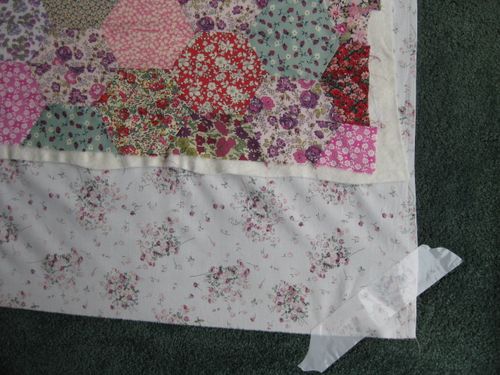 To make up your quilt sandwich, place your quilt back out flat on the floor RIGHT SIDE DOWN.  Using duct tape secure down at intervals so it remains flat during pinning.  Place your batting (I always use quilter's dream 100% cotton in select weight) on top of your backing fabric.  Starting from the centre, smooth it out evenly.  Now add your quilt top onto the top (where else!) ensuring you can see at least a few centimetres of batting and backing all the way around your quilt.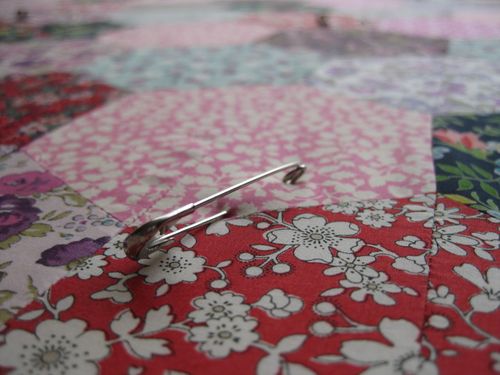 Grab your quilting pins and starting from the centre smooth out your quilt and pin through top, batting and backing approximately every 10 - 20cm.  Peel back your duct tape and remove your quilt from the floor.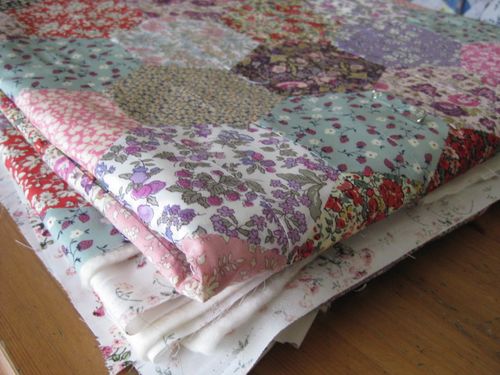 Your next decision will be to decide how you want to do the quilting.  Ruth has very kindly come up with these fantastic quilting solutions,
For machine quilting,one andtwo.
For grandmothers flower garden type layout's/scrappy style
For handquilting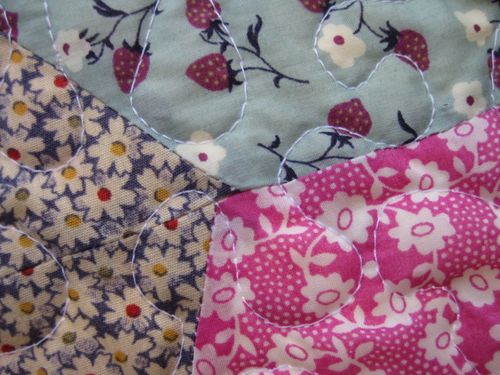 Free motion quilting/stippling
I chose to free-motion quilt mine and love the end result.    If you are interested in free motion quilting here are some pointers :-
A good sewing machine makes your quilting life so much easier.  My machine is a Pfaff quilt expression 4.0, it is made with the quilter in mind and comes with a sensormatic free motion facility and foot.
You will need to use a darning or free motion foot.
Use good quality thread, this really does make a difference as you are going fast and poor thread will keep getting caught up.
Lower your feed dogs, these are the two lines immediatly under your presser foot that move the fabric for you during sewing, for free-motioning you will be moving your fabric with your hands.
Make sure you needle is sharp, if in doubt replace with a new one.
Increase the tension on your machine, I raise mine to 6 and use stitch length 2.5.
Keep all parts of your quilt that are around your machine loosely bunched up/folded for ease of sewing.  DO NOT let them hang off the edges of your table.
Keep your foot fully pressed down on your pedal but move your fabric with your hands at a slower speed.
Fill as many bobbins as you are able to before starting, you will use many!
Practise practise practise!!  Make up some mini quilt sandwiches using spare fabric and batting and play around on those until you have a good feel of things.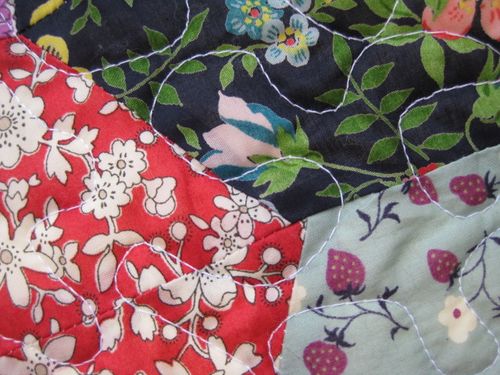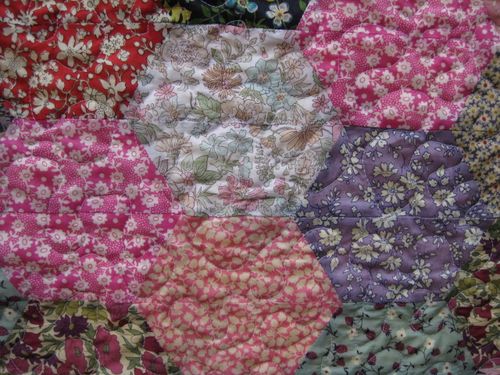 This discussion thread is a very useful read.
If you're still unsure how to go about things, this video clip is great.  
If you want to free motion quilt but don't have a sewing machine where you can lower your feed dogs, you might find this discussion thread very interesting!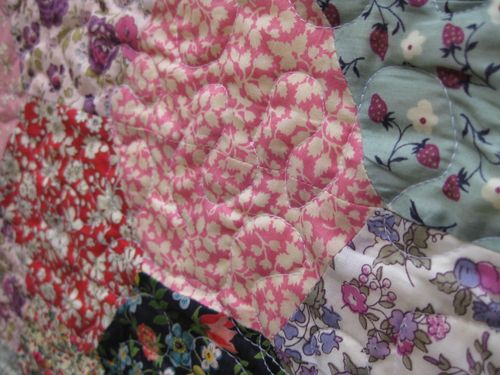 If you have any queries about quilting or stippling or anything else or if you're just feeling chatty or want to talk about what you are making or what the weather is like where you are just ask or tell!!  I only learned to free motion quilt about two months ago!!  So I remember how it feels to try something new!  I hope whatever you are stitching it is going well for you!!!