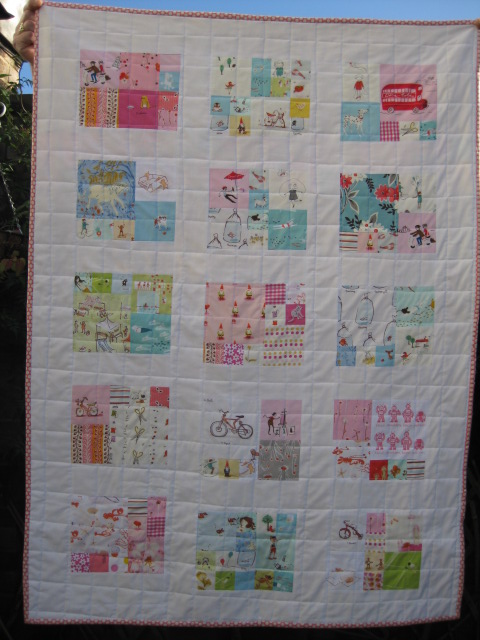 The Munki quilt is FINISHED!!!!!!!  I have quilted and bound it and it is now hiding in it's safe haven of the airing cupboard away from young holiday gift hunting eyes!!!!!!
Only, my bossy little madam knows it is here on my blog and will no doubt have looked up her surprise already!!!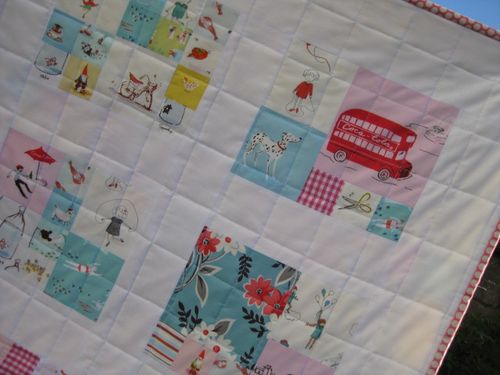 Nice blocky quilting to match the very blocky blocks!!!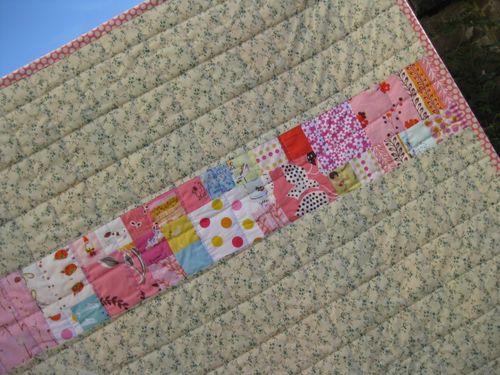 More block-ity blocking on the back!!!!
So what do you think??  Want to make one????  Want to make one NOW???!!
Well as if by magic.......(cue a very large puff of smoke and a pantomime style bang!!)........................... 
Here is the tutorial for my Blocky Munki quilt blocks!!!!
I found it quite a quick and easy quilt to put together and it would not be too much of a stretch for you to magic one up in a few days and wrap  it up for a little someone at Christmas.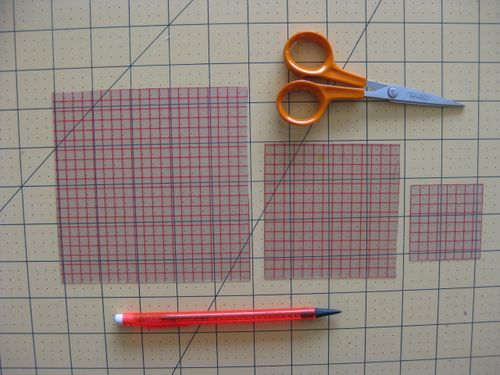 To make your blocks, you will need to cut out 3 square template shapes from some template plastic.
1 x 2" square
1 x 3.5" square
1 x 5" square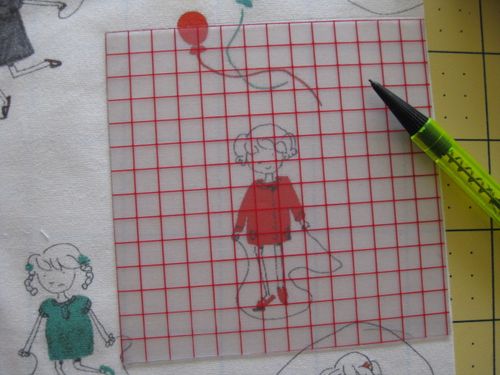 Next you will need to spend a joyful hour or two, going through your stash and cutting out your squares.  Scraps are very good, especially for the smallest squares.
To fussy cut, place one of your three square templates over a suitably sized image, make sure that your image has plenty of space around it and take into account when placing your template, that a quarter of an inch all the way around will be lost in the seam allowance.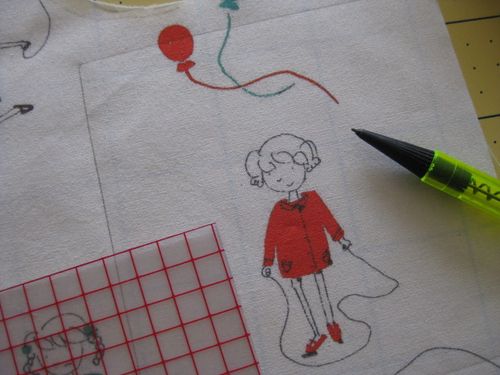 Draw around the template with pencil,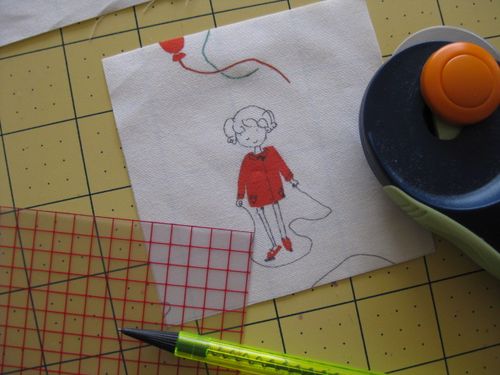 then use a strong plastic ruler and rotary cutter to cut your square.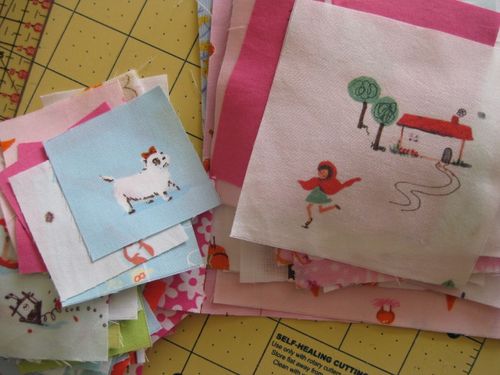 Cut a good number of each size square, in my quilt I used around
10 large squares
32 medium squares
and 73 small ones.
I would cut out more than this to give you some choice in the way you arrange your blocks later, any extra's can be used to add a bit of detail when piecing together your quilt back.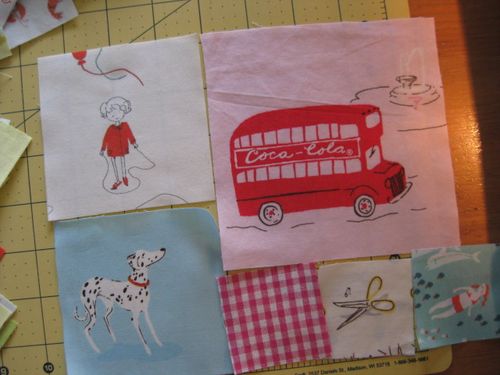 Now you are ready to start putting your blocks together, this is the fun bit where you can really play around with the way each block looks.
Each finished block is going to measure 8" across the width and 6.5" down the length.  Because of the size of the 3 different blocks or more specifically the proportions between them there are many different ways you can form your blocks. 
If you look at the picture above you can make out that,
the length of the two medium blocks when stitched together will be the same as one large block and one small block sewn together. 
Also the length of 3 small blocks when stitched together will be the same as the length of one large block.
You can scroll up to the photo of my quilt and see the different ways I have put my blocks together.  Notice how the different ways the blocks are put together makes the eyes jump around the whole quilt and stops them getting bored!!!!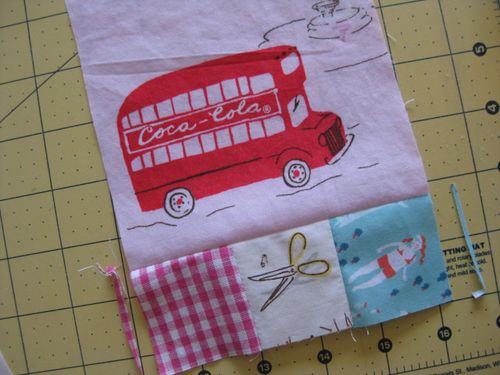 To make this block, I first stitched together the 3 small squares, I then joined this to the large coca cola bus square.  Next I trimmed both sides with a ruler and rotary cutter to make the edges even.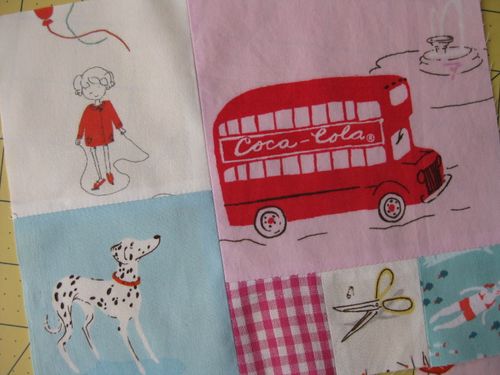 Next I stitched the skipping girl to the dalmatian and finally I stitched the two parts together with the seam that runs vertically down the middle.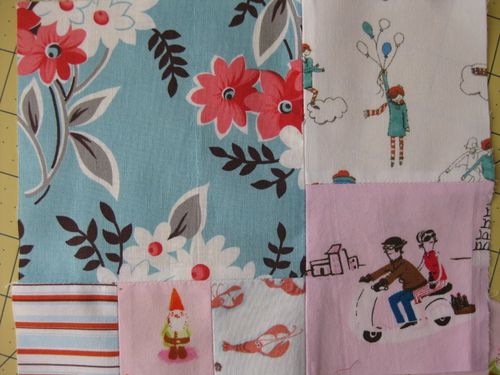 This block was made similarly to the above, only the two medium squares appear on the right hand side this time.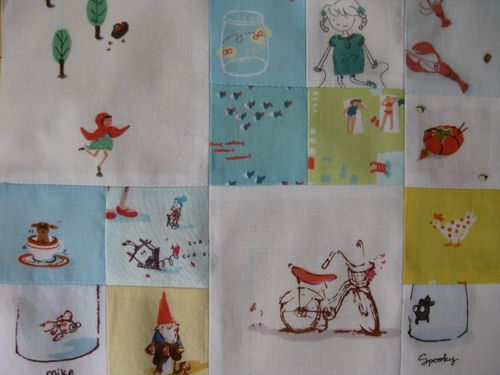 The above block was made by,
stitching the 4 small squares in the bottom left hand corner together, then stitching this resulting square to the medium little red riding hood square.
Stitching the 4 small squares in the top centre of the block and then stitching the resulting square to the medium square with the lovely picture of a bike on it.
Stitching the 4 small squares that run vertically down the right hand side together.
Finally stitch the 3 vertical strips you have just made together to form your block.
 
 


Continue until you have a nice pile of quilt blocks to make your quilt with!! 
Each block takes only minutes to stitch together..............so come on what are you waiting for get stitchin'!!!!!!!!!!!!!!!!!!!!!!!!!!
Let me know if you found this tutorial good, bad or so-so.  Do you think I explained the making of the blocks clearly enough?  Would you be persuaded to try these blocks immediately or would you save this idea for some time in the future?????   If a few of you are interested in starting one of these soon or to finish one by Christmas it will be super smashingl-y lovely to see them popping up in the .....................................................................................................................................................................................
.........'Stitching with Comfortstitching' Flickr group pool!!!!  (many thanks to Katy for the super name), you can find it here or click on the link at the top of my sidebar.
This group is a meeting place for YOU to post,
 - Anything you have made following the tutorials from this blog
 - Anything made using my spoonflower designed fabrics
 - Embroideries stitched from my patterns (yes all two of them)
Anyone is able to join the group, you can simply join to see what is being made by others or to post your own pics.  There are already a few little treasures in the pool.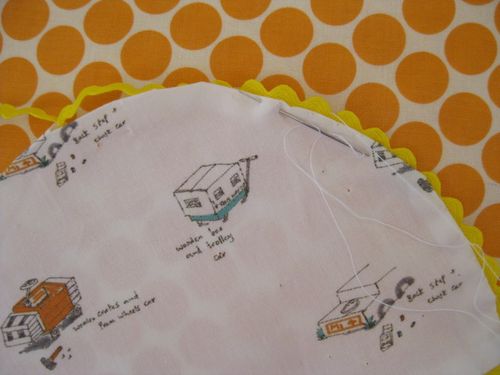 Meanwhile...........can you guess what it is yet?????!   
MOre SOooooon!!