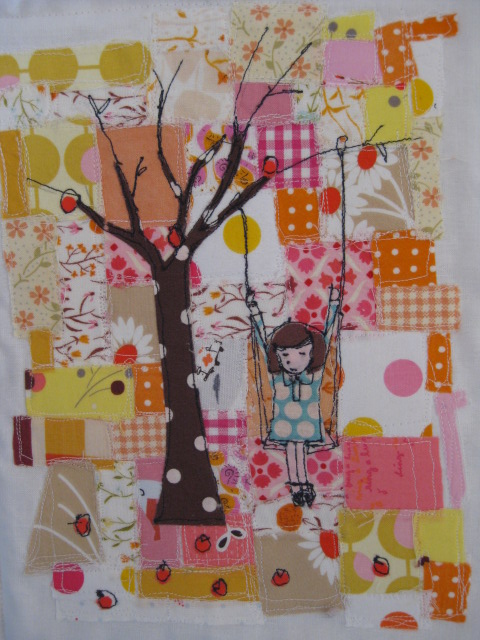 This tutorial is a thank you to all those who have commented or favourit-ed this mini quilt of mine on flickr, all those who have added it to mosaics, everyone who entered the giveaway last year and (very thankfully!) those lovely ladies who road tested the link for me yesterday!!!.
This was my first proper attempt at raw edge applique and free motion embroidery, I have made some smaller items before but this much more of a proper go at playing with these techniques.
If you would like to have a go at trying your hand at these techniques I hope this guide will help. 
*********As usual all I ask in return is if you use it, is to please link to it, if you upload any pics to your blog/flickr.  Let other's know where to go!!!!!**************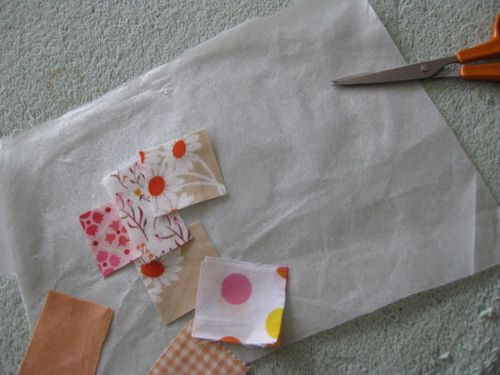 You will need :-
Lots of fabric scraps for the background (it's a good idea to keep these in a distinctly different colourway to the tree/girl/dress etc. so that they don't blend into the background).
extra scraps for the girl and tree applique,
a sheet of bondaweb or other paper suitable for applique. 
some white fabric, scissors, interfacing, sewing machine.
    *****************************
Cut your background fabric scraps into squares and rectangles, mine  were three quarters of an inch and upwards in width, until you have a nice big pile.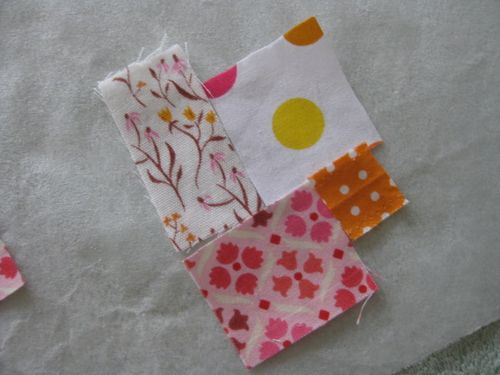 Take a piece of bondaweb or similar iron on adhesive the size you wish your applique background to be.
Start laying your squares, slightly overlapping them, on the rough side of the sheet (the side that doesn't peel away).
Continue until completly covered.
I did this on an old towel to avoid having to move it at the ironing stage.
Iron your scaps to the first side of the bondaweb.
Carefully turn over and peel of the backing sheet.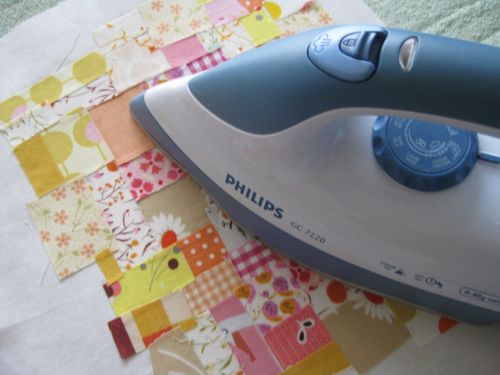 Place onto your white fabric and iron your scrappy mosaic onto that.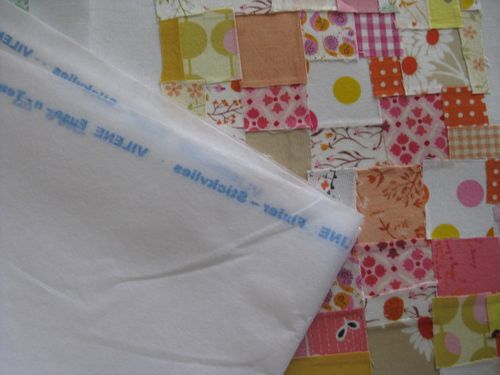 Before stitching my background I iron on some light to medium interfacing on the back.  This keeps your surface nice and flat for stitching.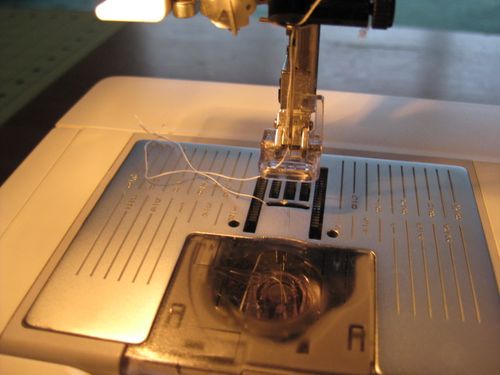 This is the machine foot I do freestyle embroidery with, I have a Pfaff quilt expression 4.0.
I sew with the feed dogs down (that's the 2 longer paralell lines you see right under the foot above).
The foot stays in an upright position whilst I sew, so this lets me to move my fabric around at ease!  My daughter also has a very basic sewing machine and she is also able to do freestyle embroidery, so please check your manual to see if your machine has this feature.  
I sew around the edge of each of the background squares to secure them.
For the templates I have created a PDF just for all of you!! just click on the link below,
Download Girl on the tree swing templates

Note: the templates have purposely been reversed so that they will come out correctly in the end!! 
Print your template sheet.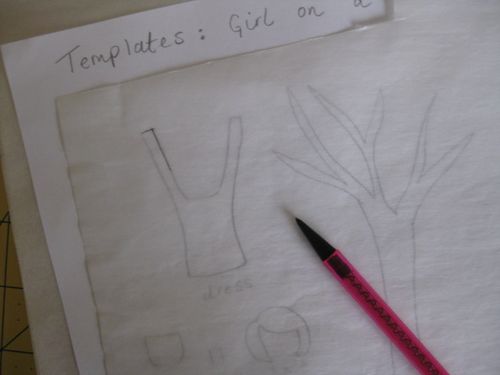 Place your template sheet under the Bondaweb so that the paper side of the bondaweb is facing you and the rough side of it is facing the template copy.
Trace each of the template images onto the bondaweb.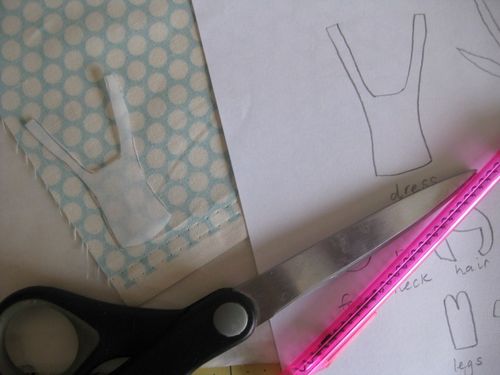 Cut out each of the shapes (unlike the photo above, you can just roughly cut around them at this stage to make it easier!).
Find some suitably coloured fabric for each.  For mine I used a brown fabric for the hair, a fleshy pink for the legs and face etc.  go through your scraps and see what you can find suitable.  I actually used some bits of background colour from printed fabric!  the brown hair is from the munki munki lipstick print, the face and body parts were from munki gnomes on pink!!!!
The dress is cut from Kei honeycomb in aqua, again note that this is very different to the colours used on the background mosaic - this is important to note as you need the girl to stand out of the background.
Iron each bondaweb shape onto the reverse of a suitably coloured fabric scrap.  To do this, lay your bondaweb template on your ironing board, rough side up, lay your fabric on top right side up and iron on.
When all are ironed on, cut out each of the shapes following the line of the template on the reverse of your fabric.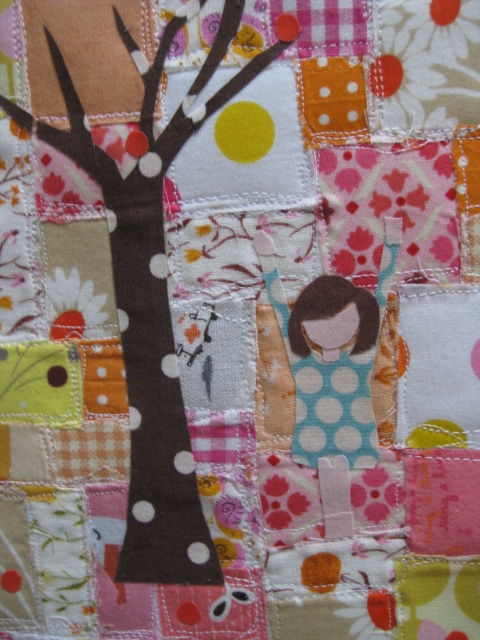 Peel off the paper side of the bondaweb from the reverse of each of the shapes and following the picture above, one by one place each shape onto your background mosaic and iron on carefully.  Take extra care with the smaller shapes like the hands.  I would start with the tree first, then dress, legs etc.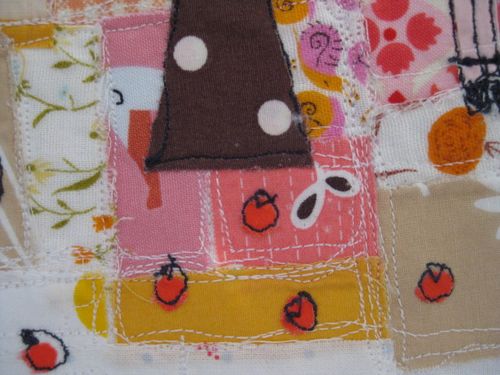 Keeping the embroidery foot (see above) on your machine,  thread up with black cotton thread or any dark colour you fancy.  This change of thread is important to make your girl and tree images stand out.
Practise!!! the next bit onto practise appliqued fabric first if you are new to freestyle embroidery stitching.
You need to outline the edges of the tree and apples,
add tapering branches to the appliqued tree branches,
outline the girl, draw her face, dress collar, button tab, shoes and swing using your machine and thread (practise practise practise this first on scrap fabric first!!!!!!!!!!!!!!!!!).
The trickiest part of the machine embroidery is the face, if you find it is just too tricky you can always just hand embroider the face instead using the same thread you are sewing with.
Remember you are after a very sketchy free style of stitching, the stitching is not meant to be perfect by any means!!!!!!!!!!!!!!!!!!  The imperfections are exactly what will give your embroidery the character it needs.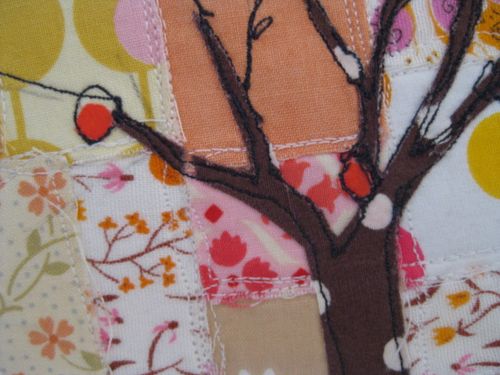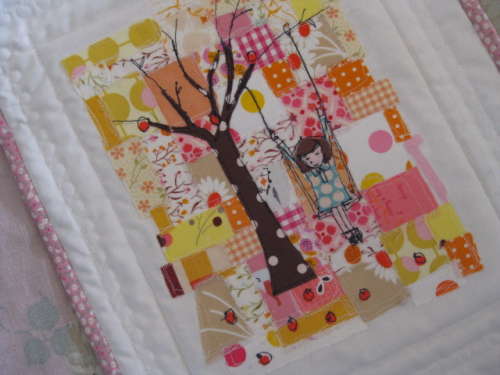 Once you have finished your applique, you can stitch further strips of white fabric to the edges of your white fabric (this is what I did as my initial base fabric was not big enough!).
To turn into a quilt you can follow the steps in these tutorials,
To sandwich and baste your quilt (scroll down to bottom of tutorial!).
I hope you have enjoyed my tutorial! - It was a bit of an epic to write. 
Please enjoy it and don't forget to link link link if you do!!!!
Please add any pics to  my flickr group!!!!!! whether you make this quilt or use the techniques from the tutorial to make your own!!
I'm hoping to see lots of little girls swinging merrily from their quilts there soon!!!!!
PPPPsssss....Don't forget to enter my giveaway!!!!!!!!!!!!!!!!!!!!!
**************************************************************************************************