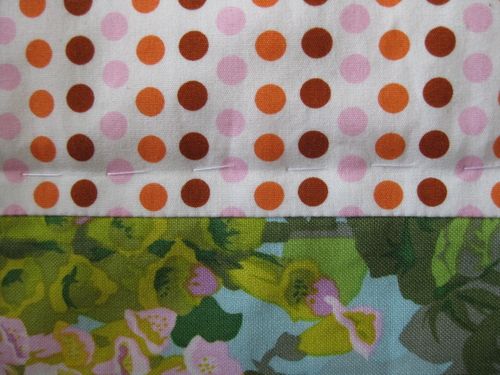 Hand quilting is easy and relaxing and there is no reason to not give it a go at least once.  The straight line quilting on my 'anticipation of summer in a stripe' quilt took a few hours a day over two days to do.  It is a lovely way to spend time whilst watching a film or your kids or chatting over a pot of tea.  You can do it in the garden, park or beach!!  Don't let the thought of all those bemused stares put you off!
My finished quilt measures 56 x 58" and I did my quilting in vertical lines (echoing the formation of the quilt, see yesterdays post for a pic), spaced 3" apart.  My stitch size is just under half an inch in length.
I used regular white cotton sewing thread, though apparently it should be special quilting thread.  I also sew with a regular sewing needle.  Before beginning to quilt, I sandwich the three layers of my quilt together and pin baste every 2 -3 inches.  I use large safety pins, they should be curved ones but mine aren't!!!
I also chop my quilt sandwich to around three quarters of an inch bigger than the finished size all the way around.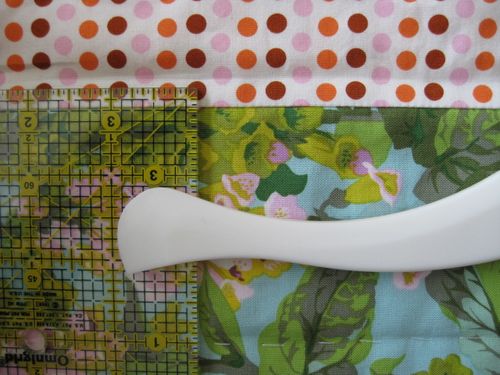 The first thing you will need to do is mark your quilt.  Here I'm going to show you how I did this on this particular quilt but there is more on marking if you scroll to the bottom of this post.
The first line of stitching I made, I just spaced my stitching a quarter of an inch away from a seam line, so that was easy.  I start all my lines at least an inch away from the cut edge.  This is to ensure none of the knots get chopped off when I cut my quilt to finished size
To mark the remaining lines I used a Hera marker - the white tool in the picture above.  This leaves a crease mark wherever you use it, so no marks to get rid of afterwards.
I mark a small amount at a time as I stitch.  This is because if you do all your lines with a Hera marker at the beginning they will be faded away by the time you stitch most of it.
I use a small square ruler to mark 10 or so inches at a time, stitch the line, then mark the next bit.  I space the line 3" away from the previous line I worked on.  See pic above.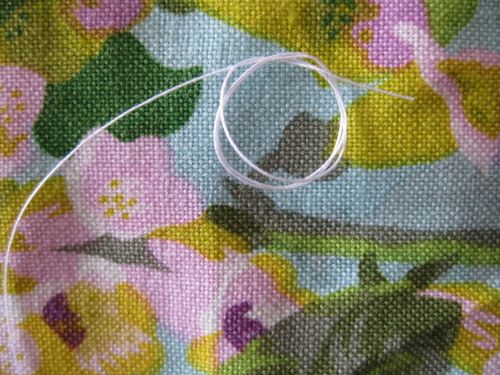 The knot - I use a thread, roughly the length of my arm.  I wrap the end bit three times around my finger then draw the thread end through.  Some folks use a quilters knot but I use the above.  I find wrapping the thread around three times is just right, wrapping twice means the knot doesn't stay put and wrapping four means it is too big and could damage the fabric.  Practise before you begin to check three is right for you and the thread you are using.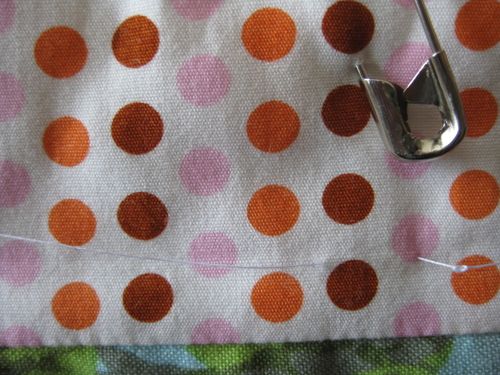 Pull your needle and thread through - ensuring it is at least an inch away from the cut edge - pull the knot right through into the quilt sandwich, it should make a pop sound as it does but stop before you pull it back out again!!  This is best practised with a mini quilt sandwich in your hand so it makes more sense.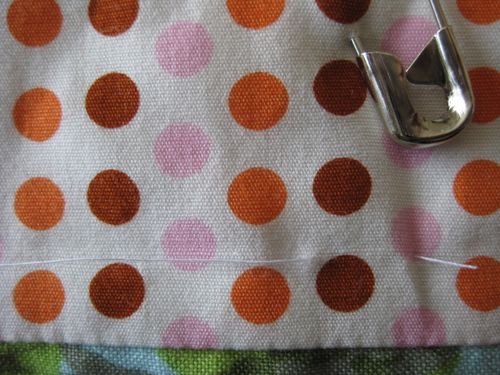 Your knotted end is now encased forever in your quilt!  Cut off any excess thread tail peeking out of the quilt.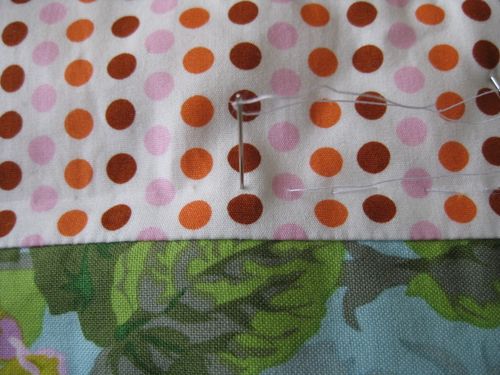 To make the stitches, you are just sewing in a straight line.
To ensure these stitches end up the same size on both sides of your quilt, you need to make sure your needle goes through the quilt straight (perpendicular) and not diagonally, see above.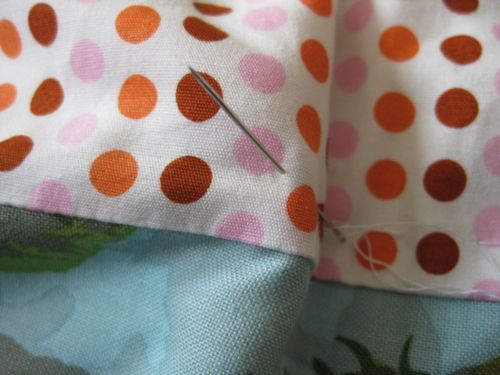 Place your non sewing hand under your fabric and as you bring the needle back out to the front of the quilt, you need to gentle push the part of your quilt you are sewing so the needle comes back out as perpendicular as possible.  When you do this in practise it makes much more sense!!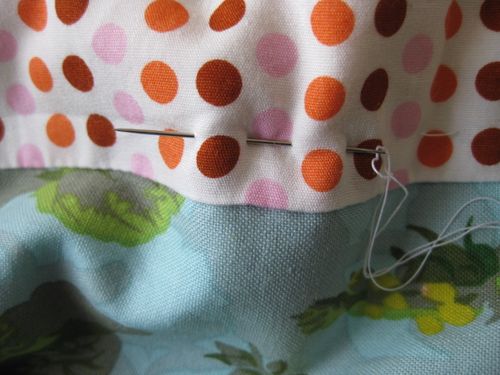 Making two or three stitches at a time is much quicker than sewing each stitch seperately.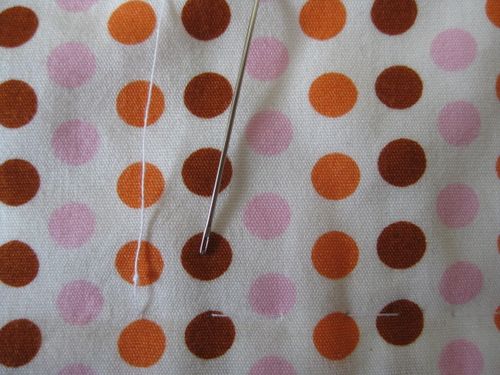 When you get to the end of you length of thread, remove the needle.  Make a knot (same size as before) about one stitch size away from where the thread last exited the quilt. 
Re-thread your needle, after the knot!!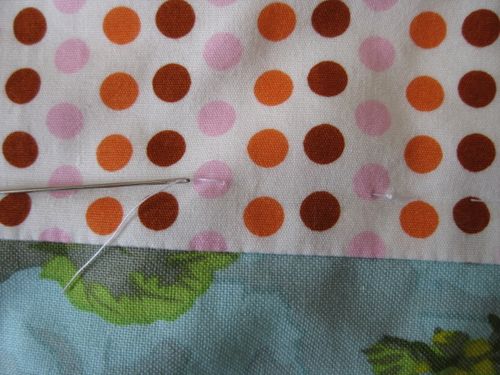 Pull the stitch through until it pops into the quilt sandwich.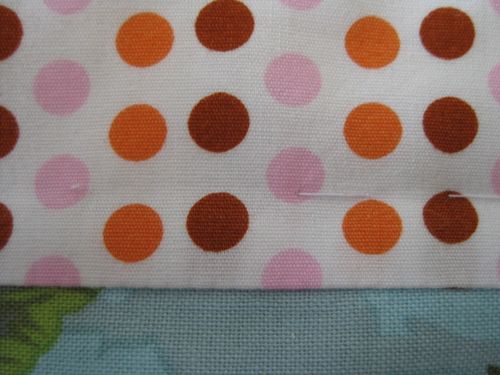 Cut off any excess poking out!
Continue with a new thread, starting and finishing as before until done!
Then simply cut your quilt to size and bind.
A little more on marking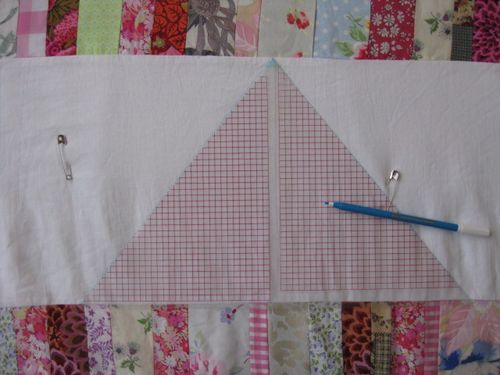 Instead of using a hera marker, you could use one of the wash off pen markers.  This is what I used on my 'scraptastic coin quilt' (see tutorial in sidebar).
Personally, I found it a lot of hassle to wash the pen marks off afterwards as they keep reappearing but they do eventually come out.
I marked this quilt by making a triangle shaped template, marked around it...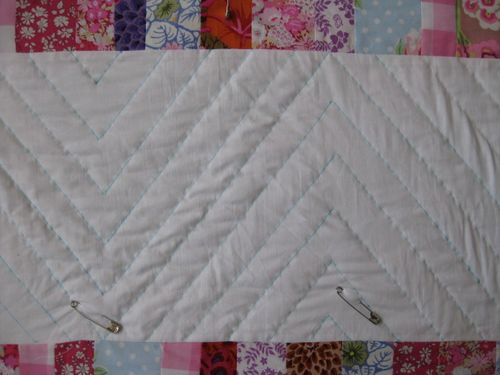 Then lowered the template downwards and marked again about an inch away and so on.  I only quilted the white stripes between the coins and left the coins themselves unquilted.  I think this took me 1-2 weeks to handquilt.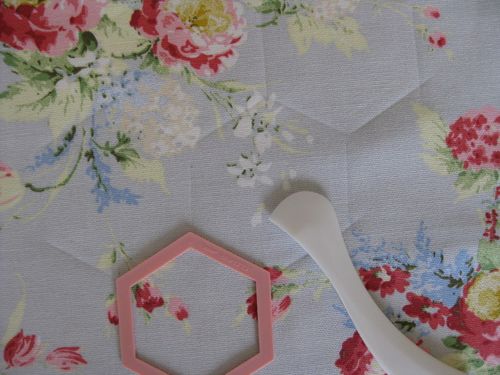 I also hand quilted my hot water bottle covers (tute in sidebar).  
I used a hexagon template and marked around it with my hera marker.  As above I would mark and quilt a few at a time before marking the next lot.
And that's it, an intro to handquilting.  I hope you enjoyed it and give it a go!!!!  Also I would love to know if you handquilt and any recommendations you might make, especially with regards to thread and marking or anything else you think I might find useful..........I might know the basics but I'm always ready for more info!!!!