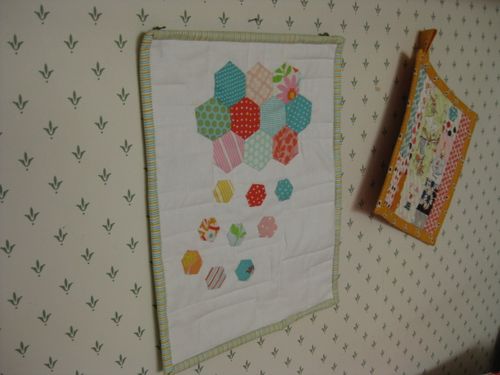 Recently I have been addressing my quilt making tendencies and come to the realisation that I have no more cupboard space to house any additional quilts I make.  I have concocted an answer to this dilemma by deciding to hang any additional quilts I produce from now on.  The problem I have always found with hanging quilts is - what if you decide a while and a bit down the line, to change the career of your quilt and start using it as a quilt????
I have thought about this for a good while and come up with the following method of making small but sturdy (and pretty) little loops to hang up my quilts with.  Strong enough to take the weight but discreet enough to remain elegantly hidden should you decide to pull them off the wall and snuggle up in them instead.
You will need : a quilt, embroidery thread, a needle and some scissors.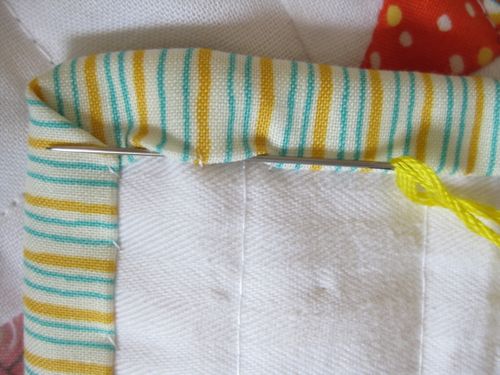 After binding your quilt, decide how many hanging loops you will need - 2 for doll quilts, 3 or 4 for larger quilts.  I don't have any plans to hang bed sized quilts at the moment but if you do you will probably need a loop every 4 - 5" or so along the top.  
Thread your needle with embroidery thread in a complimentary colour, knot the end.
Insert where you would like your first loop to go and bring the needle back out about half an inch away.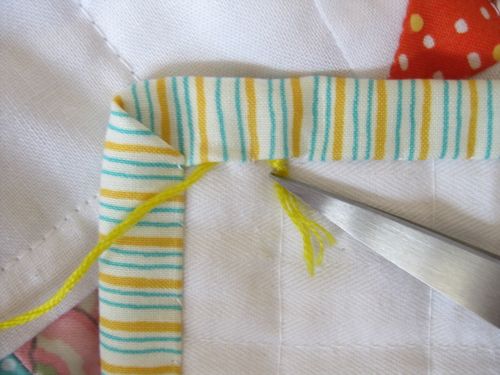 Pull thread through, then, using the point of your scissors, tuck the knot out of the way under the binding.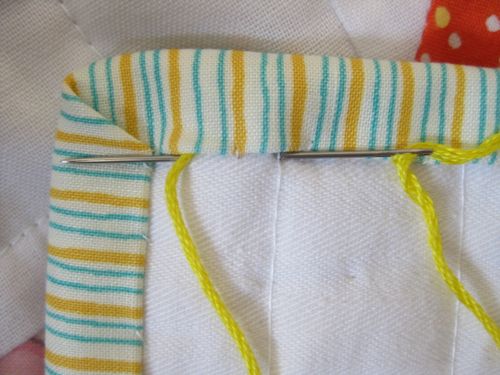 Re-insert the needle at the same point you inserted it originally and exit at the same point you exited previously.  Pull the thread through BUT this time leave a small loop.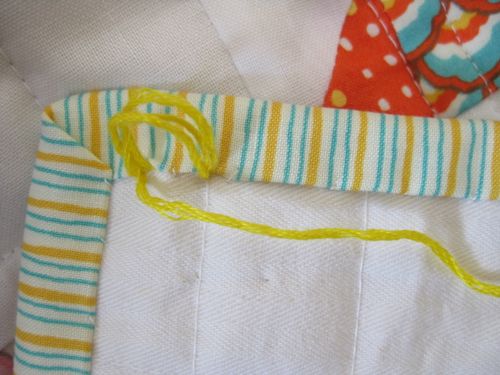 Repeat the above step twice more to give you 3 loops of the same size.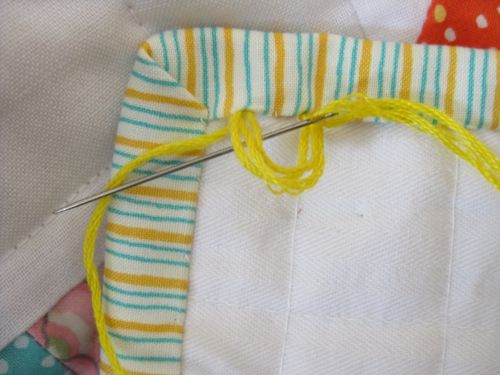 The next step is to encase these 3 loops in blanket stitch, so take the needle to the back of the loops and bring it out, KEEPING YOUR NEEDLE IN FRONT OF THE THREAD as above so that you make a knotted loop around the three loops.

continue making these stitches all along the loops.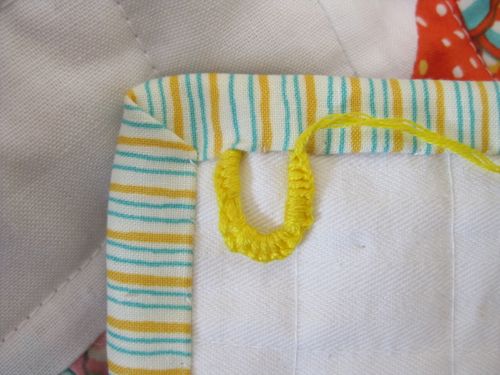 To the end.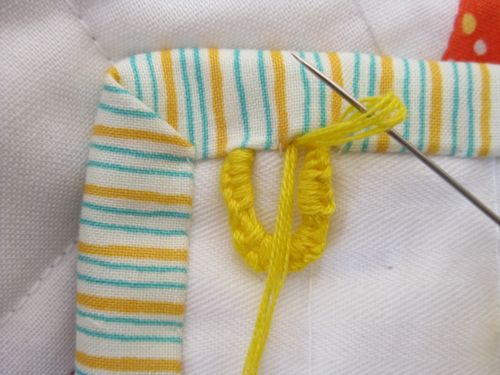 Insert and exit your needle under the binding to make a looped stitch, pull thread through to make a knot.  Cut thread to leave a small tail and then tuck this under the binding.

That's the first loop finished!  Now make the remaining loops you need.  
Then hold your quilt up where you would like it to hang, make a few pencil marks on the wall to show where each of the loops will need a nail inserted in the wall.  Feeling very modern, bang in your nails, hang your quilt and then wait for your husband to walk in and notice it and most probably grimace and sigh rather loudly.