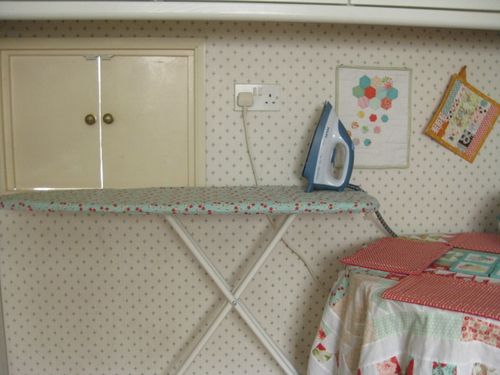 This isn't the most exciting tutorial I've ever written but it's definitely a very useful one.  I don't know about you but ordinary everyday ironing is never of great attraction to me, ironing quilt tops and blocks on the other hand I am endlessly fascinated with.  So the trick with going about this makeover is to choose your fabric carefully almost as if you were picking it for a new summer dress or your latest quilt.  Once your board is fashionably clothed in something pretty, ironing will instantly become a far more exiting prospect and dare I say it, even something you might grow to look forward to!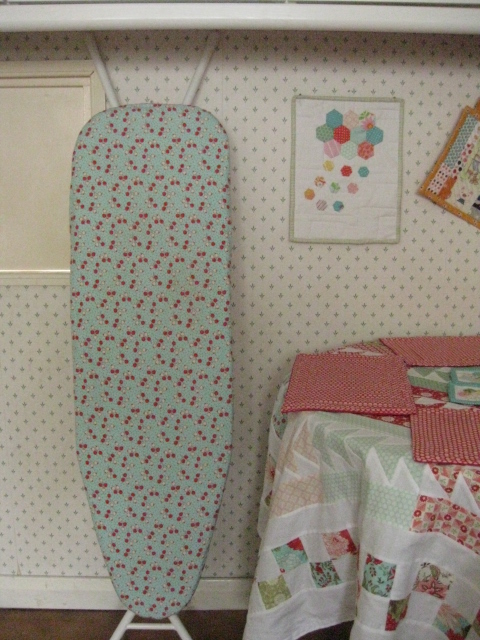 You will need :-
1 1/2 - 2 yards of some of your most favourite fabric - I am using a print from Bliss (again!)
Approximately 150" of double fold binding (you can use this tutorial)
Approximately 150" of string/twine (or elastic if you prefer)
Your old ironing board cover to use as a template or some sheets of newsprint.
Optional : A piece of batting the length of your ironing board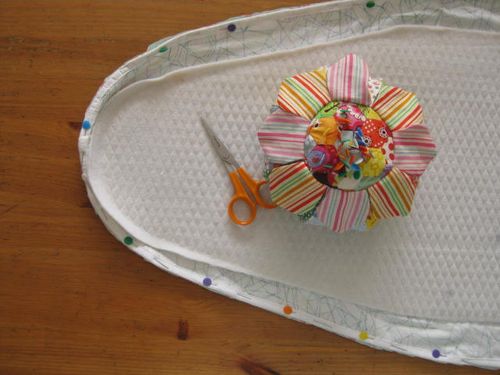 Remove your old ironing board cover and flatten it out to use as a stencil.  
If the cover is elasticated you can use either the foam pad that lies underneath it or the actual ironing board, flat side down to draw on some taped together newsprint.  Draw a second line all the way around 1 3/4" away from the first.  Cut out your newsprint stencil on the second line.
Lay your chosen fabric, wrong side up onto a flat surface.  Lay your stencil onto it and pin the edges of the stencil to your fabric all the way around, making sure you keep everything nice and flat as you do so.
Cut out your fabric along the edges of your stencil, see pic above.
Unpin the stencil from your fabric.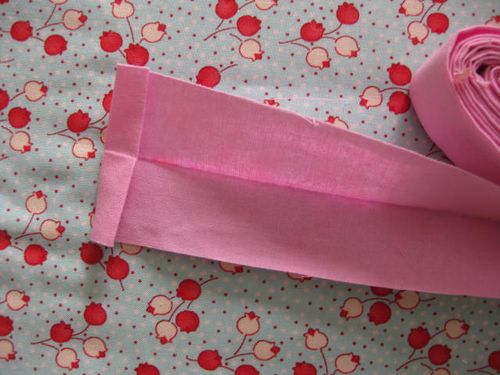 Take your binding and turn over one of the short edges by about a half an inch, press with an iron.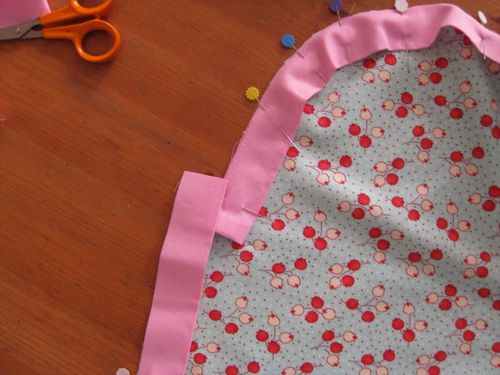 Beginning at the middle of the flat short edge of your cut out fabric, start pinning the double fold binding aligning the raw edges of both your fabric and the binding (ie. so folded long edge of binding is pointing downwards towards the centre of your fabric.
Pin all the way around.  When you reach the start point again, overlap the binding by about an inch and cut off the remaining binding.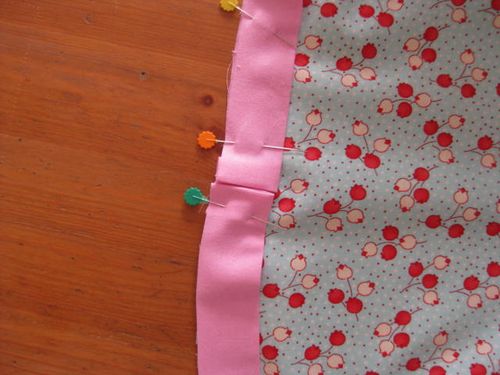 Turn over the second short binding edge by about half an inch and pin in place so that the two short edges meet neatly as above.
Stitch binding to fabric all around the outside edge using a 1/4" seam allowance.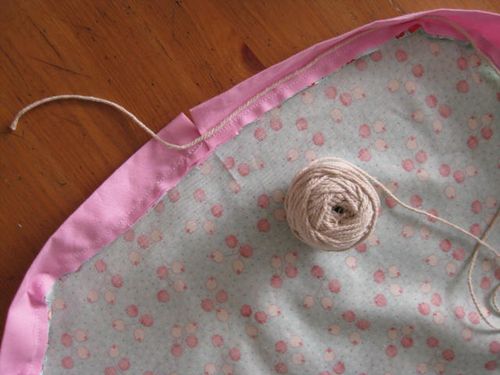 Turn fabric over so that the wrong side is facing upwards.  
With your sewing machine at the ready,take your string (or elastic) and begin laying it along the centre of your binding (leave an excess or tail of a few inches before you start, as above).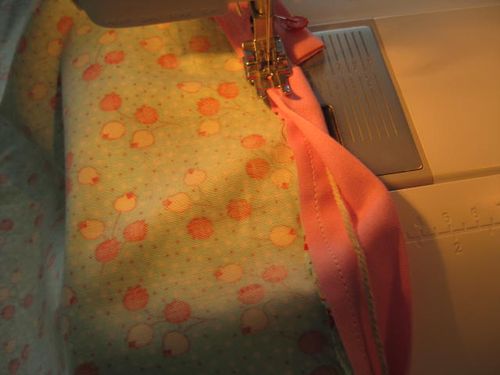 Turning down the folded edge of the binding to just cover the raw opposite edge of it, edge stitch the folded edge of the binding.  Keep tucking in the string /elastic within the binding "channel" you are making.  Continue all the way around.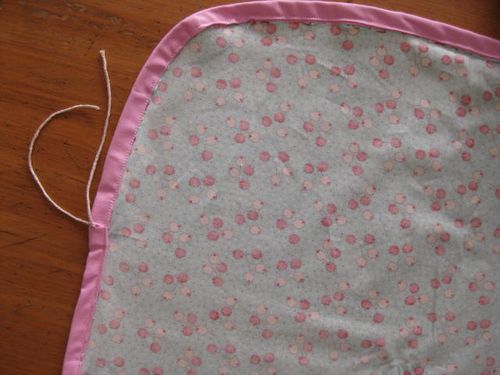 Leaving a tail of around 2-3 inches, cut off the remaining string/elastic. 

Optional : To give your cover some additional padding, use either the foam pad that comes with the ironing board or a stencil made from laying the board flat side down on some taped together newsprint and drawing around it to make a stencil (if you made the stencil already for making the cover, cut along the inner or first line you drew ie. without the extra 1 3/4" all the way around).  Use this stencil to cut out a layer of padding from your batting.  Lay this padding onto your frame and cover with the foam padding that came with your ironing board (if the ironing board cover you are replacing came with the foam pad attached to it, you can cut two layers of padding from your batting instead).
If using string - Pull the two string ends to gather the cover's edges, lay onto your ironing board frame, over the foam/padding and pull until it fits nice and tight.  Tie string edges into a neat bow.
If using elastic - Pull elastic ends to gather the cover's edges, lay onto ironing board and pull until it fits nice and snug.  Carefully pin where the elastic needs to overlap in the middle of your binding "channel" and stitch this overlap in place securely.  Trim off any excess elastic and slip stitch the binding opening to close it.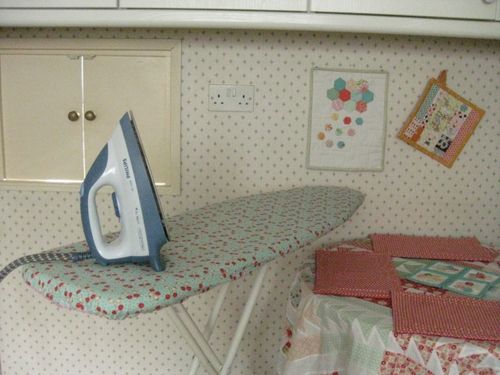 Tutorial makes one pretty ironing cover that can be taken off and machine washed and dried easily.  Please add pics of your ironing board make overs to my flickr group, here.
 

Again if you would like to choose the content of the next post!  The choices are :-
The new quilt top (made from dream on!)

an update on whatever it is I am making with the little red appliqué

a "surprise" post
Enter your thoughts below!!!