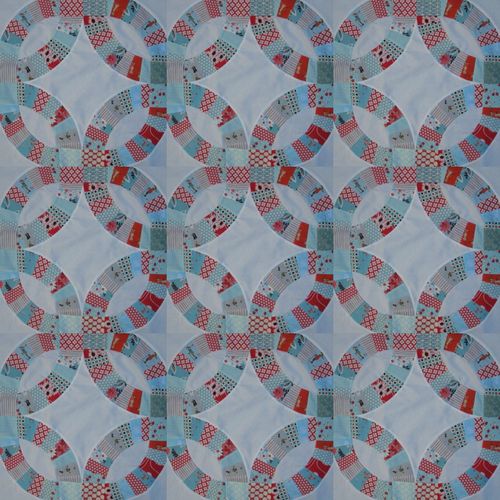 This is a tutorial for making a pickle dish or double wedding ring quilt.
I've split up the pattern into four parts :-
This is not a difficult quilt to make but it does take time, it is definitely not one to make for a deadline as you want to be able to work at your own pace and enjoy the experience.  There is curved piecing involved but it is not difficult once you get the hang of it.  I am aiming to write instructions step by step and pic by pic, aimed at someone who has never tried curved piecing before.
The first part of making the quilt involves printing off and making the templates you will need to make up your blocks.
VERY IMPORTANT - Once you have downloaded the templates, select to print them and the printing dialogue box will appear on your screen.  Please make sure that you select 'none' in the 'page scaling' option before printing the templates otherwise they may print at the wrong size.  Once you have printed them, please measure the square template (B).  Each side should measure 3 1/8".
Download Pickledish quilt templates
You will need to use the paper templates to make sturdier ones out of either card stock or template plastic - see directions below.
Making the templates
You will need :-
One copy of the pattern templates
About 3 sheets of A4 sized card stock or template plastic for making the pattern pieces
pencil, ruler, paper scissors, sellotape
Cut out the pattern templates from your copy.  For pattern part E (the centre of each block), you will need to use template E to create your own full sized pattern piece.  Take 2 x A4 pieces of card stock or template plastic and sellotape together at the back.  Make a straight vertical line down the centre and a straight horizontal line across the centre.  Take template D and line up its dashed line corner on the central axis in the top left hand quarter.  Draw around template E.  Repeat in all four quarters to make the shape shown in the picture above.  Cut out the shape.
Next, take template D and a piece of A4 card/template plastic.  Line up the long straight edge of template D along the right hand edge of card/plastic and draw around.  Flip the paper template over, so it's reverse side is facing upwards   Line it's 45 degree slanted edge with the 45 degree slanted edge of the drawn template shape and draw around again.  Make sure the bottom right hand corner is 90 degrees ie. perpendicular.  Cut out the shape.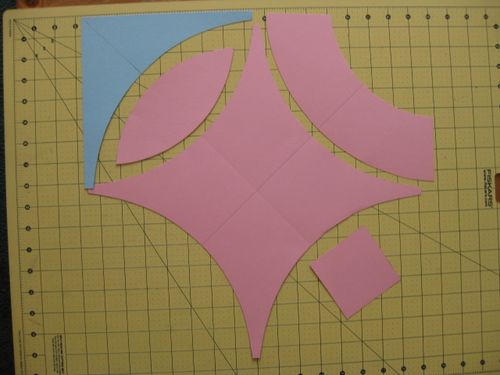 Pat yourself on the back, as that is the really tedious part over!
For template parts A and C, use the paper printed templates to create templates out of card or plastic.  You will only need to cut out template B if you are planning to cut your squares from scraps or if you would rather cut your shapes with scissors instead of a long plastic ruler and rotary cutter.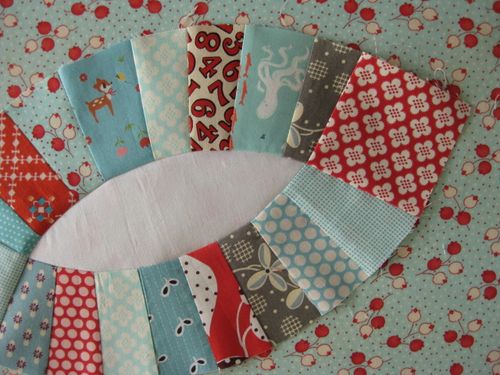 That is all for part one!  I will be back tomorrow with the next instalment..............making the pieced arches for the ovals.
Go to quilt a long part two - piecing the arches
If you enjoyed this tutorial, you can find more of my patterns over here :)