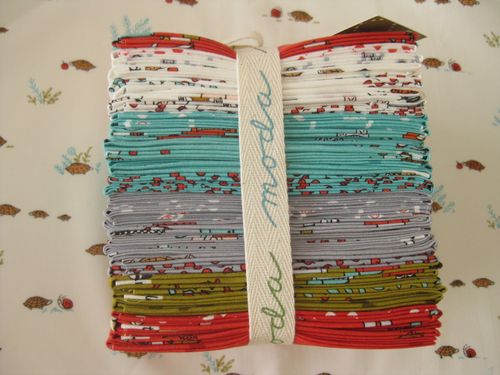 Welcome to my day of the Moda Country Fair blog hop!  For this stop on the hop, you find yourself in good old England, so won't you come in and join me for a cup of tea? (trust me you'll need it to get through this post).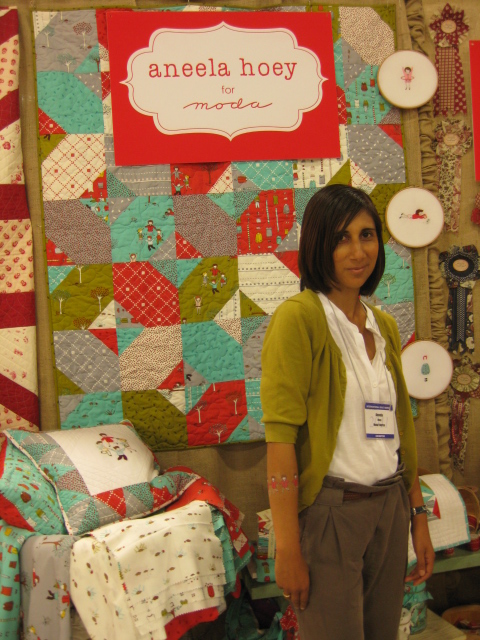 My name is Aneela Hoey and I've been designing fabric for Moda for around a year now.  I live in the UK with my husband and two daughters about a stone's throw from the Queen's home (we share a postcode but things aren't quite so posh around here).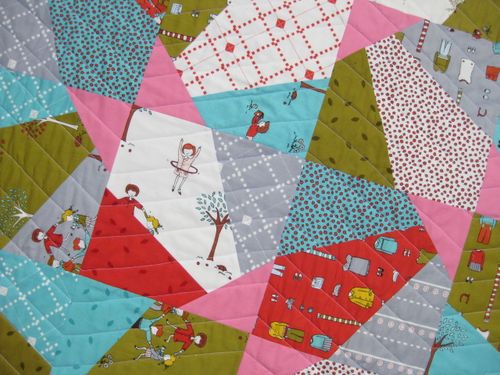 detail from my 'Fancy' quilt
My newest collection 'Little Apples' has just been released, I love the way the prints in this group turned out - this is fall mixed with a big heap of sugar filled fun.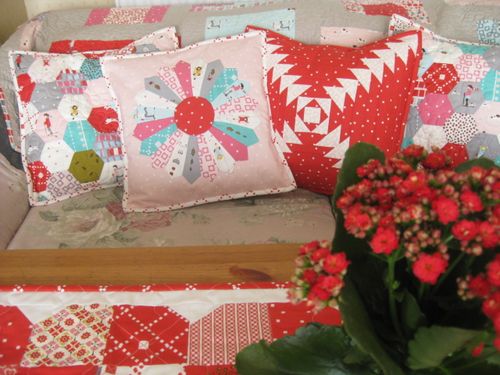 I love to sew for my home....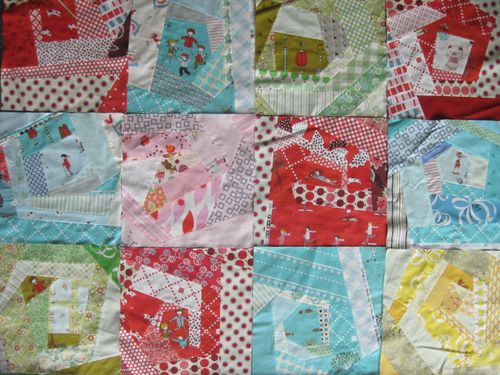 as well as making the odd quilt, these blocks are for a new crazy scrappy quilt (there's a tute here).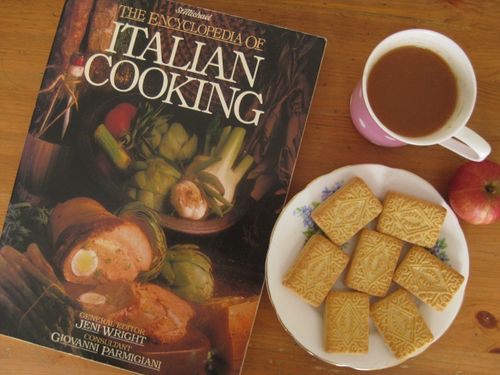 On with the hop...
My favourite fair food? - At one of our local country fairs, they have a WI (women's institute) tearoom with homemade cakes, the lovely elderly ladies are quite slow in serving because they are always too busy chatting to their boyfriends! but I don't mind because 'homemade' cake and proper tea are my favourite things and worth the wait.
What's your guilty pleasure? - I probably have pleasures that I should feel guilty about (eating cream cakes when the girls are at school, reading blogs when I should be washing the dishes...) BUT I have to be honest and say the only thing I'm guilty of is not actually feeling guilty about them.
What's on your bucket list? - I would love to live in Italy, to be able to speak italian and learn to cook like an italian, I have no idea why but there is a hidden italian in me waiting to jump out!
What inspires your work? - Definitely children, mostly my daughters but also children's books and films (coraline, fantastic mr fox, alice in wonderland...) too.
My hop tute - A Quilted Tissue Box Cover
Make one of these and approach your next winter cold in style!
You will need -
A 15" x 10" piece of double face/ready quilted fabric (alternatively use two 15" x 10" pieces of regular fabric and a piece of batting the same size, sandwich together, quilt and you're ready to go).
A 55" strip of 2 1/2" wide double fold binding.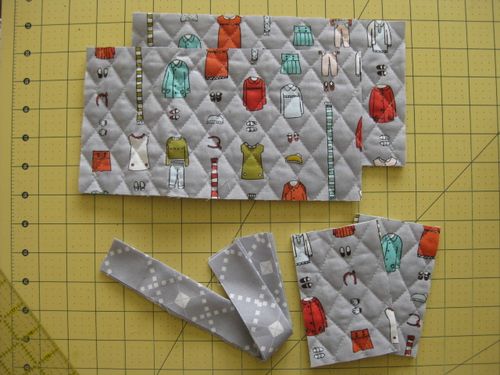 Cutting
From the double face fabric, cut -
Two - 9 1/2" x 5" pieces
Two - 4 3/4" x 3 1/4" pieces
From the binding strip, cut -
Four - 9 1/2" long pieces
Two - 4 3/4" long pieces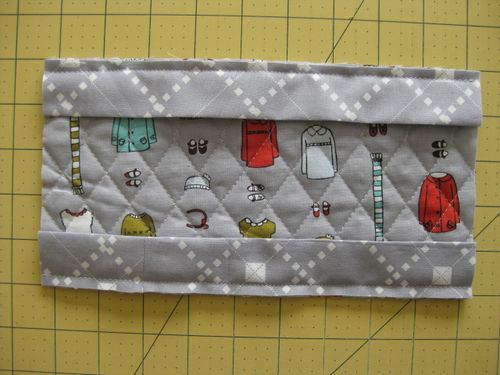 Instructions
Use 1/4" seam allowance throughout
1. Take one of the long quilted fabric pieces and two of the long strips.  Align the strips to the top and bottom edges of the fabric (matching the raw edges of the binding to the raw edge of the quilted fabric).  Sew binding to fabric.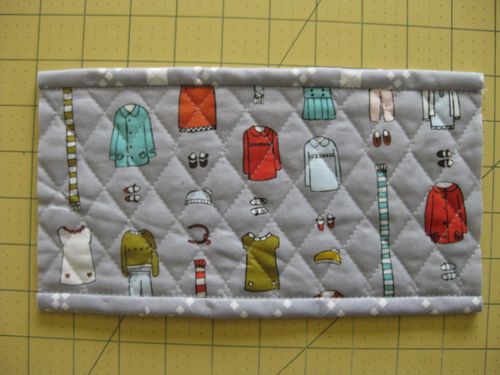 2. Fold binding over to the wrong side of the quilted fabric and slip stitch in place at the back.
3. Repeat with second long quilted piece and remaining two long binding strips.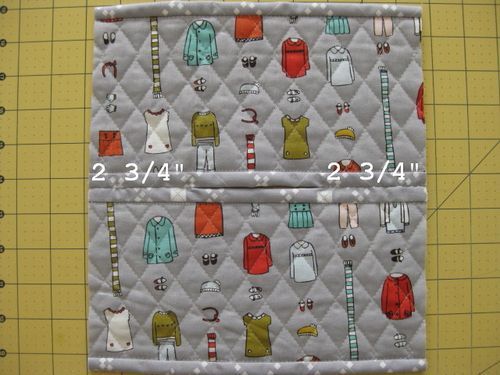 3. Place the two pieces one above the other.  Join the bottom edge of the top piece to the top edge of the bottom piece by slip stitching the first 2 3/4" on the left and right sides together (see detail pic below).
This will leave an unstitched central 'mouth' or opening.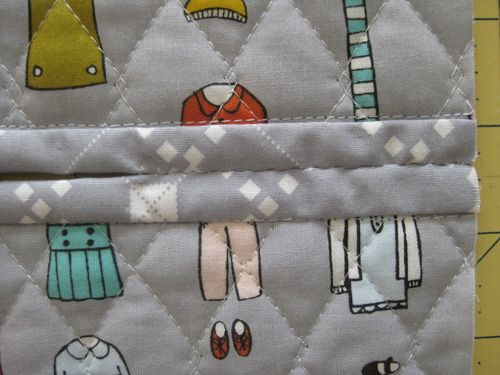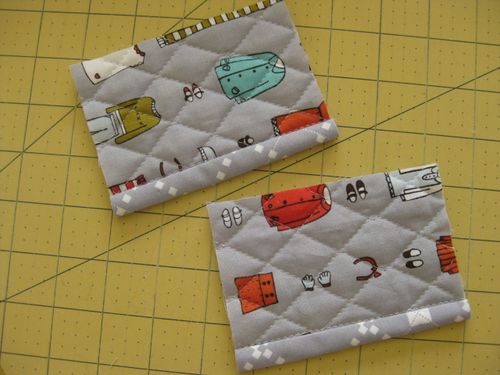 4. Machine stitch a short binding piece to the bottom of each of the two small quilted fabric pieces.  Slip stitch the folded over binding to the back of each piece.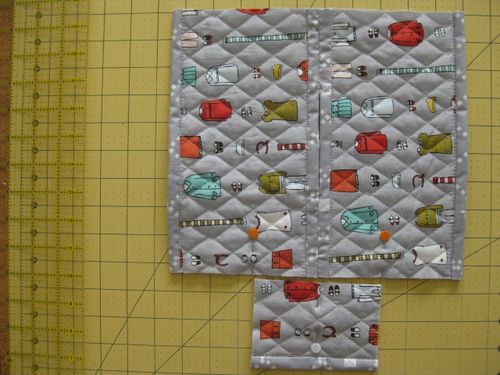 5. Fold one of the small quilted pieces in half widthways.  Position pieces as above, aligning the newly made 'crease' on the small fabric piece with the central opening on the large joined piece.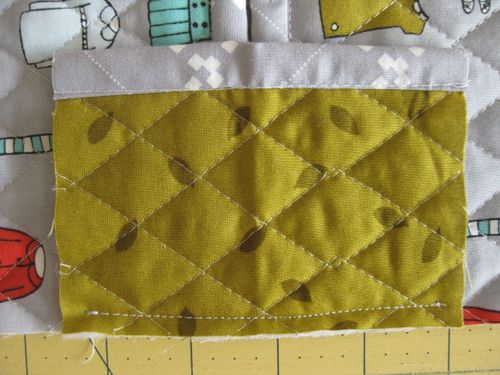 6. Flip the small piece over onto the large piece and pin the pieces with right sides together.  Stitch along the bottom (raw) edge of the small piece, starting and stopping 1/4" from each of the side edges (see pic above).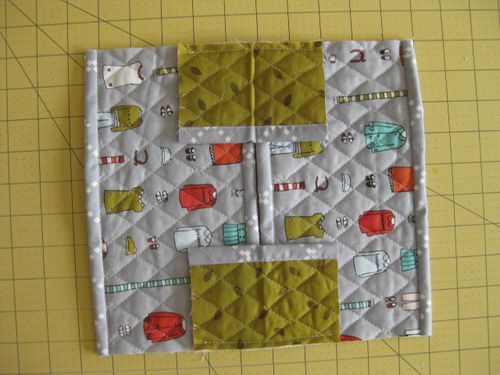 7. Repeat on the opposite side of the large piece with the second small quilted piece.
Your cover should now look like this from the wrong side.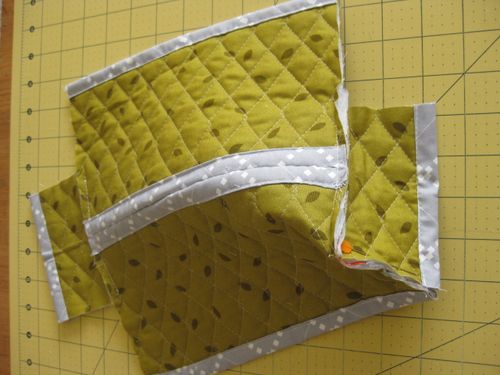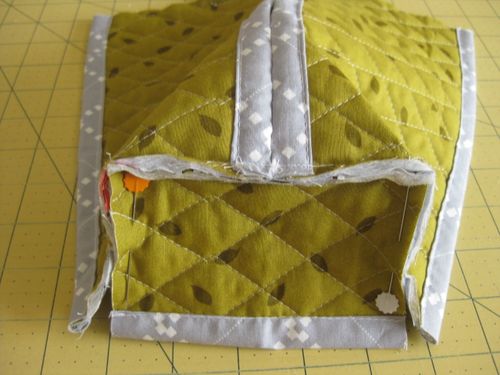 8. Bring together each of the two raw edges at right angles to each other and stitch together to make each corner.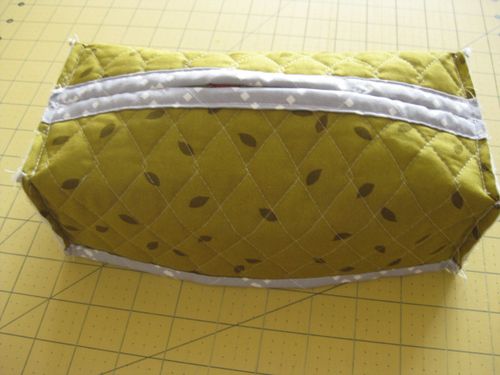 This is what your cover should look like wrong side out.....

And this is what it should look like when you turn it out!
Yaaay !  roll on winter sniffles!!!
(If you happen to make one of these please add it to my flickr group so I can see).
so, I hope you've made it this far, I really do because...
there's a bundle of fabric right here,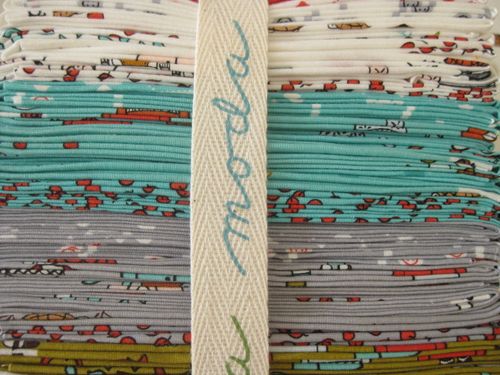 A whole FAT QUARTER set of Little Apples no less that is looking for a new home....
Do you want it to come and live with you?????????????????
If you fancy your chances at winning - just leave me a comment below, letting me what YOUR guilty pleasure is (you know how bad I was at answering this question so I need some idea's on how to get guilty). 
I'll draw a winner in a week or so....
Best of luck!!!!!!!!!!!!!
Don't forget to continue with the hop tommorow with Barbara Brackman.
Comments are now closed.