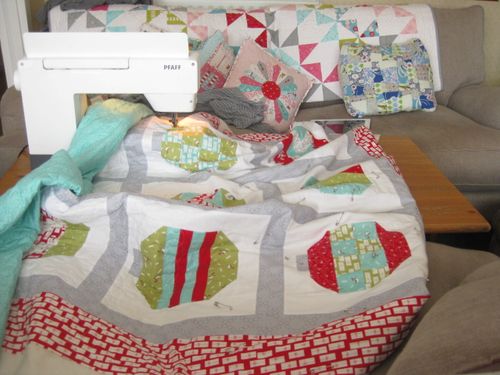 In an ideal world, everybody would have enough space to do their thing.  Whatever that thing may be.  It always interests me that whenever I do a post about doing all of my quilting on my coffee table, I seem to draw much cause for concern over how uncomfortable it all looks.  It's true, this is not the most comfortable arrangement but then again it's really not that bad.  The trick here is that I have slowed down on the number of quilts and machine sewing in general so I'm not sewing like this everyday.  I try to mix in a little embroidery and handsewing on other days so I can truly sew and relax at the same time.
The other thing that I really want to mention is I've learned over time to make the quilting part go faster by sticking to patterns that require less time actually quilting because too many hours spent sat here would not be good (bye bye straight line quilting).  By far the best way to quilt fast and enjoy the quilting part I've discovered is.........la la loopy quilting.  I said that in a sing song-y way because it actually is a fun way to quilt.  
Below, I've pointed out why and also a few little tips and techniques if you are new to free motion quilting/or like me quilt in a small space.
For the first few months of quilting on my machine (I have a pfaff quilt expression 4.0), I had huge problems with tension, thread breakage, needle breakage and birds nest style quilt backs.  Through a few of my blog readers I discovered a few simple changes could really change things.  Firstly settings, every machine is different but essentially you are making the same changes (they just might be called different things).  On mine I have to use the sensormatic free motion setting and also adjust the pivot height from 0 to -3 and turn off the auto foot lift. Essential to getting good results is using good quality (strong but fine) thread, Aurifil 40 or 50 weight is perfect.  I snap on the free motion foot (see pics below), drop the feed dogs and set the stitch length to zero.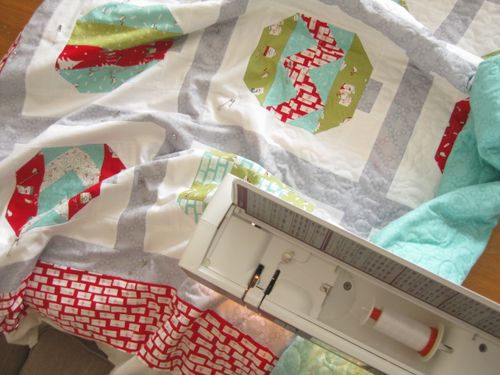 When free motion quilting, I far prefer horizontal lines of  loopy quilting over a meandering stitch.  The biggest advantage here is that I am only moving the quilts layers in one direction (across the quilt).  With meandering stitch the quilt is moving in all directions and when quilting in a limited area this really makes things much trickier to manage.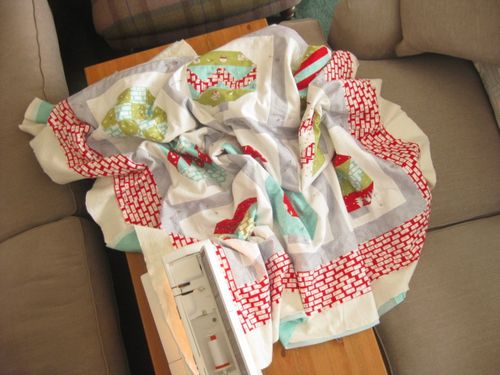 Another trick I've learned is you have to be able to 'extend' your table space in some way (you can see how limited mine is above).  I do this by pushing the sofa on the other side of the coffee table right up against it, the sofa is slightly lower than the table but this trick stops the quilt dropping over the table onto the floor and making it heavy to move whilst quilting - this is one of the key hazards that make fmqing difficult.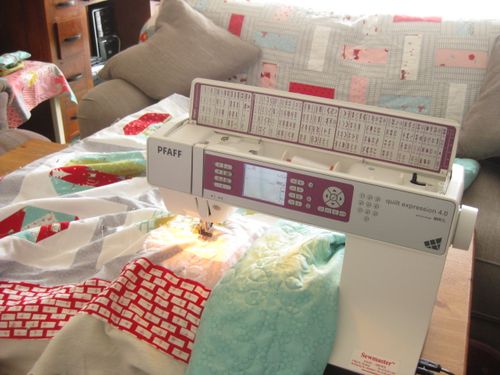 I also only roll up the part of the quilt that is inside the machine area, to the left of my quilting.  The rest I leave bunched up loosely which keeps it light and easy to move.
Then I just loop to my hearts content.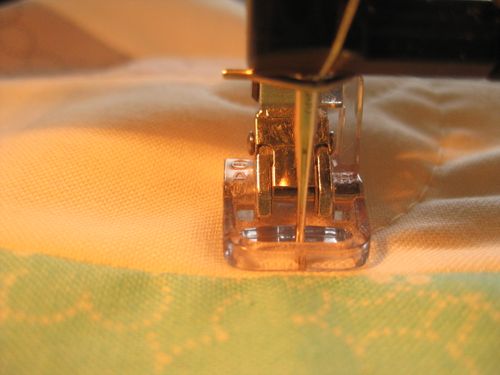 Whenever I need to stop to remove an approaching pin, I always stop in the needle down position.  This stops those kinky looking loops which is not the look I am after.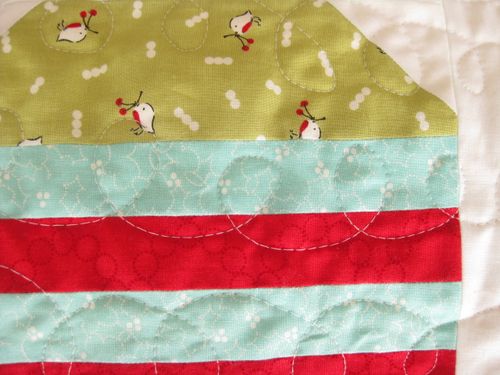 See the kinky looking loop at the bottom right.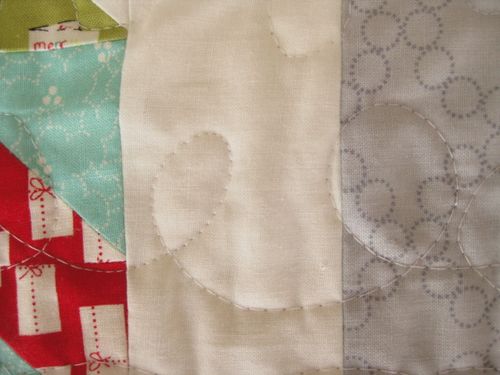 The size of the stitches you make will depend on how fast you push that quilt under the needle, the larger size stitches above show where I've been moving fast and the small ones are where things are going a little slower.  Stitch size variance is not something that really bothers me, I think it kind of adds to the beauty of the effect.
So for fast effective quilting in small areas, get loopy!!!!!
You can find more tips on free motion quilting here and here.