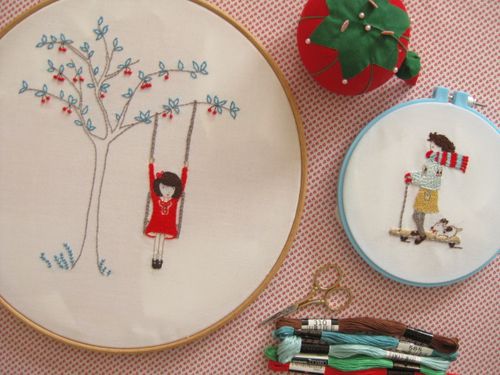 OK.  Deep breath.  I am very nervous about this post.
I've been umming and ahhing over whether to do this for a while but following the success of my FQ class in June and to celebrate the forthcoming arrival of my book, I'm going to take a deep breath and take the plunge.
I have decided to teach an embroidery class.  In the class, students will learn embroidery basics on stitches, tranferring patterns, tips and techniques.  We will then make an embroidered cushion project from my book 'Little Stitches'  published by Stash Books.  The embroidery we will be making is not being revealed right now but will be perfect for ladies of all ages or a little girl you know.  Even if you took my class in June you will be learning new techniques not covered then including help with making embroidered faces and mastering filling stitches.  Below are more specific details.
When : Saturday the 15th of September, 2012
Where: Henley-on-Thames, UK
Time: 11.30am - 5pm
Price:  £70 - The price will include a signed copy of my new embroidery book 'Little Stitches', lunch and refreshments
There will be a limit of 10 places only, your place is secured as soon as payment is made, strictly first come first served, no reservations.
For now I am seeing this very much as a one off class.  
If you are interested - Please leave me a comment below letting me know.  I will then get in touch with you via email about how to pay, If you don't see my email in your inbox please check your spam folder.  
Only once you have paid is your place in the class secured. Payment will be through paypal only.
(Keeping my fingers crossed hoping someone wants to come and learn to embroider with me)