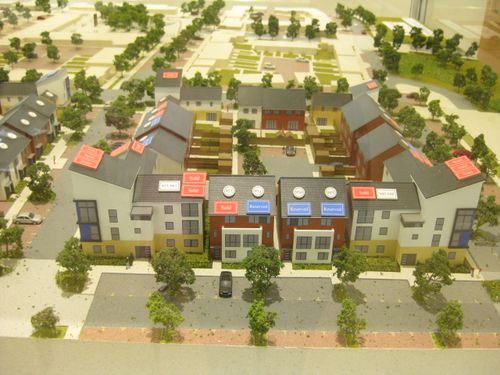 So I have some news for you.  Nothing is definite yet but we are in the process of moving house.
Things have been moving along steadily for a few weeks and apart from the wobbles of last week, all is mostly smooth so far.  There is still a huge way to go, even if all works out, the actual moving part will not happen until early next year because the house we are planning on moving to is still being built.  You can see a model of our new home in the photo above - see the two red brick homes facing this way? Each building is actually two homes and ours is potentially the one of the right hand side of the left hand building.  See that reserved sticker? that little sticker makes me so excited but so giddy nervous for all the change to come.
There is lots to tell you about this house, the best bit that concerns me is that there are two family rooms.  And you know that translated into sewing speak that actually means one family room and one sewing lair don't you??
Yep, my family didn't even fight it - as soon as they walked in everyone went 'oh, perfect for mum and her sewing'.  That is what I love about my family, they know me so well.  I think they are also just looking forward to having a family room without all my c*** in it, so it's a win win.
Now that the paperwork part is done for now, I have commenced that gigantic clear out that is - getting rid of all the rubbish we have accumulated over the last eight years - I've started and I'm afraid it's going to be a long haul.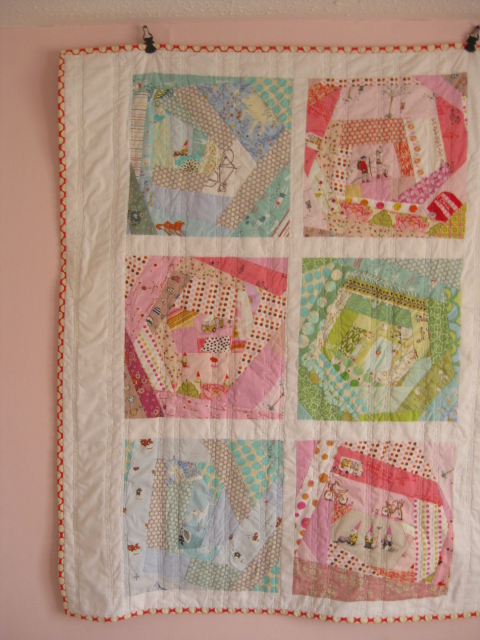 As part of said gigantic clear out - I am dipping into my quilt collection and listing some in my shop (including the above made with many oop and htf prints) - the prices are reasonable and in most cases nowhere near what I paid to make the quilts in the first place but I need to get rid and make space.
I'm about to start listing, so get ready if you want to grab yourself something (perfectly timed for gift giving in a certain upcoming holiday too).