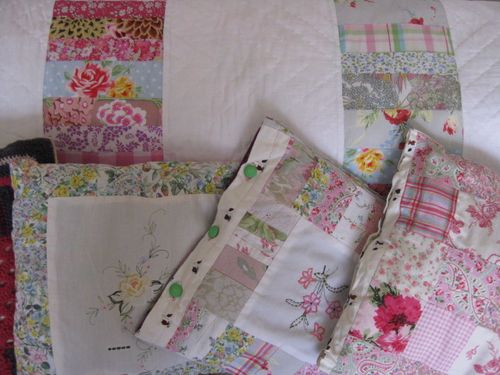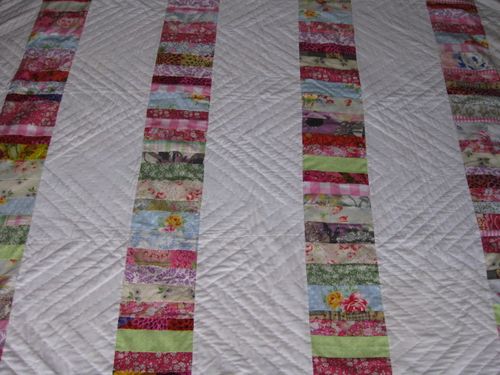 Please feel free to use this tutorial but if you do so, please link back to it if you blog/flickr anything you make from it so that others can find their way to it too:)
Please add anything you make using it to my 'Stitching with comfortstitching' flickr group.
*****************************************************
Need a new home to house your scrappy waifs and strays? Look no further than this guide to scrap housing fullfilment!! The above picture is of my Loose change quilt, so called because it uses all the scrappy loose change from the bottom of my stash!
In this instalment I will show you how to make a super easy coin quilt top (that is the patchworked piece that forms the top of your quilt) and how to sandwich it into a quilt. The finished quilt size is 200x190cm/80x75"
You will need :-
lots of strippy scraps at least 3cm/1.5" deep and 21.5cm/8.75" wide, if buying fat quarters you will probably need at least 16
about 4 metres/yards of white cotton fabric for sashing
batting/wadding of choice, at least 200x210 cm/ 80"x84"
backing fabric, at least 5.5 metres/yards, this will depend on the width the fabric comes in.
duct tape
quilting pins
cotton thread, scissors, rotary cutter, cutting mat, sewing machine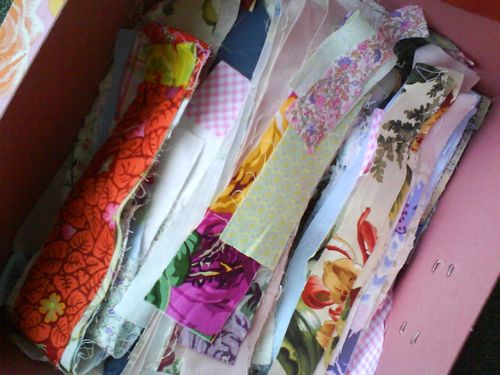 Get your scraps out, making sure they are at least the specified size, I used different depths of coins which you can see in the top picture if you look carefully. Iron them, then neaten your strips with your rotary cutter so both edges are straight and corners are square.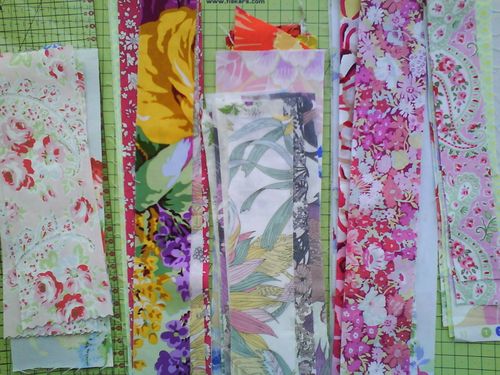 Now with your sewing machine ready, select your first two strips, place them right sides together making sure the shorter ends on their right sides are flush.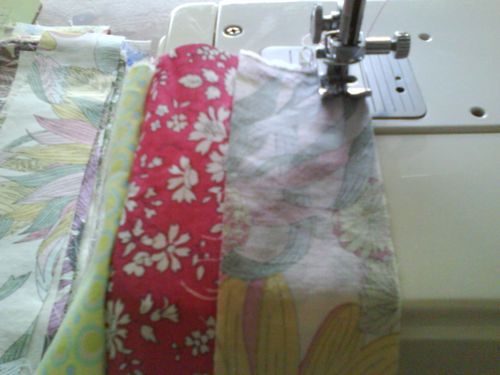 Stitch together along one of the long edges with a 6mm or 1/4" seam allowance. Without cutting off your thread select the next pair and sew together in the same way until you have a super long length of sewn together pairs.
Snip all the threads between your pairs
Join your pairs in the same way so you end up with about 40 pieces of four strips joined together.
Clear a large space on the floor, lay your pieces out into four columns and measure the length of each one, now minus 1.5cm/0.5" for every join in the column you have yet to make. If the resulting length is less than 200cm/80" you need to add more strips, I would leave my pieces on the floor whilst I sewed up some more, saves having to lay everything out again later. Otherwise proceed on to the next step!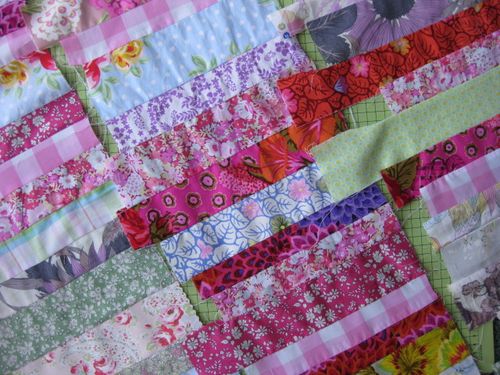 Your strips should look something like the above photo. Using a rotary cutter give the uneven side a chop so that your columns are all 21.5cm/8.75" wide.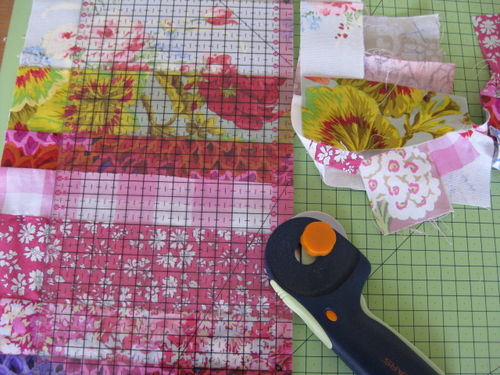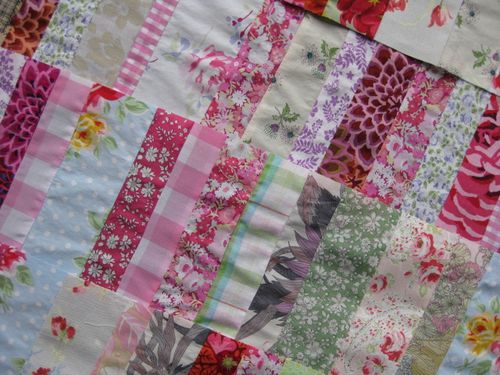 Next get your white fabric out and give it a nice iron, lulling it into a false sense of security before you chop it into 5 (29.5x200cm or 12x80") strips.
Iron your patchworked coin strips.
Lay out your pieces on the floor, starting from the left hand side with a white column then adding a coin strip etc. to finish with a white column and roughly resemble the quilt picture at the top of this page. Play around with the placement of the coin strips until you like what you see!!
Stitch the columns together along the long sides, again using a 6mm or 1/4" seam allowance.
Get your quilt backing ready, cut your fabric piece in half lengthwise, place these two pieces right sides together and stitch along one of the long sides. Iron your front and back pieces, pressing the seams to the side or open flat as you prefer.
You are now ready to sandwich your quilt.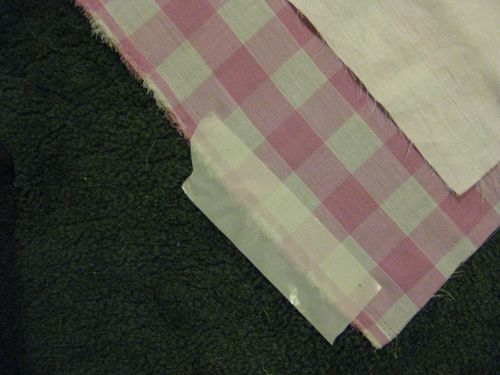 Place your quilt back out flat on the floor RIGHT SIDE DOWN. Using duct tape secure down at intervals so it remains flat during pinning.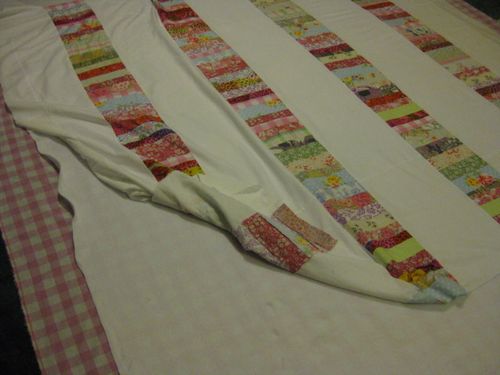 Place your batting on top of your backing fabric. Starting from the centre, smooth it out evenly. Now add your quilt top onto the top (where else!) ensuring you can see at least a few centimetres of batting and backing all the way around your quilt.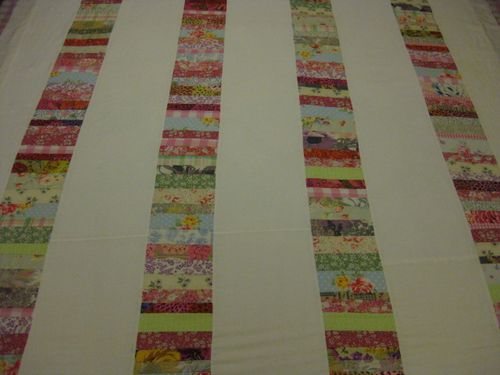 Grab your quilting pins and starting from the centre smooth out your quilt and pin through top, batting and backing approximately every 20cm.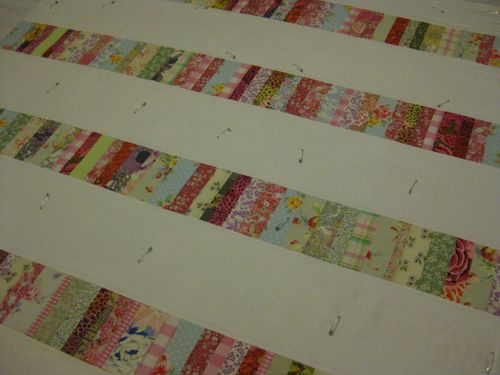 Peel back your duct tape and remove your quilt from the floor.
You are now ready to quilt. For this quilt I decided to try hand quilting, I will be writing up a tutorial soon. You can of course machine quilt it's upto you!
Once you have quilted, you are ready to sew on your binding, you can find out how here.