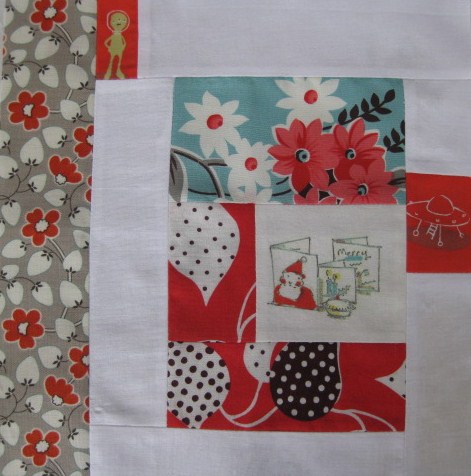 Last night was good, I was left completely and utterly gob-smackingly surprised with the response to my christmas fabric ( which now has it's very own name..............'Deck your quilt's, it's christmas'!!!  Well it's not but it will be!).  As many of you guessed ALL THE INITIAL FAT QUARTERS ARE NOW SPOKEN FOR, whatever was I thinking ordering one yard!!!!!!!!  I am currently taking reservations for a new order, so please let me know if you are interested!  The cost of a fat quarter will be $10 plus shipping.  For all those who have already reserved I will let you know as soon as I recieve the new batch.  I hope you all working on your idea's on how you are going to be using my little sketchy doodles because for me that is utterly the completest most exiciting-ist  part!!!!  Getting to see what YOU do with it!! As you can see from the above and the below, I have made a start with a couple of blocks for a christmassy lap quilt.  It is definately going to be christmas with a twist as you can probably decipher from my decision to include aliens in to my cocktail of crimble quilt-i-ness!!!  and choppy-uppy patchwork trees with gnomes in lieu of angels, as you do!!!!!(??)!!!!!!!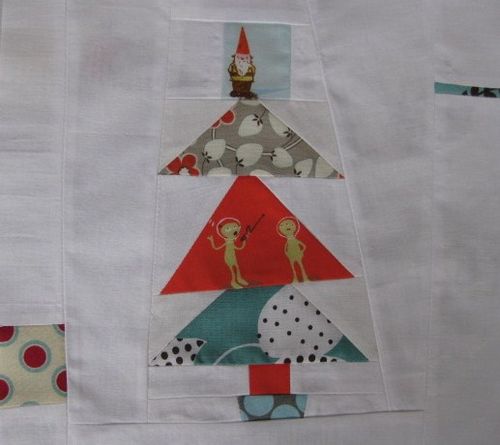 Last night was also bad, having gone to bed on a high on the wrong side of midnight, we were woken by C just after two with what can only be described as a seal like squawk of restrictive breathing, almost as if she had something stuck in her throat. Very scary.  A dash to the hospital led to the diagnosis of kroup, an inflammation of the voicebox and upper airway.  All in all not serious, now she has been treated she has to stay warm and indoors for the next couple of days.  This means the fat quarters I got all ready and packed last night to send today will have to wait a day or so to be shipped.  I really hope that is OK with all of you, I will let you know when I get them into the post though:) 
Sorry about the lack of pics today(!), now time for a huge tidy-up and a crumpled mummy rest or six!!