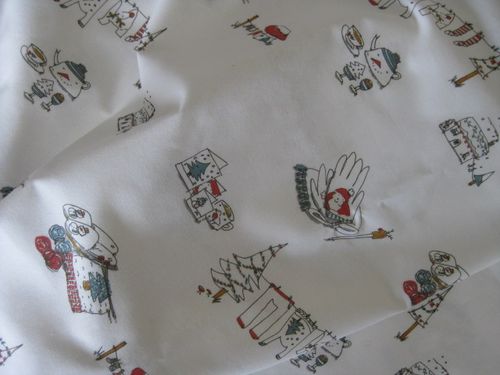 Never let it be said that I do not do enough to keep the postmen and women of this country and others in recession-proof employment.  I should maybe resort to just writing out some blank cheques and (ahem) posting them to The Royal Mail and be done.  Every other payment I make is magnifyingly scrutinised but posting..............just tell me how much you need.
And to increase the wealth of our posting friends even further, I have taken receipt of TWO of my spoonflower orders in the last few days and have been a busy a shipping them off into the hands of quilter's worldwide to ensure their quilting pleasure in the run up to this all is jolly as long as it is homemade season!!!!!!  If you are expecting a parcel from me check your order status, I will be updating those today and tommorow as I ship these goodies on their merry way.
I'm so glad my 'christmas washing line' came out so well as I took a bit of a gamble now that I am an old hand at the old spoonflower and ordered this one without sorting out a sample first BUT it came out brilliantly!!!!!!  So I am happy as can be except I am way too tired to know it as the onslaught of the six mile school walk daily takes it's toll and continues to make me a very knackered mummy indeed.