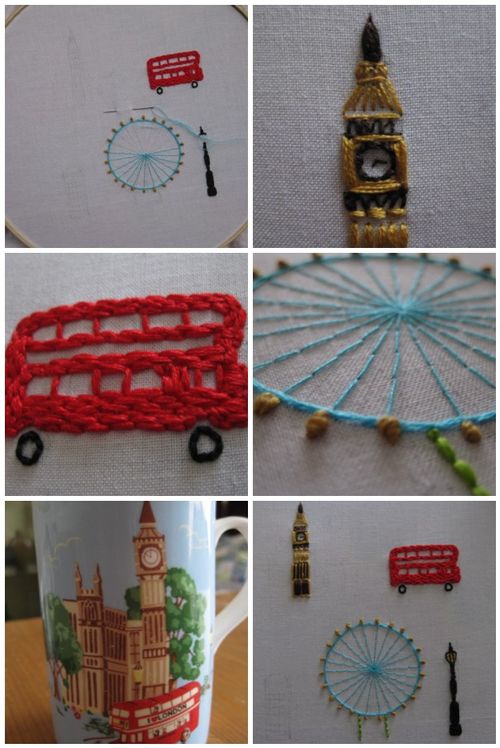 Testing testing.........................I'm trying out somethiing new today, otherwise known as blogging on Friday.  I'm just curious as to how this is going to pan out as I always feel that there aren't all that many people around on Friday's...............am I right or wrong????????????
This is my work so far on the embroidery I started yesterday for Beth in the hoop up swap on flickr.  The theme was Ed Emberley inspired pieces depicting the city or country of your choice.  Mine is of course - can you guess????  This is so fun to do and makes a change from stitching up girls playing all the time!!!!!!!!!!!!!!!!!!!!!!!!!!!!!!!
Never thought I'd find myself stitching up the Houses of Parliment!!!!!!!!!!!!!!!!!!
To draw up this embroidery I googled London and clicked on images (at the top).  I then did a few sketches on a sheet of A4 paper (see below)......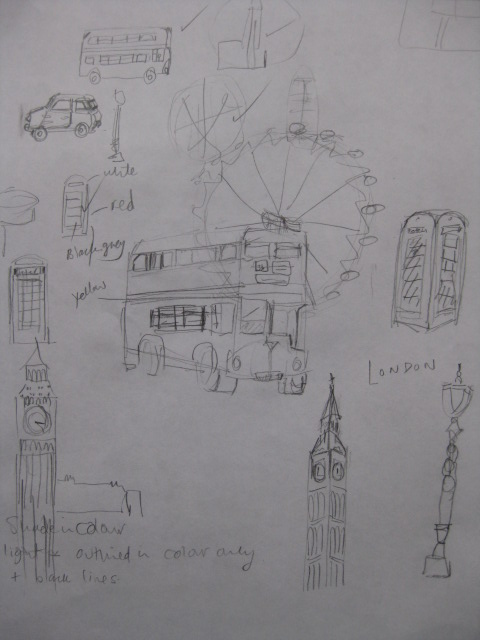 From this, I used an ordinary drawing pencil to sketch out my chosen images directly onto the fabric - all hooped and ready!!!!!  If you look closely at the picture on the top left hand side of the mosaic, you can see the images I haven't yet worked on.  Pencil fades fast which is good if like me you might change your sketches a little as you go and therefore great if you are drafting up a new design.  It's not ideal for beginner's as you would need to keep re-drawing, so I would suggest you  use one of those blue fabric transfer pens instead.
I hope you like it so far Beth, it has been a fantastic change for me to try something different!!!