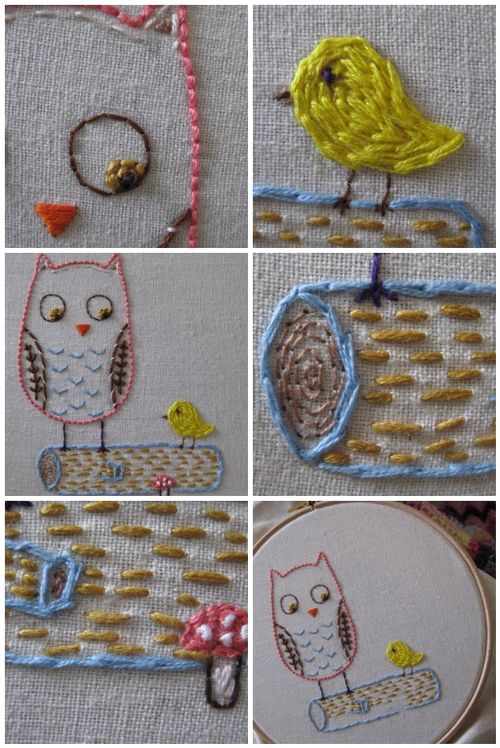 Last weeks stitchy piece.  Some of the usual culprits (embroidery, mosaics......), some not so usual (owl!!!, little birdie, mushrooms and logs!!) and a new piece in stitch is born. 
Had a lot of fun with this one, playing around with some looser filling stitches.  I do like the way the log turned out, all logs should look like that!!! but the little birdie has to be my favourite bit, all egg yolky and looking a bit easter chick-a-likey.
This is another piece destined to fly away from me soon to go live with Rita under the guise of my contribution to her hoop-up theme, which was, can you guess??????
Woodland creatures ( I think, well......... hope!).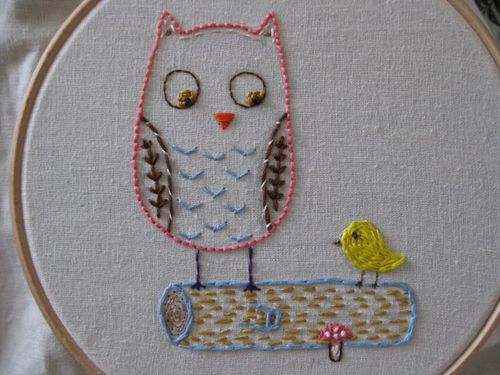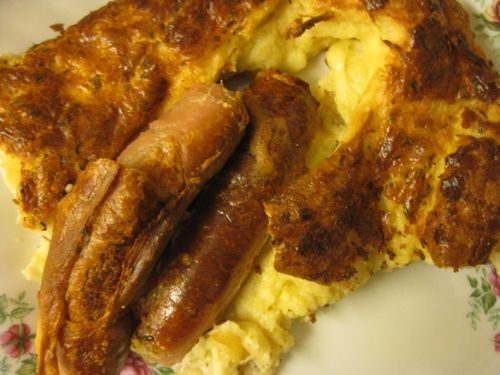 And just for complete contrast and nothing-to-do-with-the-above-ness let me just exhibit a photo portrait of Saturday's dinner.  In case you are none the wiser, this is in actuality known as Toad in the hole, why I don't know but please rest assured that no leaping amphibians are harmed in the making of (unfortunately, the same cannot be said of oinking pink farm animals with curly tails).  This is the kind of meal my husband rings up during the day to request for dinner (then promptly works overtime so his ends up decidedly on the just edible side of crunchy.
Well, that's it for the today's episode.  It said hootin' and cookin' in the title and hooting and cooking is what you got!  I do hope you found it a pleasure, please feel free to share your own weekend dinners below should you wish to do so!
Back soon!!