Just because it's always good to start another week of stitch, stitch, stitch.
'Scoot' is another one of those images that popped itself into my head the other day and said 'stitch me now!!!'  Actually it wasn't the other day at all, it was instead the other week when there were meringue like dollops of snow everywhere......................that is why scoot is wearing a very cosy looking jumper!!! and an even cosier scarf and mittens AND an embroidery first for me...............tights! 
Had to keep her warm you see, once a mum always a mum.......................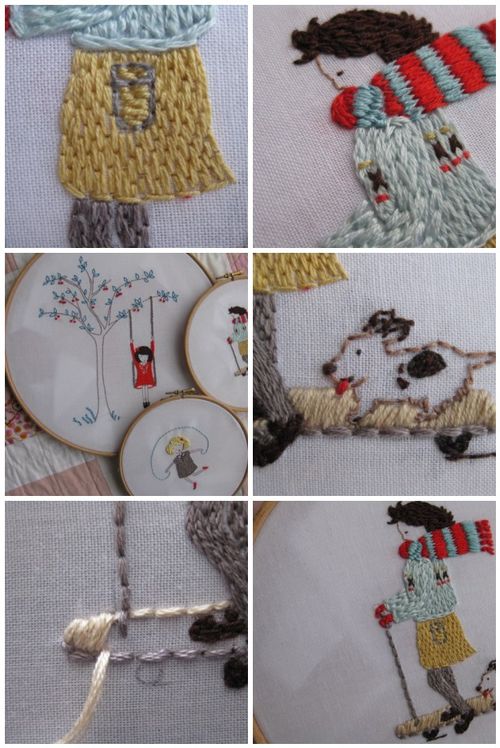 I think this one is my favourite of all my recent embroideries.  It's the puppy dog!...............cracks me up with his little tongue hanging out, even though he looks like a rabbit!!!!!!!!!!!!!!!!!!!!!!!!!!
You can stitch up your very own little scootin' pup, here.
Before I showcase the second half of my brand new embroidery double bill.  Lets have a little break
 I'd love you to see this version of Cherry by the very lovely Cara.  Isn't she pretty?????!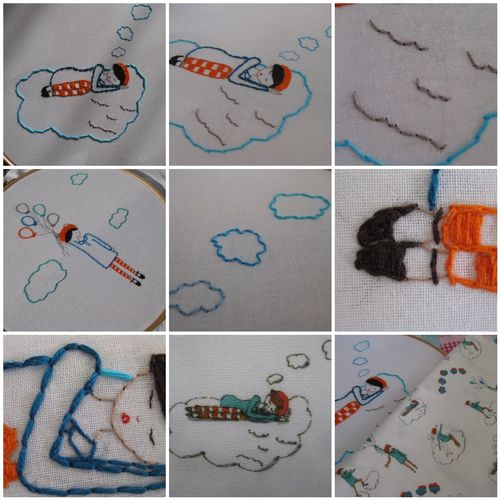 so onto a second helping of stitchiness in the form of a re-visit to belle.   SSssshhhhhH!!!  (she's sleeping).  My new 'sweet dreams belle' embroidery pattern, featuring you know who, as previously seen on  my 'belle' embroidery pattern and 'belle the cloudbuster' fabric.
I stitched this one for Marilyn but you can make one all for yourself or to share it with a sweet little belle of your own. 
 You'll find the pattern here.