Today, I was hoping to show you the big quilt I made with these fabrics BUT silly me - I forgot to make use of the sun's rays for the last several days to do the photo's and today it is of course raining.
So instead, I'm bringing you the little quilt I made with the scraps.  A sailboat with a patchwork sail made up of the highly lickable 'Dream on' by Urban Chiks for Moda.  Warning! these fabrics are made of pure sugar.
The story behind this quilt because EVERY quilt has one.................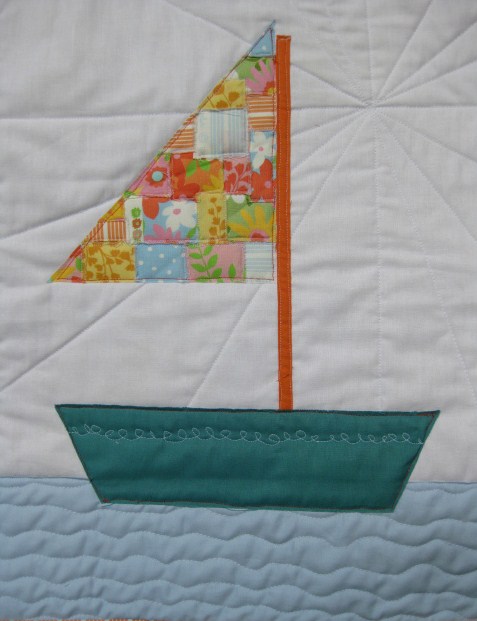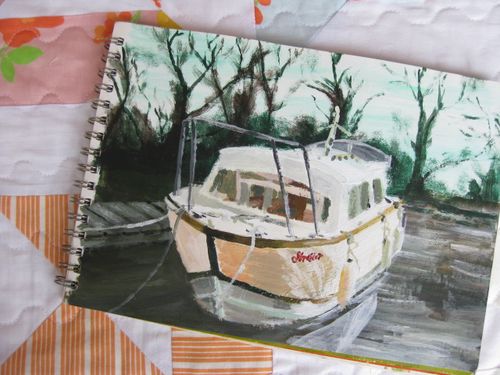 Before I ever owned a house or was married or had kids, before I had a mobile phone and even before I had made ANY quilts, I bought a boat.
Not a sea worthy sail boat but a quaint little riverboat called Stroller, all river boats you see must have their very own unique name.  My boat was a Dawncraft (it slept 4, had a fridge, toilet, table and sink), made in the 70's and one day I shall own one again.  Just so I can make some lovely little quilts and things especially for it.
Things I found fascinating about owning a river boat.  You do not need any kind of license to drive/steer one.  People riding boats around the river thames frequently do so with a glass of red in hand, it is it seems perfectly acceptable.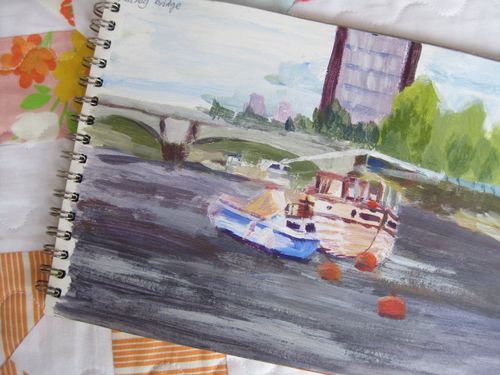 Something I really loved about having the boat was painting pictures of it, above top.  And painting pictures of other boats whilst sitting and dawdling on my boat, above below.  I hardly ever paint these days, the acrylics have been replaced by fabric and thread.  Expect a few more little fabric boats from me to come.