This post is one I have wanted to do for a while and goes through my design process from original idea to final design.  I'm kind of intrigued by the way different people design and if you are a designer too, I would love to know more about your process. One thing I have noticed is that I don't use mood boards to pin up idea's in the form of photo's, postcards and fabrics to draw my idea' from.  This may be because, my workspace is in my front room but also I think I just never have worked that way.  My mood board seems to be in my head, idea's and thoughts are constantly added and only the strongest survive, which I think is a good way of eliminating the weaker ones.  I also constantly jot and doodle in a couple of notebooks and always go back to these when I start a project.
So you may have guessed by now that this post is about the making of my Scoot fabric.  The above picture was taken last week and shows my youngest daughter home from school out on her scooter.  I have spent many many hours out the front of my house watching this very view that even without a photograph it is an image that exists in my head that I can draw from memory.  Notice the grey tights, school shoes (I think those shoes appear in pretty much all my embroidery patterns) and the stripy scarf ( I knitted this for her and she wears it every day :)).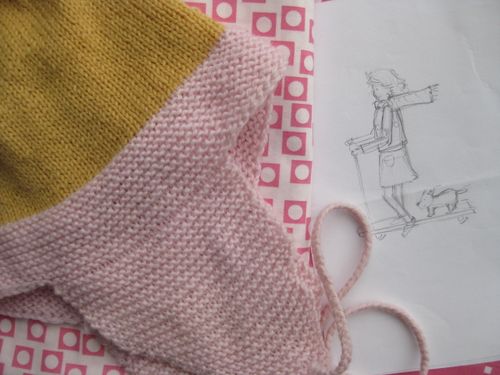 This time last year I was on an embroidery kick and the idea of starting a new one based on my daughters out on their scooters appealed to me.  I made a quick sketch of the image I had in mind.
There was a bit of space on the back of the scooter, so on jumped a pup, who is in fact a fictional dog as my real life dog looks like this,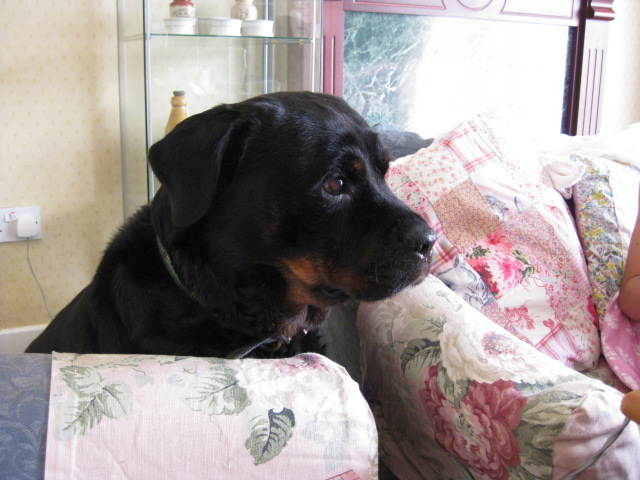 ((BTW - I still don't think she has forgiven me for being ignored in favour of a dog of fiction.))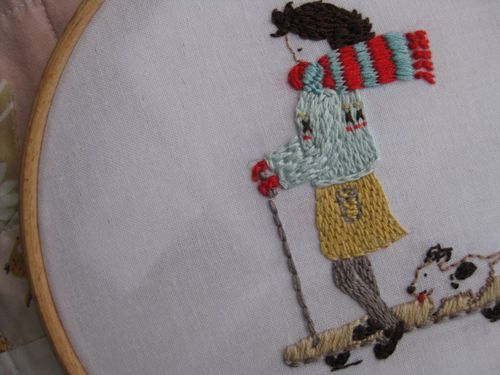 The idea of the sketch is just a loose mapping out of a plan.  This embroidery was being made on a snowy day around this time last year and this is the reason my stitched girl is all wrapped up in cosy sweater and scarf!  It's the mum in me, I can't help it!!!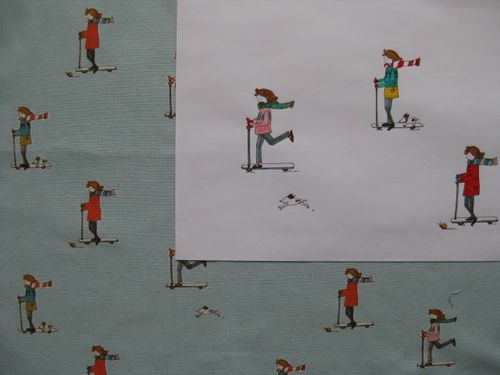 A few months later, I revisited this design to create a spoonflower fabric and this picture shows my original illustration which was scanned into the computer and the actual printed fabric.  The design was made in felt pens and a fine liner and the background was added on my computer using 'Paint'.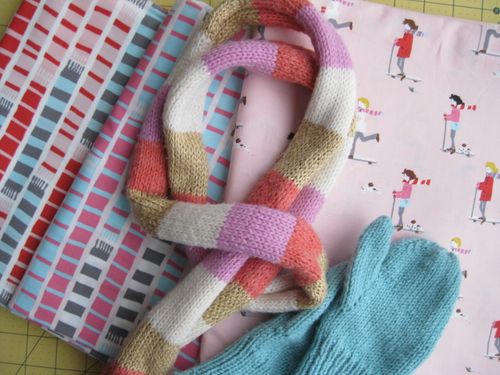 When it came to doing my first designs for Moda however, I decided I wanted to begin to design digitally and I decided with the help of online tutorials to teach myself to use illustrator.  The whole of the sherbet pips line was designed in illustrator and the drawing part was done by using a wacom bamboo tablet.  I don't find the tablet as easy to draw with as a pencil, it doesn't lend itself easily to the kind of sketchy drawing I like as illustrator likes to smooth out and auto adjust all the marks you make, which drives me a little nuts but I'm getting kind of used to it!
So I'm going to stop my post here, really I could write a heck of a lot more but look how long the post got already!!
I hope you enjoyed it, if not, let me know and I promise I'll never bring you the story of how the girl on the tree swing came about.
Have a fun weekend - sewing, designing or just thinking about it!!!