This is the story of how the girl on the tree swing came to be.  
It began in the autumn of 2009 when I found myself doodling a few pictures of girls on swings.  I have 2 daughters as you may know, age 7 and 10 and consequently have spent many hours in a variety of parks pushing my daughters on one swing or another for several hours at a time.  As you may know, once a young child gets their little bottom onto the seat of a swing, it stays there superglued  until you come up with a clever distraction.  I always think that I have never seen my daughters happier than when they have been sat swinging away to their hearts content.  So back to the sketching, it wasn't going well as the swings looked kind of clunky and angular until I 'married' two of my favourite things to doodle, girls on swings and trees!!!
Around this time, I was really wanting to try out a few stitching techniques I had seen online.  I was really inspired by this doll quilt of Tacha's and thought my girl on the tree swing image would be a perfect one to try something similar in.  So I came up with the girl the tree swing mini quilt you can see above which I then came up with the idea of giving away. 
I don't know why but it did seem a good idea at the time.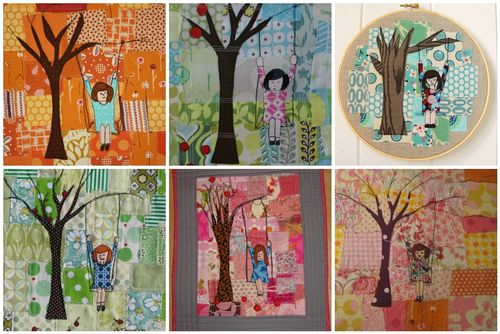 The giveaway and the quilt were very popular, I think that there is something so sweetly idyllic in the tree swing image that we all identify with either ourselves or when we see our own daughters happily swinging away.  It takes us to a place we all want to be.  So by popular request, I decided to write a tutorial for the quilt.  Above are just a few of the quilts made by others using the tutorial, posted in my flickr group.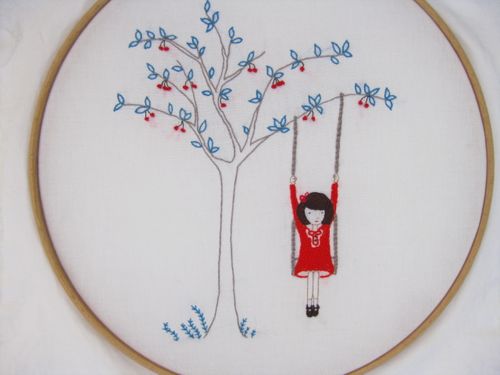 A few months later, I thought it might be a good idea to recreate the tree swing image (and keep it for myself this time!).  I was in an embroidery mood this time, so my girl was recreated in stitch.  One of the striking things for me looking at this embroidery now is how carefree and dreamy it looks.  I say this because when I was stitching this up, I was in a lot of pain (I later found out that this was due to a bladder infection - not nice at all).  It's funny to think how the embroidery completely belies the pain I was in.
If you are interested, I have a tutorial for making the filling stitch in this embroidery here.  The girl on the tree swing embroidery pattern can be found here.
This embroidery has been so popular ever since I launched it, that I thought where else can I take this?  The answer of course was fabric!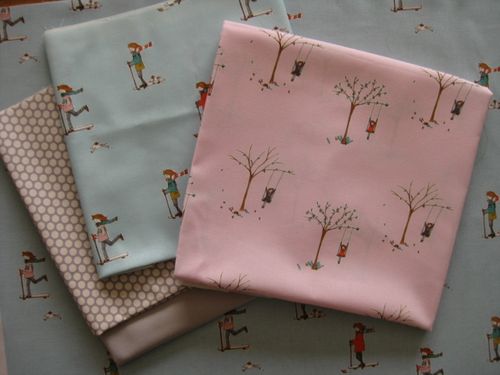 First there were spoonflower prints, these were handrawn and coloured illustrations of mine scanned into the computer, with just the background added in windows 'paint'.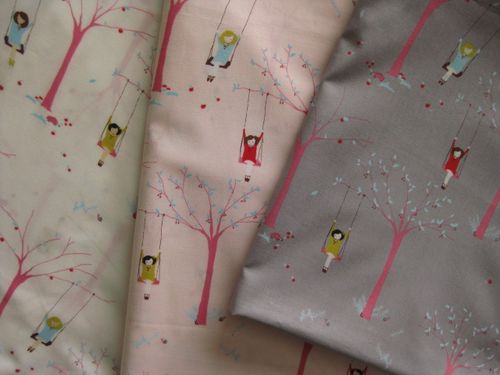 Then came (or will come soon!) the Moda fabric - 'girl on a tree swing print from my 'Sherbet pips' collection.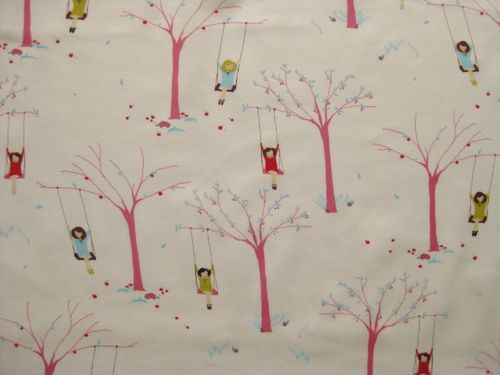 One thing I love about this print is the way Moda printed it.  When I designed the print (you can see a cropped image of my original illustrator artwork in the banner at the top of this blog) it was made up of two girls swinging, one with a red dress and the other blue.  Moda decided to repeat some of the images as mirror images and this is what makes the fabric itself 'swing' (look at the fabric and see how those little girls all look like they are in motion!) very clever.  Another thing they did was to change the hair and dress colours of the different images across the print.  Surely one of these reminds you of a little girl you know?
As for the girl on the tree swing, you just never know where she might turn up next...........