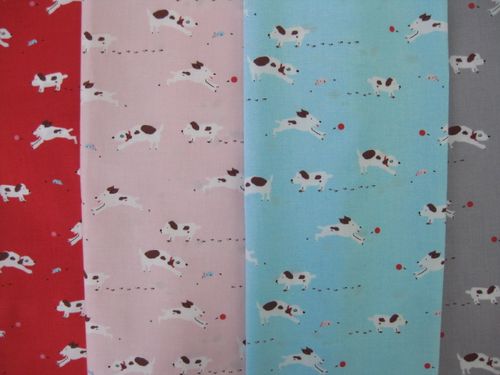 Today seemed a good day to bring you the third instalment of the design story behind 'Sherbet Pips'.  I have already told the tales behind 'Scoot' and 'Girl on a tree swing' and today I bring you a bit of background to the 'Puppy dogs tails' print.
Once I had completed the two lead prints, I began to think about turning elements from those designs into co-ordinates that would work with them. The idea behind creating co-ordinates is to create designs that work in their own right AND work well with the lead prints.  Co-ordinates need to contrast well with the leaders in terms of scale, colour and simplicity and also to continue to tell the 'story' that began in the main designs.
When designing these simpler patterns, I think about how I would use them in my own quilts.  For co-ordinates, one of the functions would be that they could be used as sashing, border and binding fabric when putting together the quilt,  so I try to create designs that work well here.
Going back to using elements from the main prints, of course, it seemed more than obvious to take the little pup from 'Scoot' and give him his very own design.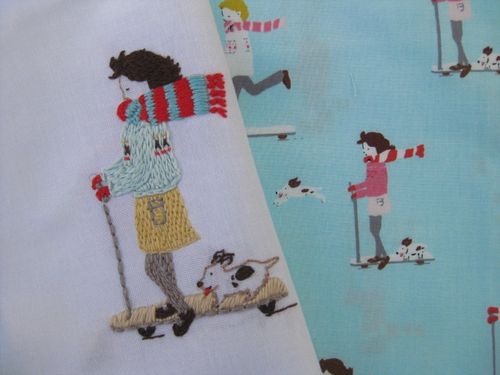 In the Scoot print, my fictional puppy is seen hitching a ride on the back of the girl's scooter (which originated from my scoot embroidery) and also running dashingly alongside the scooterers.
For the new design I wanted to show a bit of action, puppies as we all know are always up to something and I wanted to bring across a bit of puppy personality into the pattern, something the viewer could look at that would remind them of a pup they knew. I took the running puppy idea and changed it up a bit to turn it into a pup chasing a ball.  Then I drew up a second pup and this one just had to be walking along leaving muddy foot prints.  I was very concerned whilst drawing up the design, that the footprints did not come across as resembling dog poo!   So I put a lot of effort into those footprints.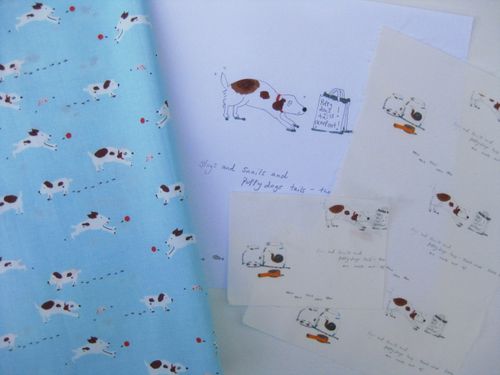 For puppy number three, I went back to an older spoonflower design of mine also called 'Puppy dog's tails'.  The idea behind this print came from a reader of mine at the time who suggested I try my hand at a few spoonflower 'boy' prints along the theme of 'slugs and snails and puppy dogs tails'.  The above pic shows the original illustration I scanned to make the design and some scraps of the fabric it created.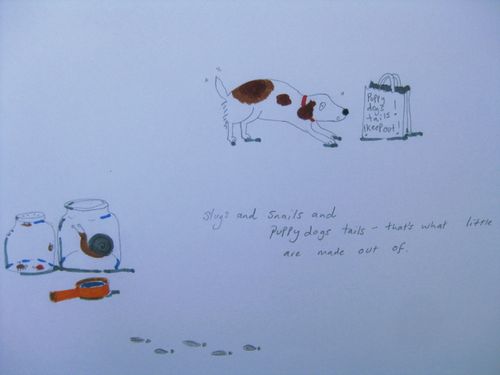 This design shows a puppy whose tail is shaking as he has come across a bag labelled 'puppy dogs tails'.  I thought this was a far less squeamish way of illustrating the rhyme than drawing up a few chopped off tails...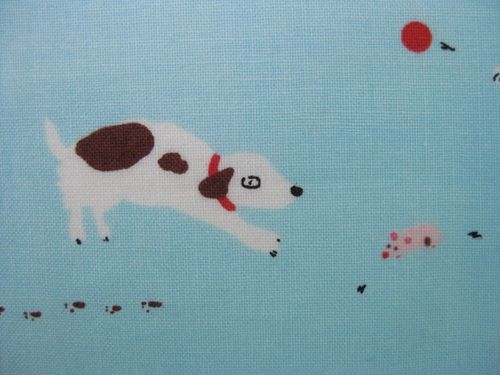 For the 'Sherbet pips' version, I decided to leave out the chopped off tails idea altogether and decided to add in something that has startled mr puppy in some way.  I thought a cat seemed too obvious, so with my thinking cap on came up with the idea of a clockwork or wind up mouse whizzing around and intriguing the puppy.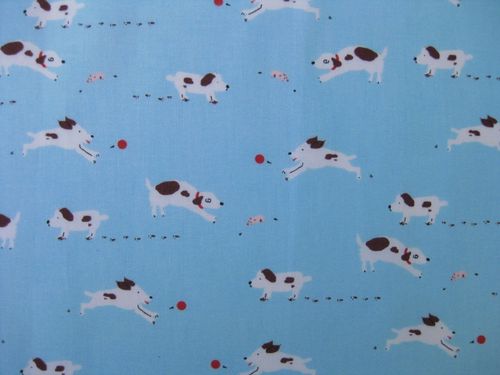 One of the 'KEY' things I love about how this design turned out is that it can be easily cut into strips and squares and will almost always have one whole pup or more in there.  This is something that pleases me greatly as it means you don't have to waste time 'fussy cutting'.
Something else I absolutely love is how it involves a kind of trickery because there are only three different pups in the design but because of the way they are repeated it seems like there is a lot more going on than there is.  This illusion is key to making the design looking action packed whilst still having the look of a simple co-ordinate.
So, I hope you have enjoyed today's little tale and have learned something you didn't know before!  
Back soon (with more little stories to tell).